Looking for the best safari lodges in Africa? Africa has hundreds of incredible safari lodges for every type of traveler. Below, find some of our favorites for families, romance, and adventure. Of course, these are just a handful of the options available!
Our travel designers visit Africa regularly to experience these properties firsthand, and we have close relationships with the lodge owners. For personal recommendations based on your interests, timeframe, and budget, contact our Africa safari specialists!
Jump to: Families • Romance • Adventure

---
Best Safari Lodges for Families
1. Lewa Wilderness and Lewa House – Kenya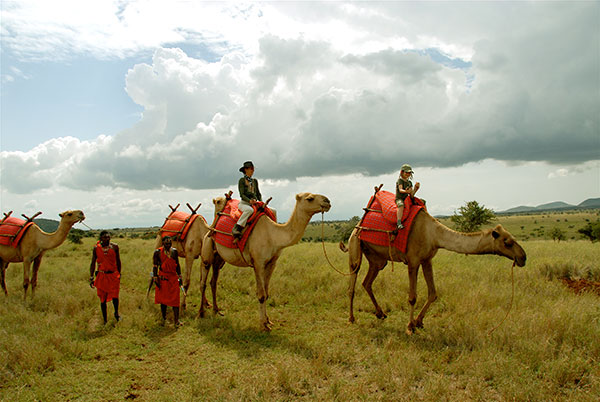 Located in Kenya's Lewa Wildlife Conservancy, these family-owned properties are great for all ages. The owners, Will and Emma Craig, are very hands-on and will make you feel instantly at home!
At the main house, you can stay in a family cottage with beautiful stone walls and a thatched roof. Nearby, Lewa Wilderness has 9 individual cottages tucked into the natural landscape, with gorgeous views over the plains. You'll enjoy communal meals in the open-air dining room.
You can see the Big 5 on safari with excellent guides. In addition to classic game drives, you can also experience safari on foot, horseback, or even camelback! The Lewa Wildlife Conservancy is home to 10% of the world's black and white rhino population, so you'll be able to see tons of these rare, endangered animals.
2. Morokuru – South Africa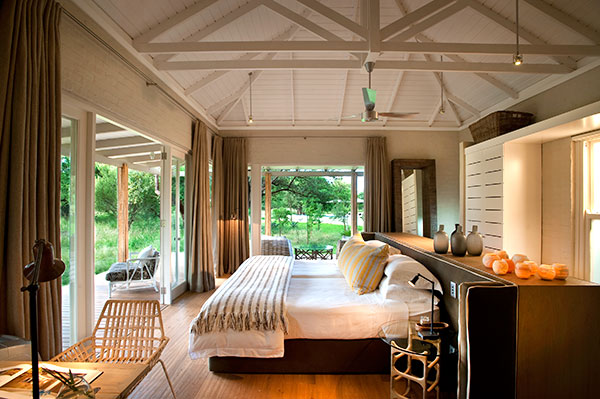 Morokuru has 3 unique houses in the malaria-free Madikwe Game Reserve, making it one of the best safari lodges in Africa for families. The best house for you depends on how many travelers are in your group, but each is beautifully designed and truly feels like an oasis.
While most safari lodges have 2 scheduled game drives daily, Morokuru lets you set the schedule. You'll have game drives in a private vehicle whenever you please. This is great for families with young kids, in case the little ones get tired and have to go back to the lodge. You can also spend a day on the water at the local Molatedi Dam.
3. Kwandwe Ecca Lodge – South Africa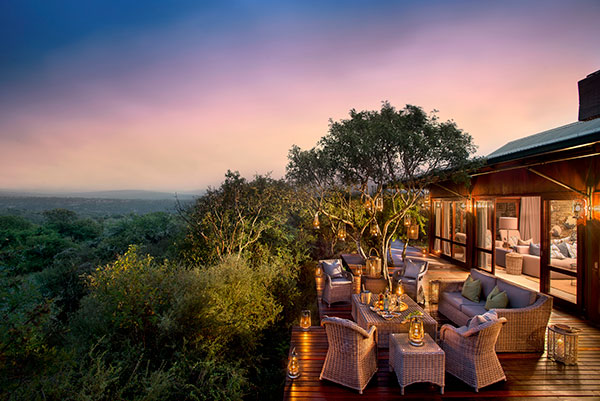 Ecca Lodge was designed with families in mind. It's located in the malaria-free Kwandwe Private Game Reserve, which makes a great ending to the South Africa Garden Route! Ecca Lodge has 3 beautiful family suites that come with a private safari vehicle, ranger, and tracker.
The lodge caters to kids of all ages. In your family suite, a kids' play room, large swimming pool, and interactive kitchen with baking and cooking classes will keep the little ones entertained for hours. You can also add fun, family-friendly activities to your game drives, like a scavenger hunt, treasure hunt, or pellet gun shooting. The lodge will even provide experienced nannies at no additional cost if you request them in advance.
4. The River Club – Victoria Falls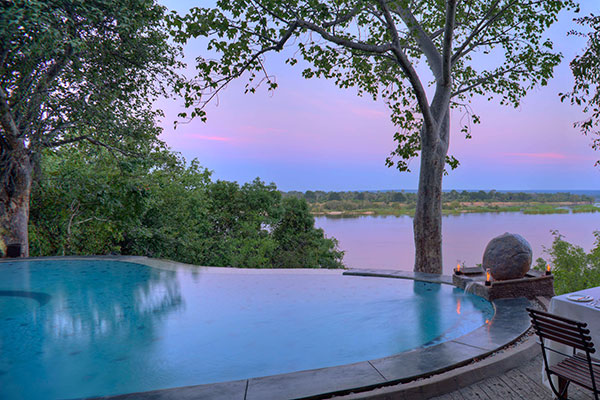 The River Club is a perfect option for a Victoria Falls safari with children 6 years and over. Spacious suites are individually located along the Zambezi River, which forms the border between Zambia and Zimbabwe. You can see hippos in the water and get an amazing view of the African sunset!
Children get a special Kids @ the Club adventure kit with fun activities designed to get them active outdoors, including an insect and butterfly catch and release kit and a raft building kit with eco-friendly materials. They can also visit the local village and school, enjoy kid-friendly baking classes, take a fun cruise with tag-and-release fishing, and win prizes for their nature knowledge! See some of the other great adventures available on a Victoria Falls safari.
5. Ulusaba Rock Lodge – South Africa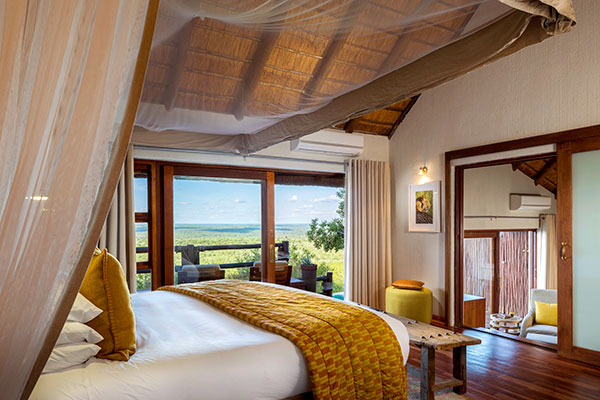 Ulusaba Rock Lodge is one of the best safari lodges in South Africa and the world. Located in a less-traveled region of the Sabi Sands, this luxurious property provides exceptional game viewing, 5-star service, and gorgeous views. It's also a great option for kids of all ages.
Kids under 12 stay free except during peak periods, and they'll receive a Cub's Club backpack filled with safari goodies. They have a choice of fun activities, including a welcome treasure hunt, arts and crafts, South African children's games, swimming, a mini safari ranger's course, community visits, and much more!
6. Chobe Game Lodge – Botswana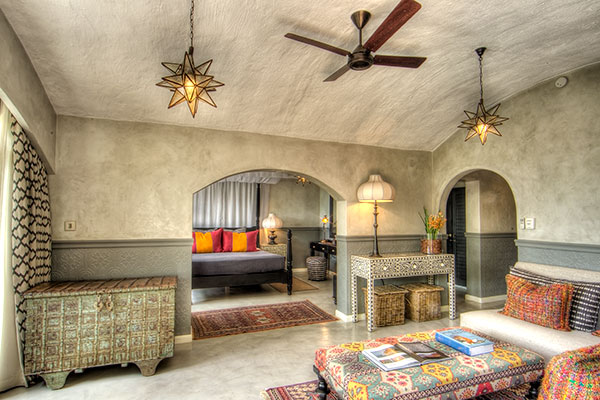 Chobe Game Lodge has a prime location along the Chobe Riverfront—one of Botswana's richest wildlife areas, and perhaps the best place in the world to see giant herds of elephants. The luxurious lodge is made from natural materials and inspired by traditional African design, giving it a cozy and welcoming feel. Four family suites give you plenty of space and privacy, with a separate room for the kids. The luxury family suites even have their own private infinity pools!
7. Savanna Private Game Reserve – South Africa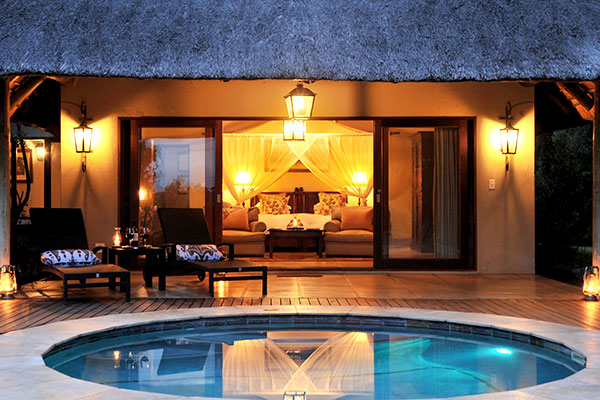 Located in the famous Sabi Sands region of Kruger National Park, Savanna offers incredible game viewing; it's not uncommon to see all the Big 5 in one day! This is the best property in the Sabi Sands for families.
If you're bringing the kids on safari, you can enjoy a true home away from home at the Savanna Suite. You'll have a private, covered balcony with a plunge pool; a TV with kids' channels and wildlife DVDs; a private butler and childminder; and a private safari vehicle with your own tracker and ranger, so your game drives will be completely tailored to your family. In between game drives, the kids can learn about animal tracking, plant uses, local culture, and more with special activities designed just for them.
---
Best Safari Lodges for Romance
1. The Dulini Collection – South Africa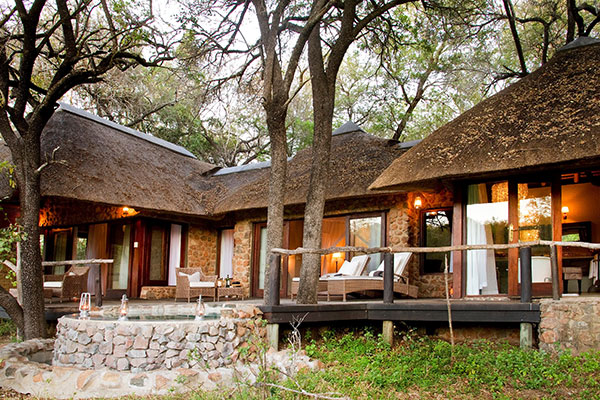 Dulini is one of the best safari lodges for your first time in Africa. Three lodges—Dulini, River, and Leadwood—offer some of the most exclusive, luxurious, and romantic safari experiences in the world-famous Sabi Sands. You'll stay in a stunning and secluded cottage that makes you feel like you and your partner are completely alone in the middle of nowhere—yet with every luxurious amenity you can imagine. Our friends at Dulini really pride themselves on getting to know you and adding unique touches that will make your safari experience absolutely unforgettable.
2. Ngare Serian – Kenya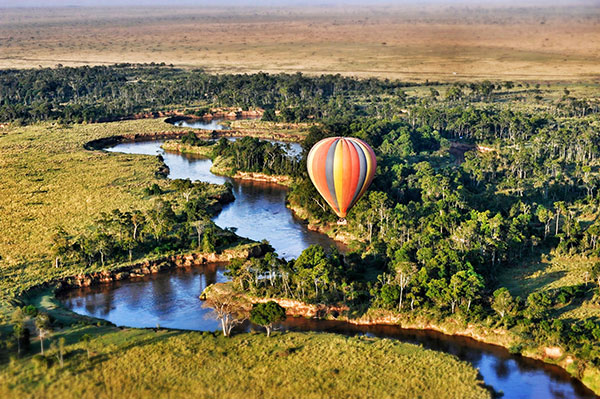 This intimate camp is made of just 4 luxury tents nestled on the edge of the Mara River. As you cross the swing bridge into camp, you enter a private conservancy of 1,500 acres used exclusively by Ngare Serian. The gorgeous, remote setting is perfect for scenic walks to hidden escarpments. As you gaze out over the plains, wildebeest, giraffes, zebras, and other wildlife will provide classic African entertainment just for you. Ngare Serian is also one of the best places to see thousands upon thousands of wildebeest crossing the river as part of the Great Migration.
For a unique experience, you can spend a romantic night at The Nest, a secluded and open-air treehouse suite, at no additional charge. Sleep out under the stars or under a thatched roof, hearing the sounds of the bush surrounding you and feeling like you're truly a part of this awe-inspiring environment.
3. Madikwe Hills – South Africa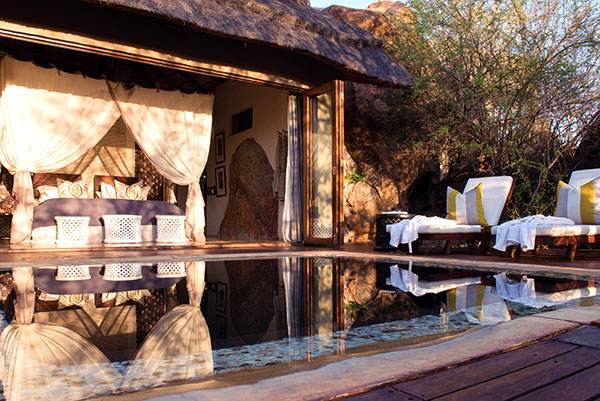 The spacious suites at Madikwe Hills exude an air of romantic seclusion, making it one of our top choices for the best safari lodges in Africa. Natural elements are seamlessly blended into the design, and your own little slice of African heaven offers plenty of opportunities to see game like elephants, zebras, giraffes, and more without leaving your suite. Watch the amazing wildlife from your enormous, cozy bed; from your private plunge pool while sipping champagne; or from the romantic, claw-foot tub on the private verandah of the Honeymoon Suite.
4. Singita Sabora Tented Camp – Tanzania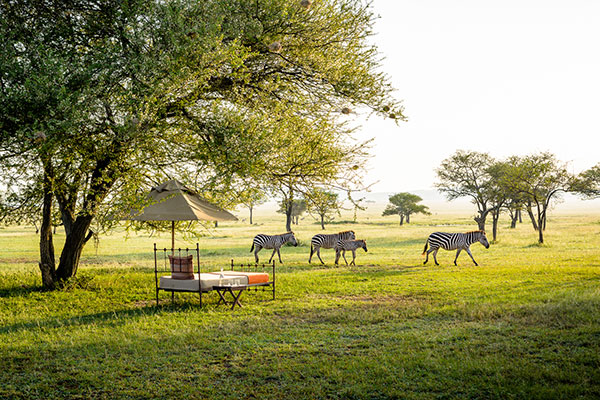 Singita safari properties have an international reputation for providing the ultimate luxury. Sabora Tented Camp is in the heart of the Serengeti, where wildlife-dotted plains stretch as far as the eye can see. The tented rooms blend perfectly with their environment on the outside—but step inside and you'll find opulent, colonial-style luxury. It's surreal to step out of your magical tent and find countless zebras, wildebeest, giraffes, elephants, and more wandering right up to camp.
5. Angama Mara – Kenya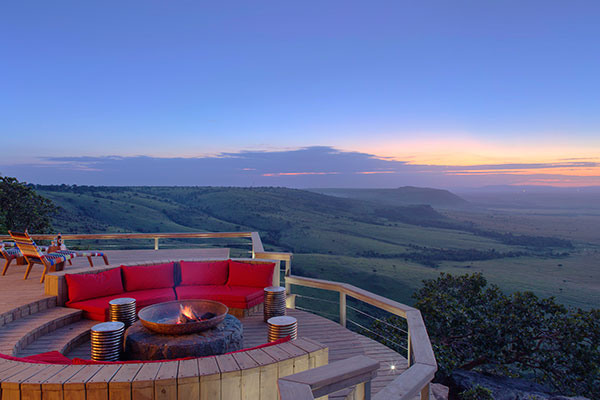 The entire Angama Mara experience will take your breath away. The camp overlooks the Great Rift Valley in the Maasai Mara, in the same area where many parts of Out of Africa was filmed. The views are incredible, whether you're taking them in from your balcony, a hot air balloon, or even the camp's yellow biplane. There are countless beautiful spots to enjoy a romantic picnic or sundowner cocktails, where you'll feel like you're starring in your own Hollywood love story.
6. Sabi Sabi Earth Lodge – South Africa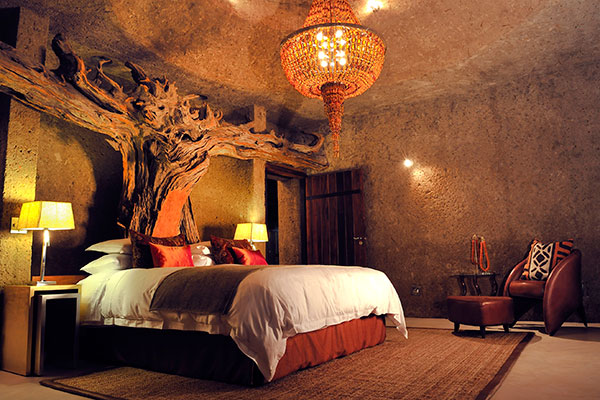 The Earth Lodge—named one of National Geographic's Unique Lodges of the World—is a true sanctuary located in the Sabi Sabi Private Game Reserve, one of South Africa's very best Big 5 reserves. The design is sophisticated and elegant, offering complete privacy and a feeling of luxurious harmony with your natural surroundings. The staff will also go above and beyond to provide romantic touches just for you.
---
Best Safari Lodges for Adventure
1. Chikoko Trails Camps – Zambia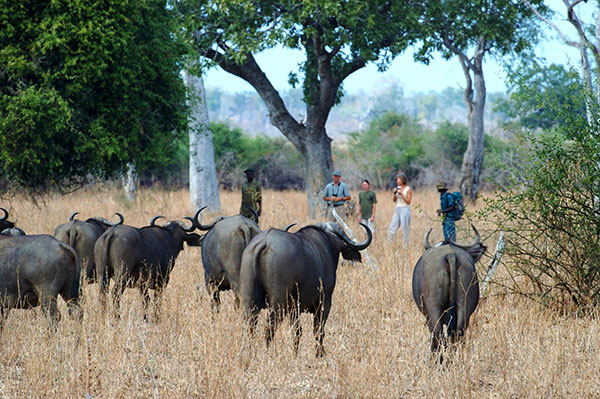 Located in Zambia's game-rich South Luangwa National Park, these incredible safari camps are perfect for those who want to go well off the beaten path. Chikoko Trees Camp and Crocodile River Camp each offer just 3 chalets made of natural materials. These are some of the best safari lodges in Africa if you want to feel truly immersed in nature.
The remote camps (which are only accessible on foot) offer unparalleled walking safaris, where you can follow well-worn hippo and elephant trails and actually walk alongside iconic African wildlife. We recommend staying at both camps; porters will carry your bags so you can simply enjoy the walk and feel completely immersed in the African bush.
2. Karisia Walking Safaris – Kenya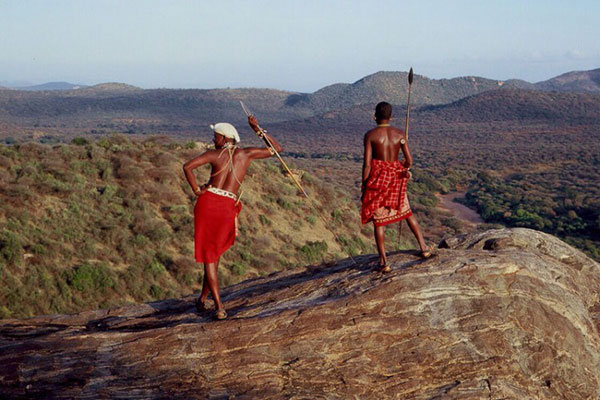 Walking safaris give you the chance to truly understand the grandeur of Kenya's majestic, open landscapes. The Karisia Walking Safaris are led by local Lakipia Masai and Samburu guides, so you'll get an authentic cultural interaction while walking through some of Kenya's most beautiful scenery. The areas you'll traverse are rich with wildlife like zebras, elephants, wild dogs, and much more.
The light camps are entirely transported by camels. At night, you'll sleep in a tent in a remote, scenic area, with the sounds of the African wild surrounding you. The safaris range from 3 to 7 nights, so you can choose the level of adventure that suits you best.
3. Selinda Adventure Trail – Botswana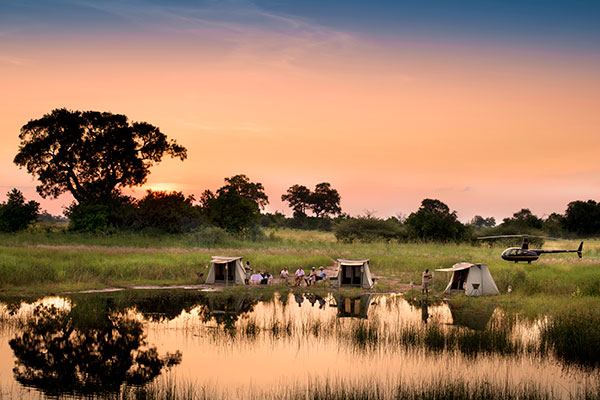 The Selinda Adventure Trail journeys along the Selinda Spillway, which connects the famed Okavango Delta to the Linyati Swamps. You can either canoe and walk along the spillway or enjoy a pure walking safari, depending on the water levels. Either way, you'll be traversing a rich and remote game reserve with the opportunity to see lions, hippos, elephants, wild dogs, and so much more up close.
The adventure trail uses completely mobile camps that are there one day and gone the next, leaving no trace of human activity. A maximum of 8 guests ensures an exclusive and intimate experience in one of Botswana's most pristine wilderness regions.
4. Intimate Camps – Tanzania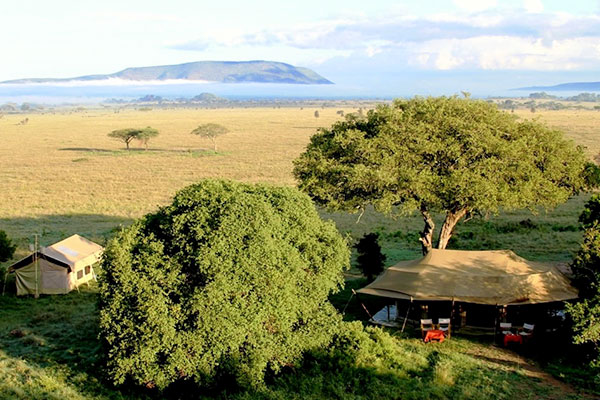 This is the ultimate private safari experience. Intimate Camps will set up a private campsite just for you (between 2 and 30 guests with a maximum of 15 tents) in the remote location of your choice. Because the camp is exclusively for you, the adventures will be tailored to your desires: witnessing the Great Migration of wildebeest and zebras, hiking on Mt. Kilimanjaro, or simply exploring Tanzania's breathtaking landscapes on safari—from the Serengeti to the lush Ngorongoro Crater.
Luxury in eastern Africa is often defined by the exclusivity and authenticity of the experience, and Intimate Camps certainly offers the utmost luxury in this sense. You'll have your own private butlers and attendants, as well as private chefs cooking up delicious and authentic local meals. If you're interested in African culture, they'll arrange walks with Maasai or Hadzabe guides so you can experience unique and intimate cultural interactions. Whatever your interests, they'll arrange the perfect safari experience just for you.
5. Mahogany Springs Safari Lodge – Uganda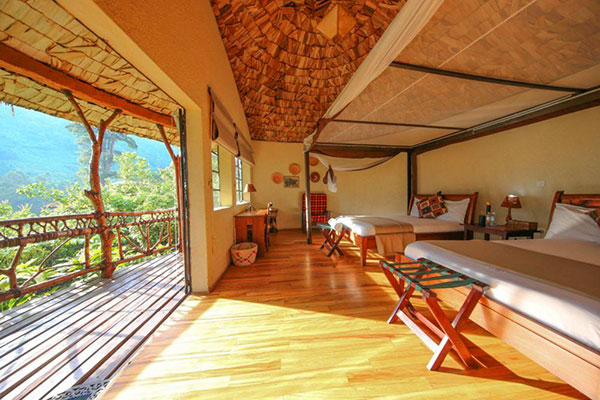 Mahogany Springs seems lifted from a forgotten time. Looking out over Bwindi Impenetrable Forest, this unobtrusive lodge offers breathtaking views of the lush surroundings. The main attraction here is, of course, the wild mountain gorillas. Making your way through the rainforest (with the help of expert guides) is hard and muddy work, but it will be more than worth it when you get to see a family of gorillas playing and interacting with each other mere feet away! This is one of the few places in the world where you can see these rare and amazingly human-like creatures in the wild.