Exclusively Yours – Private Experiences in Africa
Africa is the original home of social distancing and private experiences. Safaris are one of the best ways to escape the crowds and enjoy nature. Want that feeling of having the entire national park or game reserve to yourself, there are plenty of exclusive-use options to choose from throughout Africa.  We have curated some of our favorite exclusive and private experiences in each of the African countries in our portfolio.
Botswana
Botswana is the perfect destination to escape the hustle and bustle and immerse yourself in the sounds of nature. The waterways of the Okavango Delta are a natural division providing a private and exclusive safari experience.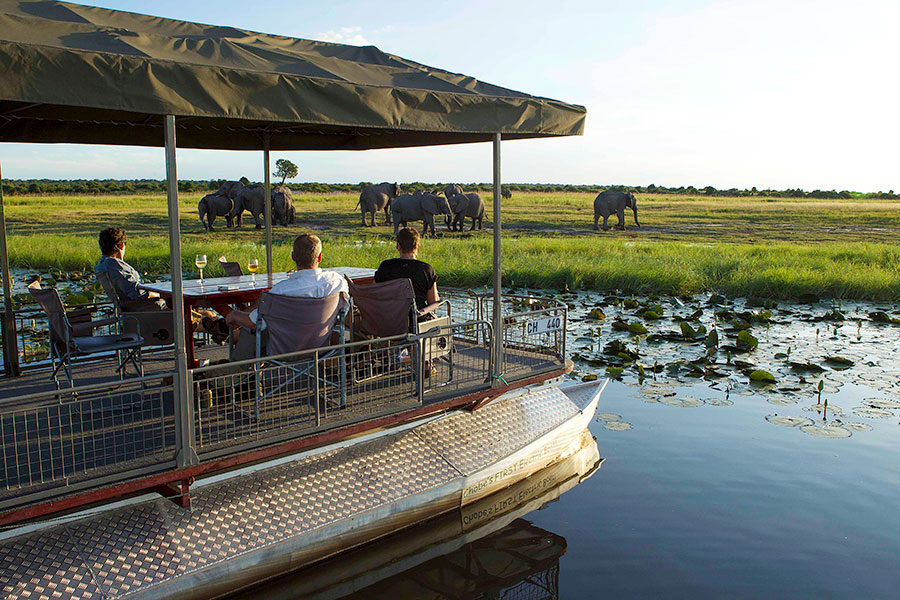 Enjoy a family retreat at one of the Great Plains villas such as the Zarafa Suite where you will have your own butler, driver, cleaning staff, cook and even your own entrance including a set of grandiose doors.
The Natural Selection Skybeds, located deep within the Khwai Private Reserve offer private rooms on a three-story raised platform, overlooking the wildlife-spotted plains of Khwai. Each room has a bathroom with flushing loo on the first floor, a dressing area, and the ultimate cherry on the top floor, an enormous double bed completely open to to the stars.
If you are the adventurous type, you may enjoy a multi-day mokoro and fly camping trip in the Okavango Delta. These getaways are planned for you and your travel group alone allowing for a flexible schedule, sightings and access to remote and otherwise inaccessible regions.
Kenya
Kenya is perfect stop for first time safari goers. The Masai Mara offers excellent year-round game viewing, as well as great views of the Great Wildebeest Migration. Regions like Amboseli National Park, Laikipia Plateau, Chyulu Hills and other private conservancies offer unparalleled sightings of the immense wildlife and natural beauty.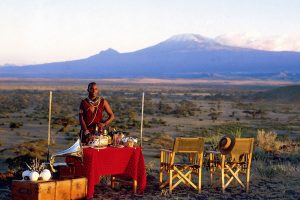 Arijiju is a stunning private home in the game-rich, malaria-free, Kenyan Highlands. This exclusive property sits on 97 000 acres dedicated to conservation as well as helicopter flips, quad bike safaris, horse riding and big five game drives. Personal staff, pool, gym and tennis court included.
There is something truly amazing viewing the plains of the Mara and its animals from the air and what better way to do it then in your own private Hot Air ballon.
In the eastern Laikipia region, you have the ability to emerse yourself in the Kenyan bush through a private walking safari. This is an amazing journey with a light camp that is moved to a new location each morning by the camels. There are no vehicles involved and the walks are guided by Laikipia Masai and Samburu local guides.
Maldives
The Maldives are an idyllic set of islands in the Indian Ocean. Home to over 1100 individual islands, you will definitely feel like you have the place to yourself. Imagine floating in your plunge pool with a beverage and looking out at nothing but the breakwater and waves.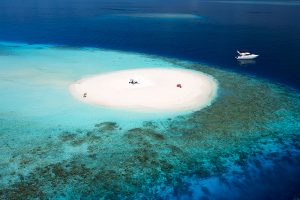 Take a private sea plane to the Muraka Experience complete your personal butler, chef, wave boat and gym for your group at the Conrad Maldives Rangali Island.
Charter a private plane to the Baa Atoll for a private diving experience and stay at the Four Seasons Private Island at Voavah.
Jump aboard a private boat for an afternoon lunch and then land at the Private Residence at Gili Lankanfushi for a private stay.
Mauritius
Mauritius is a fascinating, tropical playground located in the Indian Ocean, encircled by coral reefs, clear blue waters, and white sandy beaches. Here you'll find stunning sand-rimmed lagoons and wide public beaches and picturesque islands off the coastline, just waiting to be explored.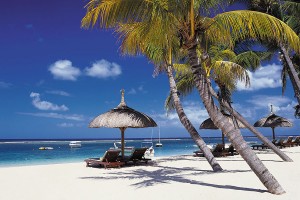 For ultimate seclusion, book a 4-bedroom for the whole family in a private villa near Grand Baie. With a personal chef, this is a great option for barefoot luxury!
Take a private pilates class at the One and Only Le St Geran and finish with a healthy private lunch on the beach.
Charter a private speed boat for a private breakfast and spend the morning watching dolphins swim in the ocean.
Mozambique
Mozambique is well off most the beaten path. Picture long, dune fringed beaches, turquoise waters, colorful fish, gorgeous corals, remote archipelagos to the north, pounding surf in the south, and dhows with billowing sails. Don't forget the historical colonial-style architecture, fascinating cultural mix, and vast bushlands filled with elephants, lions and birds.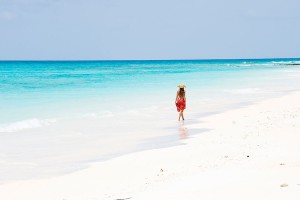 Enjoy the Private Residence at Santorini with your own chef and butler for a week of relaxing, swimming and enjoying the beach.
Divers can charter a catamaran and select between a variety of diverse dive sites. You can opt to see the Humpback Whale migration between July and October or the Whale Sharks between June and January.
Cruise the wide open ocean at sunset your own on Private Dhow – a traditional sailing vessel still used today.
Namibia
Namibia is the original home of wide open spaces and private experiences. The country is the 2nd least densely populated country in the world. Not only is it home to stunning, desolate landscapes, it also allows for unique cultural experiences.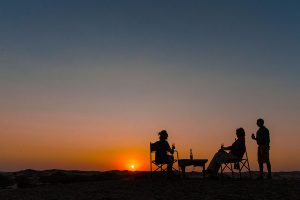 Take a private plane along the Skeleton Coast down to Walvis Bay to see some of the most famous shipwrecks, flamingos, whales and fur seals.  Ending in Namib Naukluft National Park for a beautiful sundowner private drive..
Charter a flight to Damaraland to see Twlfyfountein, home to thousands of rock paintings and the Desert Adapted Elephants and stay at Huab Under Canvas, an exclusive use tented camp on a dry river bed.
Just you and a private driver can head off to Etosha National Park to visit 4 of the big 5.  Enjoy a Meru-style tent on a private 30,000 hectare reserve where you will have the opportunity to see black rhino at Ongava Tented Camp.
Rwanda
Rwanda is mostly known for Dian Fossey and its iconic Mountain Gorillas, but this lush and vibrant country offers so much more, including birding, cruising, and big five game parks.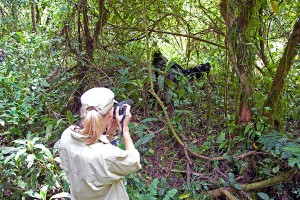 Enjoy scenic private helicopter transfers that take you from the tea fields in southern Nyungwe to the mountain tops in the famed Volcanoes National Park.
Indulge in your private house, Singita Kataza, which has multiple heated pools and its own private staff and book out a private Gorilla trek and you can pick which family you want to visit!
Book an exclusive charter on the luxurious Kivu Queen and explore one of Africa's greatest lakes.
Seychelles
The Seychelles have long been synonymous with luxurious accommodation and pristine white sand beaches, but its also home to a rich cultural history. located in the Indian Ocean, these exotic islands are the perfect place to drop out for awhile.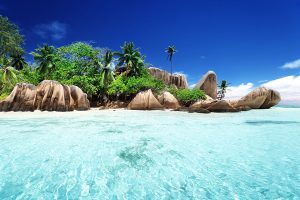 Book out Six Senses Zil Payson for your close friends and family and have a private island all to yourselves.
Learn about the culture and history or Praslin or Mahe with your own exclusive guide for the day.  Enjoy great sites and wonderful food and then head off to Blue Safari Seychelles spread on 4 pristine atolls, with an estimated 320 coral species, 1000 coastal fish species, 25 species of cetaceans, 2 marine turtle species, and 238 bird species.
Charter a luxury boat for a day on the water fishing, island hopping or simply enjoying a fabulous lunch and some snorkeling.
South Africa
South Africa is a great destination for the adventurous, boasting fantastic wildlife viewing, beautiful beaches, world-class wineries, and so much more. Distance yourself in places like Hermanus, continue on the beautiful Garden Route and end at Nature's Valley, a hidden gem in the pristine Tsitsikamma Forest. Kruger National Park and its Private Reserves is one of Africa's most popular safari destinations and is home to widest variety of wildlife in the country.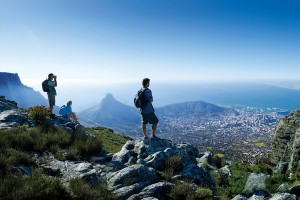 Take a privately guided kayak tour at Cape Point and the Boulders where you have access to penguin colonies from the water, where the general public doesn't get to go.  And finish your stay at the private guest house Camissa House in Cape Town.
Indulge the ultimate safari experience and stay in the private Africa House Royal Malawane where you have the entire house and staff to you and your family.
Schedule a private 10 course tasting menu with our mate Chef Santi at one of his private spaces in Cape Town.
Stay a private golf villa for with another couple for golf at Leopard Creek all the while enjoying the wildlife spotting on the golf course.
Tanzania
Tanzania is an incredible safari destination, filled with amazing landscapes, extraordinary wildlife, fascinating cultures, and unique safari lodges. The country is full of wide open spaces in places like the Serengeti, where you can witness the Great Migration. There are many more fabulous safari parks to explore, as well! For those on a time crunch, the Northern Circuit provides a seamless wildlife viewing experience amid several different landscapes.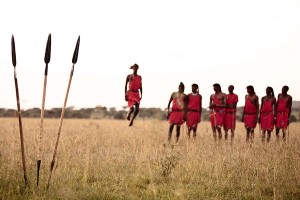 Explore a mobile camp such as Alex Walker's. With only 5-6 tents whose location is chosen based on seasonality, you will receive your own driver guide. Having your own vehicle allows for short or extended animal sightings on your schedule and preference.
If you want to check off the must-see locations but prefer personalized service look no further than a private residence such with Nomad Tanzania.  This collection is exclusive in even the most popular of locations such as the Serengeti and Ngorongoro Crater you will find sanctuaries like Entamanu Private and Mkombe's House Lamai.
Uganda
Uganda is home to the tallest mountain range in Africa, which feeds the world's longest river and the continent's largest lake. Half of the remaining mountain gorilla population resides here, making gorilla tracking in Bwindi a must do on any bucket list; while chimps can easily be spotted in Kibale Forest. The Big Five can also be found here, making Uganda a great destination to experience wildlife viewing.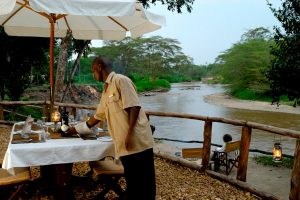 For those who wish to enjoy more time with the Mountain Gorillas, Uganda offers the rare opportunity to participate in a full day Gorilla Habituation Experience in Uganda's Bwindi Impenetrable National Park. You'll have up to four hours with the gorillas, accompanied by expert guides and trackers – it truly is one of those once in a lifetime wild life experiences.
Taking a private cruise on the Kazinga Channel within Queen Elizabeth National Park is among the highlights of a trip to Uganda trip. The Kazinga Channel is home to the biggest number of Hippos in the whole of Africa as well as large herds of Elephants, Buffaloes, crocodiles and birds.
Take the whole family to Clouds Mountain Lodge for an exclusive experience.
Zambia
A hidden gem of African safari, Zambia offers a safari experience that is sure to check all the boxes on your bucket list. Traditionally, Zambia doesn't have the crowds that South Africa or Kenya might have. Even more now than ever, you won't see other vehicles on your safari. You'll be able to explore the untouched wilderness on foot, in a 4×4 vehicle or by boat. In addition to the excellent game viewing, you'll be able to spend time on the banks of Africa's mighty Zambezi River or at the famous Victoria Falls.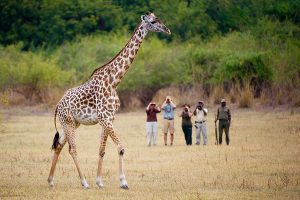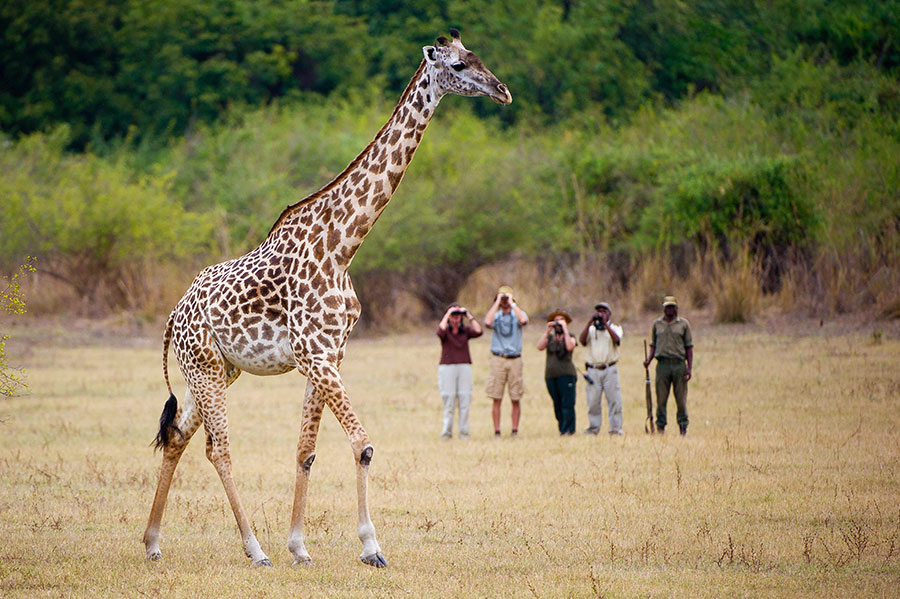 Stay at Sindabezi, Tongabezi's private sister island in the middle of the Zambezi river with your multi general family group and enjoy a private cultural performance.
Be adventurous on a Private Walking Safari in the South Luangwa National Park to see the beautiful Painted Dogs.
Book a private tour of Livingstone Island and then peek over the edge of Victoria Falls at Devil's Pool.
Zimbabwe
Zimbabwe is a beautiful and diverse country, offering a variety of landscapes to enjoy, and a perfect place to reconnect with loved ones in exclusive use spaces.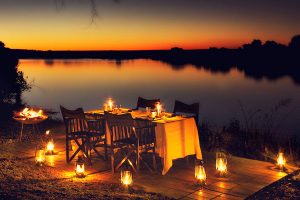 Rent the luxury houseboat MV Matusadona on the beautiful Lake Kariba and spend your days fishing and spotting wildlife
Go off the beaten path without sacrificing any creature comforts, at the incomparable Singita Malilangwe House, located in a remote private reserve, and set among towering trees.
From the comfort of your private bush home, Khulu Bush Camp, near Hwange National Park, get up close and personal with the local elephants, as they drinks from your very own pool.
Enjoy private guided walks from your exclusive use Little Vundu Camp and end each day with sundowners on the Zambezi river.