How do you choose the best safari lodge in Africa? There are hundreds upon hundreds to choose between, from tented camps to grandiose permanent lodges. 
But the most important thing to think about with safaris is location! Your camp's location will determine where you can go on game drives, the length of your safari excursions, and the types of activities you can enjoy. Luckily, our African safari experts are here to help you choose the very best places for your trip to Africa!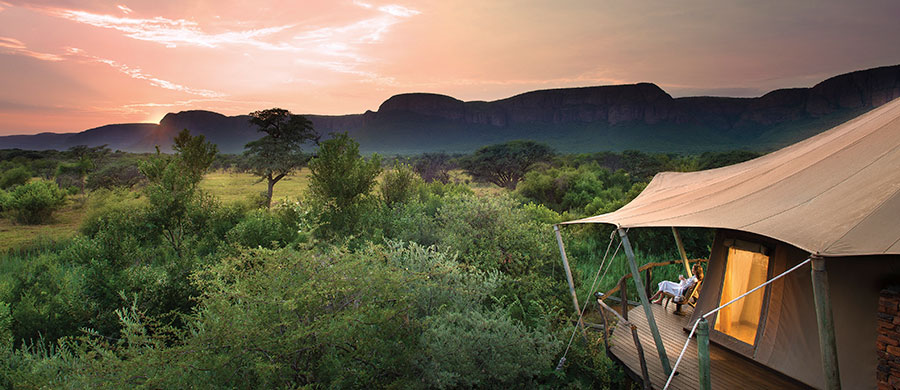 Luxury on safari means getting views like this all to yourself! Image: Marataba Safari Lodge, South Africa
---
Location, Location, Location: The Key to Luxury Safari Retreats
While many safari properties do offer luxuries like high thread count sheets, polished silver tableware, or even designer napkins, the biggest luxury on safari is your location. It's all about being in a beautiful, wild setting that few can access—and, of course, the quality and exclusivity of wildlife viewing. More remote, more authentic, and more exclusive experiences are at a premium.
While national parks tend to get the biggest reputations, it's often the lesser-known reserves that offer a better safari experience. Even if you want to see a famous park like Kruger National Park in South Africa, you can stay on a neighboring private reserve for a more exclusive stay, while still enjoying the same exceptional wildlife viewing. These are the top differences between national safari parks, private reserves, and private concessions:
National Parks
Famous areas like Kruger, the Serengeti, or the Masai Mara
Do not allow off-roading, walking safaris, bush meals, or night game drives
Often have several vehicles at each animal sighting
Park entrances have a queue at opening and closing
Private Game Reserves
Owned by a group of safari lodges
Fewer crowds on game drives; often have vehicle management rules, such as a maximum of 2 vehicles per sighting
Allow additional activities like walking safaris, bush meals, night game drives, sleep-outs, and fly camping
Lodges can still operate game drives inside nearby national parks
Private Concessions
Areas within private reserves that are exclusively owned by individual safari lodges
The most exclusive wildlife sightings
Offer the same range of activities as private game reserves
Lodges can still operate game drives in other, shared areas of the reserve or in nearby national parks
---
Ready to start planning your African safari vacation? Use our trip planner to browse sample itineraries, or match with an Africa expert!