When you think of Africa, your first thought is probably safari, but did you know there are some amazing beach destinations to be found there, as well? It's easy to combine white, sandy beaches and tropical breezes with an African safari.
See where to go in Africa for the best beaches, and discover which of these beautiful destinations is right for you! Each country has its own distinct flavor and something unique to offer.
Maldives
Perfect for: Honeymoon couples and scuba divers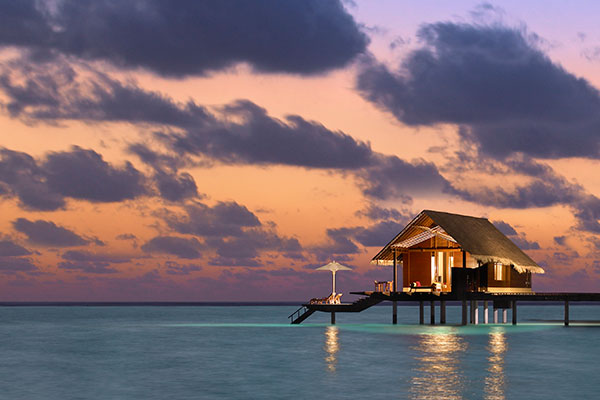 One&Only Reethi Rah, Maldives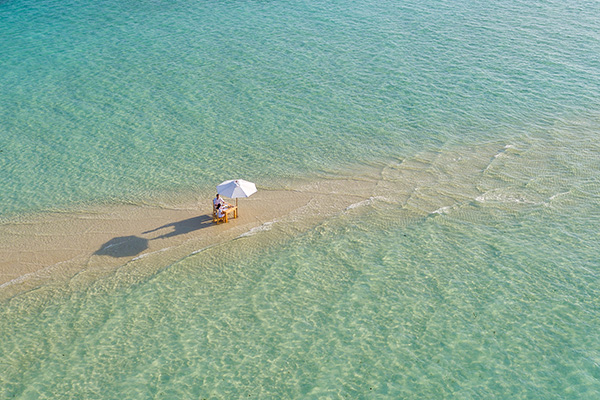 Private dining experiences at Soneva Jani, Maldives
The Maldives might as well be called paradise! This small group of islands in the Indian Ocean is home to some of the world's most luxurious resorts and overwater bungalows. (Compare the Maldives to Tahiti for an overwater bungalow destination.) The beaches are pure white sand, and the crystal blue waters are absolutely teeming with marine life. Many resorts have a house reef that you can easily swim to from the beach, making the Maldives a snorkeler's paradise.
If you want the true VIP treatment or a romantic getaway, the Maldives are a perfect choice. There's only one resort per island, so unlike in Tahiti, you won't see any other resorts when you're looking out from your overwater bungalow. The service is simply impeccable; a resort with just 50 rooms might have 150 staff on the island. You can even have a rock star dinner at an underwater restaurant!
Mauritius
Perfect for: Families, outdoor adventure lovers, and travelers looking for great value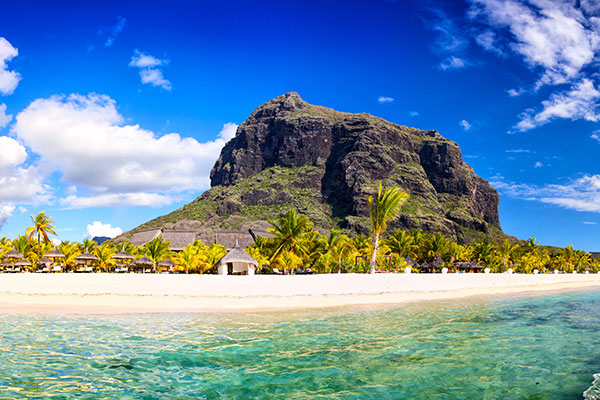 Le Morne Brabant, Mauritius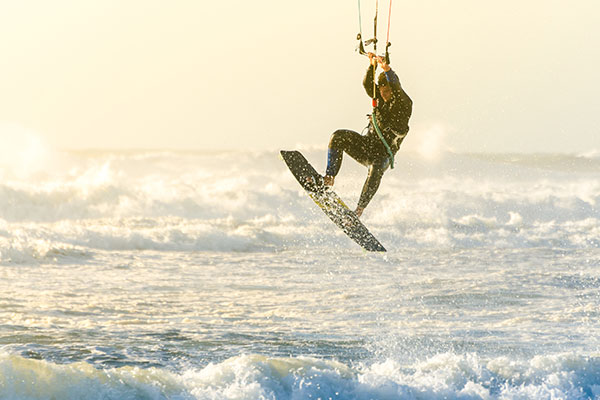 Kite surfing in Mauritius
Mauritius is a small island off the coast of eastern Africa, and it's the best place to go if you want a beach destination with lots of adventure! It's one of the best destinations on this list for water sports. Plus, it has a lot to offer besides the beach: mountains, forests, waterfalls, and even the unique Seven Coloured Dunes that you won't find anywhere else.
Mauritius has been open to tourism for a long time, which has its ups and downs depending on your travel style. Pros: There are regular flights from South Africa; the resorts are great for family travel and often have kids' clubs to keep the little ones entertained; many resorts include meals and activities with your room; and you'll find lots of activities like quad biking, kite surfing, dolphin tours, and much more. Cons: If you want a beach destination off the beaten path with few tourists, Mauritius may not be your cup of tea.
Seychelles
Perfect for: Couples seeking the ultimate romantic getaway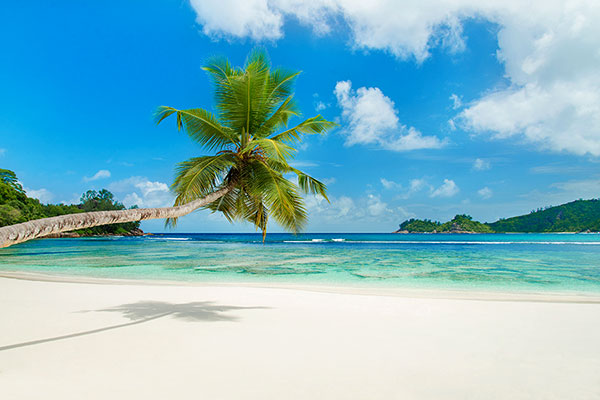 Beautiful beach on Mahe Island, Seychelles
The Seychelles are perhaps the most romantic, exclusive, and refined destination on this list—perfect for a "stop and drop" type of holiday. If you're looking for some R&R amidst unbelievably beautiful islands and beaches, this is the place for you. The beaches here feature azure waters and picturesque boulders rising out of the soft white sand. You might recognize the famous Anse Source D'Argent: it's the most photographed beach in the world!
The Seychelles are perfect for romantic getaways, since the resorts offer over-the-top luxury that will make your special trip unforgettable (many of them are adults-only, as well). Fishing here, especially fly fishing, is superb, and you can also swim with whale sharks! However, it's worth noting that all motorized water sports are banned in the Seychelles.
Mozambique
Perfect for: Those who want to soak up the local culture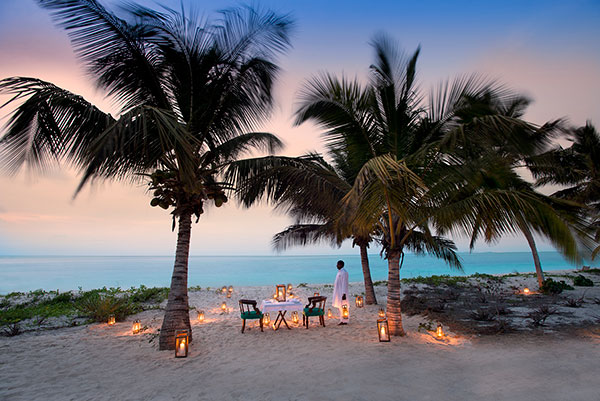 &Beyond Benguerra Island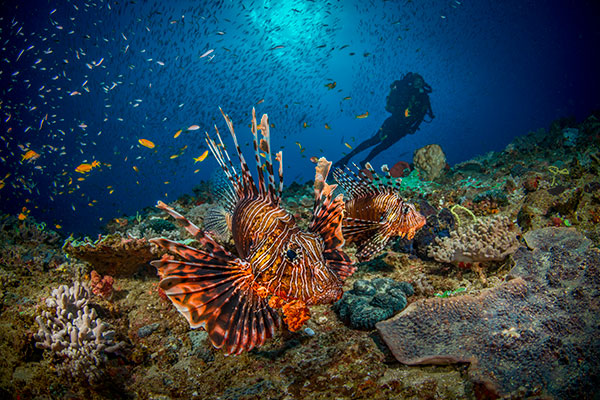 Scuba diving, White Pearl Resorts
Mozambique is definitely off the beaten path, but those who visit will find it to be pure heaven. It's exactly what you'd imagine in a tropical paradise: clear, sunny days; palm trees blowing in the ocean breeze; and the softest white sand you can imagine. The locals are very proud of their beautiful country and always keep the beaches clean. Mozambique has some great coral reefs for snorkeling and diving, and the reefs also bring vibrant marine life, including sea turtles, dolphins, whale sharks, rays, dugongs, and more.
While the Maldives and Seychelles resorts show more a more refined, European influence, Mozambique is more about enjoying the simple things in life. When the tide goes out, you'll hear the local fishermen singing as they fish by hand in the water, and see families talking and laughing together on the beach.
If you're an adventure seeker who wants to connect with nature and really get to know the locals, Mozambique is the perfect destination for you.
South Africa
Perfect for: Travelers who want beautiful ocean views near cities, safari, and wine country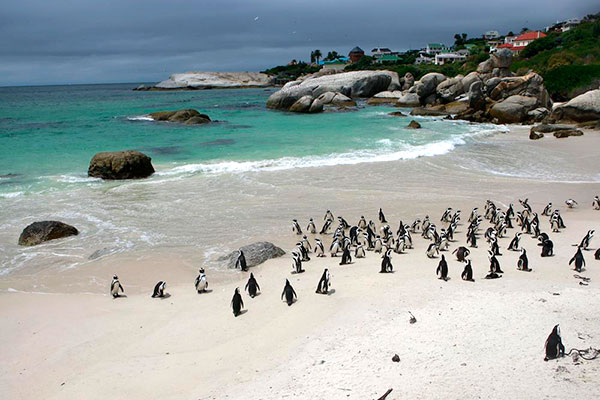 Penguins on Boulders Beach near Cape Town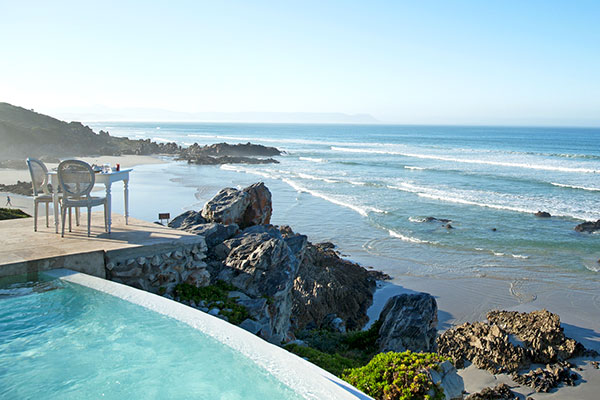 Ocean views at Birkenhead House, Hermanus
This gorgeous country has a little bit of everything, from safaris in the famous Kruger National Park to scenic beaches along the Garden Route.
South Africa's beaches aren't the most tropical on this list. Instead of powdery white sand, they'll often have dramatic cliffs or interesting rock formations reaching out to the ocean. South Africa is perfect if you want to soak up beautiful ocean views while also enjoying world-class food and wine, mountain scenery, and vibrant cities.
You can easily see penguins, seals, humpback whales, and more in South Africa. It's also a great destination to go cage diving with great white sharks!
Zanzibar
Perfect for: Travelers who like a mix of beach, culture, and history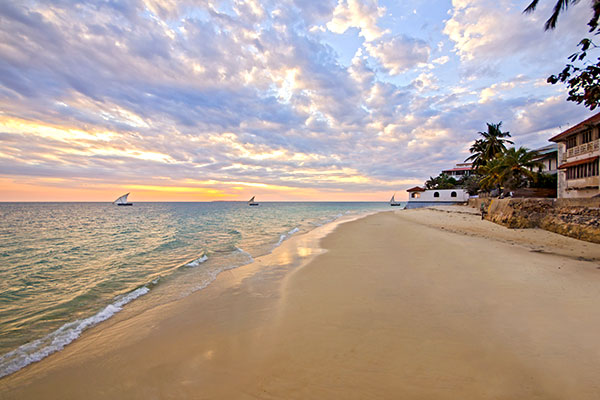 Beach sunset in Stone Town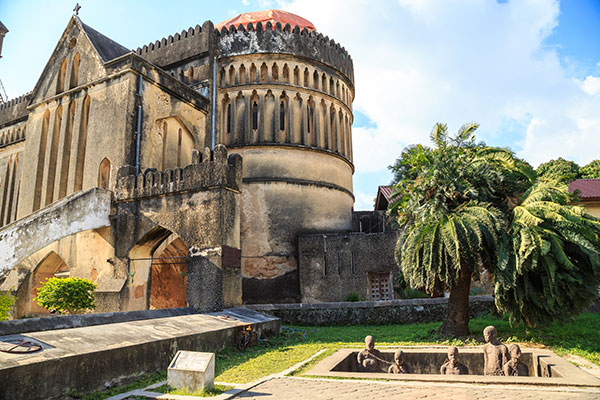 Former slave chambers in Stone Town; now a memorial and museum
This intriguing island is just off the coast of Tanzania, making it easy to combine a few beach days with a Great Migration safari. You can go on a Serengeti safari in the morning and be on the beach in the afternoon!
Zanzibar is a perfect destination if you want to combine secluded, white sand beaches with culture and history. It has a distinct mix of African and Middle Eastern influence, which you'll see in the architecture, Arabian-style bazaars, and thriving spice culture. Zanzibar also has a rather dark history as a former hub of the slave trade, which you can learn about in the fascinating capital of Stone Town. The entire town is listed as a UNESCO World Heritage site, and it truly feels like you're stepping back in time as you wander the winding, cobbled streets.
---
Want to know more about the best beaches in Africa? That's what we're here for! Browse African beach vacations using our trip planner, or call our luxury travel designers at 888-367-0933 to start planning your dream getaway.