You probably have a bucket list of things you want to do before you die, right? Shark diving in South Africa has been at the top of my list for years, but throughout my travels, marine animals always seem to hate me! I've had whale watching tours with no whales, dolphin swimming tours with no dolphins… When I was last in South Africa in 2016, I really, really wanted to go cage diving with Great White Sharks, and given my luck, you can guess what happened—it was cancelled.
So when I got the opportunity to visit Cape Town again this May, I wasn't taking any chances. I booked shark cage diving tours three days in a row in case of cancellation, and I'm happy to report that I FINALLY got to check this amazing experience off my bucket list!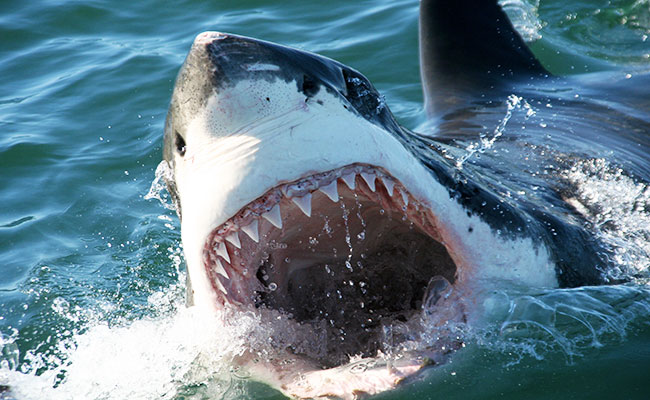 Don't you want to go for a swim with this guy? Image: Birkenhead House
I was definitely not optimistic going in. For the past year, orcas had been in the waters and the Great White Sharks had basically bugged out (you'd think the sharks wouldn't be scared of anything, but they make a tasty meal for orcas). But the travel gods were smiling on me, because in early April, the sharks started to show up in Gansbaai again. I had two days of shark diving cancelled, but on the third day, I was able to get out on the boat at last!
I tell you all of this to prepare you: Shark diving in South Africa is tricky, sightings are not guaranteed, and lots of times the boat is cancelled due to weather. You might wonder if the experience is really worth it… well I say YES, 100%! Here's how my day of cage diving went.
The best time to see sharks is first thing in the AM. Even though I knew this going in, my 5:00 AM pickup from Hermanus was a little painful. The other people on my tour had come from Cape Town and they had been picked up at 2:30 AM. Yikes!
Once we got to the cage diving location, there was a breakfast and coffee spread, but I didn't really want to eat as I didn't know how rough the water would be. It's best to play it safe and take Dramamine for seasickness if you have any doubts; we did have some people on my boat who were sick and I felt so bad for them.
We went on the water at 7 AM, and in May, that means sunrise! We were very lucky, as we got out to Shark Alley and saw Great White Sharks immediately. The company I went out with, Marine Dynamics, is a research company and they do chum the water in order to see the sharks and continue their research every day. Honestly, it's pretty gross to look at, but since we had sharks right away, it seems to work!

The Marine Dynamics crew bringing the sharks to the surface
Once the sharks were located, we had to move fast. The crew quickly attached the cage to the side of the boat and within minutes, I was taking the plunge into the ice cold water with 7 other people. When a shark swam by, the crew would yell out which side of the cage to look at and we would simply hold our breath and duck under the water to see them. Visibility was 3-6 feet, which I understand is normal for May.
I was in the water for about 20 minutes and saw 3 different Great White Sharks (about 10 feet long), 2 copper sharks, and 2 big stingrays. I didn't feel any nerves about being so close to these giants of the ocean—just pure excitement. It was so freaking cool to see them in the water! After my time in the cage, I got to view the sharks from the top deck, which gave me a better perspective of their massive size.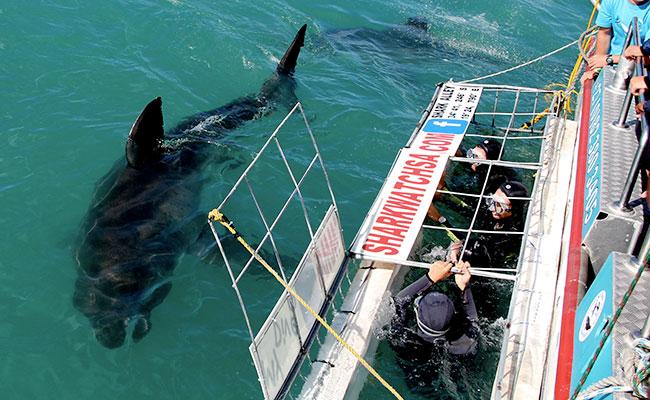 Shark swimming next to a group of cage divers. Image: Birkenhead House
Great White Sharks are such fascinating animals and there's still so much to discover about them. I loved going out with Marine Dynamics because as a research company, they're trying to learn as much as possible about these beautiful predators while treating them and their environment with respect. Some cage diving tours try to get the animals to knock against the cage, which is a thrill for tourists but hurts the sharks' delicate skin. Marine Dynamics, on the other hand, is very careful not to injure the sharks.
I must say, cage diving with the Great Whites was one the coolest things I've ever done and I'm so happy that I didn't give up. Bucket list CHECK!
---
Want to learn more about shark diving South Africa? Give me a call at 888-367-0933 (ask for Shannon!) or email me at sbradley@africaendeavours.com. I'd love to help you plan your adventure of a lifetime!