Off the Grid: Remote Zambia Safari
Hi, all! I have just returned from my trip to Africa, where I was fortunate enough to participate in Classic Portfolio's Sustainable Africa Mega Fam. I had a choice of 7 trips featuring 19 sustainable companies, 36 authentic experiences, 51 travel partners, and 6 countries. I chose to be part of the Zambia – A Walk on the Wild Side fam.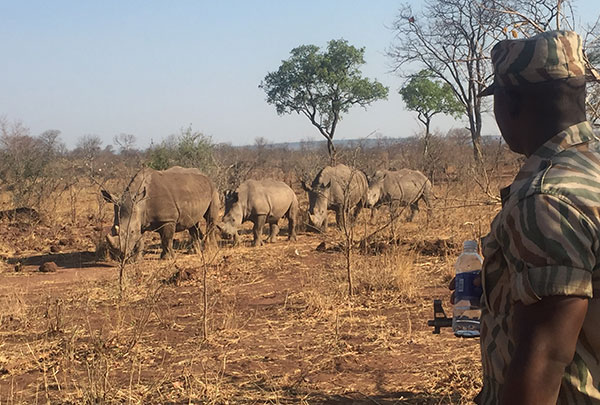 South Luangwa National Park: Tafika Camp and Chikoko Trails Camp

The trip started in the South Luangwa National Park with Remote Africa Safaris. We stayed at Tafika Camp, located on the banks of the Luangwa River. (Since we traveled in October—peak dry season—there was not much water flowing in the river.)
Tafika Camp is the base camp for Remote Africa Safaris and each chalet is made of completely natural materials, which are rebuilt every year. Here, you will find exceptional game viewing combined with mountain bike safaris, bush walks, and visits to the local village. It is wild, remote, and untouched. A real African adventure!
During our stay, we also got to experience an authentic bush camp when we packed up our things and walked through the bush from Tafika Camp to Chikoko Trails Camp and spent the night. Chikoko Trails is only accessible by foot and allows you to be completely off the grid. There is something so humbling about seeing large game on foot and walking through a herd of 1,000 buffalo! It's safe to say that the quality of the guides here is unparalleled.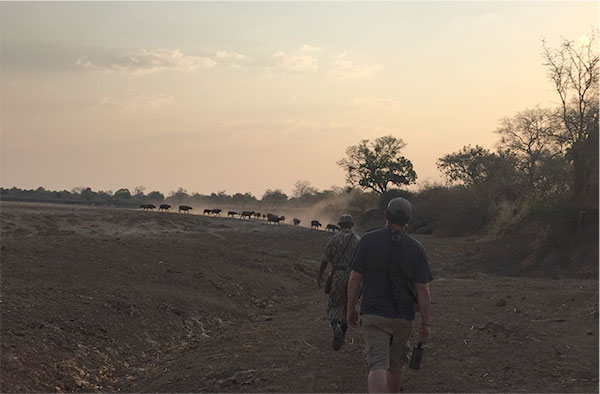 South Luangwa National Park: Mfuwe Lodge and Kapamba Bushcamp
From here, we drove to the Mfuwe Gate of South Luangwa National Park and stayed with the Bushcamp Company. They operate 6 exclusive bush camps in the remote south of the park, as well as Mfuwe Lodge just inside the main park gate.
We spent the first night in Mfuwe Lodge, where we were treated to some of the more creature comforts like a spa treatment, pool, gym, and wifi. Mfuwe Lodge is also perfect for the sofa safari. The lodge sits on the banks of 2 lagoons, so they have an endless stream of wildlife—including giraffes, hippos, buffalo, elephants, antelope, and crocodiles—walking right by and even into the main lodge!
Next, we transferred to the bushcamps and stayed at Kapamba, a beautiful camp consisting of only 4 rooms. Here, you have the utmost flexibility with a guaranteed 2 guides and vehicles in camp. It is here, while we where walking, that we witnessed a wild dog kill and then got to hang out with a pack of 28 wild dogs and watch them interact. Our guide had to remind us not to run when the wild dogs showed up! It was the type of experience that sends chills down your spine.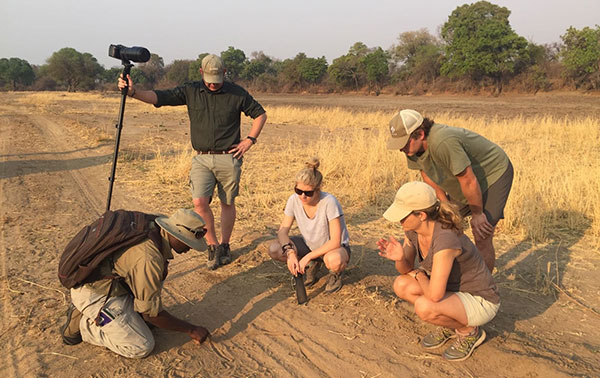 Lower Zambezi National Park
Continuing our adventure, we chartered a flight and flew to the Lower Zambezi National Park. We divided our time here between Chiawa and Old Mondoro, each resting peacefully on the banks on the Zambezi River in a remote part of the park. Here, you have exceptional land- and water-based safaris, including walking, 4×4, canoe, and motor boats.
I highly recommend a canoeing safari, where the hippos snort, the crocs are sunbathing on the banks, and the elephants come to drink out of the channel! The tiger fishing is also something to be noted for those keen fishermen out there. (I caught the biggest fish of the trip!) We saw amazing game, including a leopard kill, plenty of elephants, warthogs, baboons, lions, birds, hippos, and many more.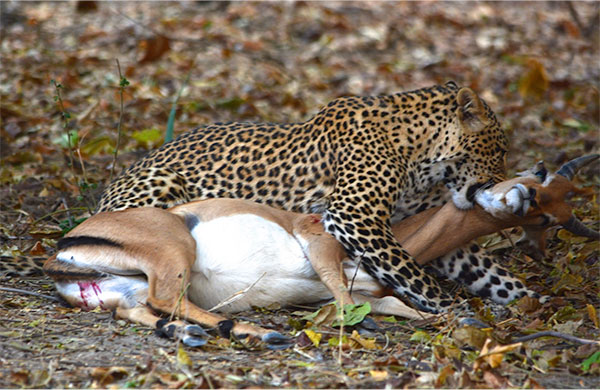 Victoria Falls and Devil's Pool
We then flew to Livingstone, and had an amazing boat transfer to The River Club on the Zambezi River, 11 miles upstream from the amazing Victoria Falls. Because we were traveling in October and the falls were not full, we were fortunate enough to experience a swim in Devil's Pool—a rock pool right beside the thundering water of the falls!
From the Zambia side of the falls, you also have access to walking with the rhinos and a gorge helicopter ride, both of which are once-in-a-lifetime experiences. Staying at The River Club, we also got to experience a sunset cruise and sundowners on their own private island right in the middle of the rushing river.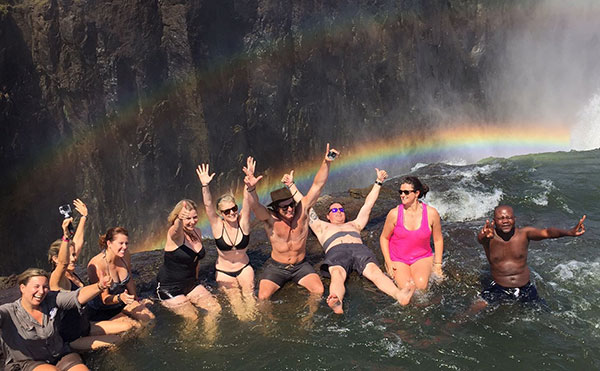 South African Wine Country
We ended our trip in the Winelands of South Africa, staying at Boschendal Farm, where the wine and food is beyond amazing. Finally, to top it all off, on the last night after our workshop we had a gala dinner at Delaire Graff. I cannot say enough about the extraordinary atmosphere, service, food, and wine. AMAZING!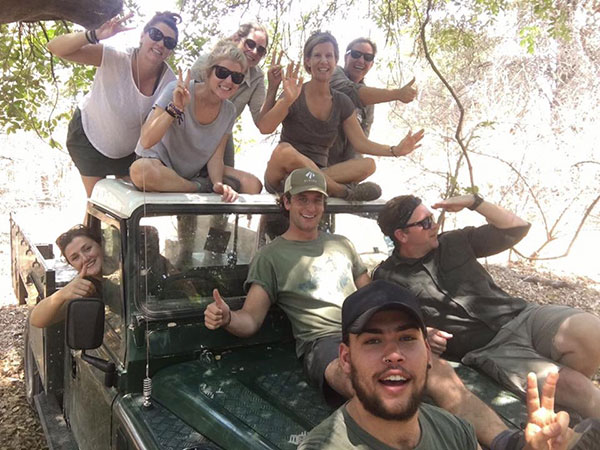 ---
While every amazing adventure must come to an end, I have learned so much and I cannot wait to return to Zambia! If you'd like to plan your own remote, off-the-grid adventure, call our office at 888-367-0933 and ask for Vanessa. Or, you can use our trip planner to browse Zambia safari vacations. Happy travels!