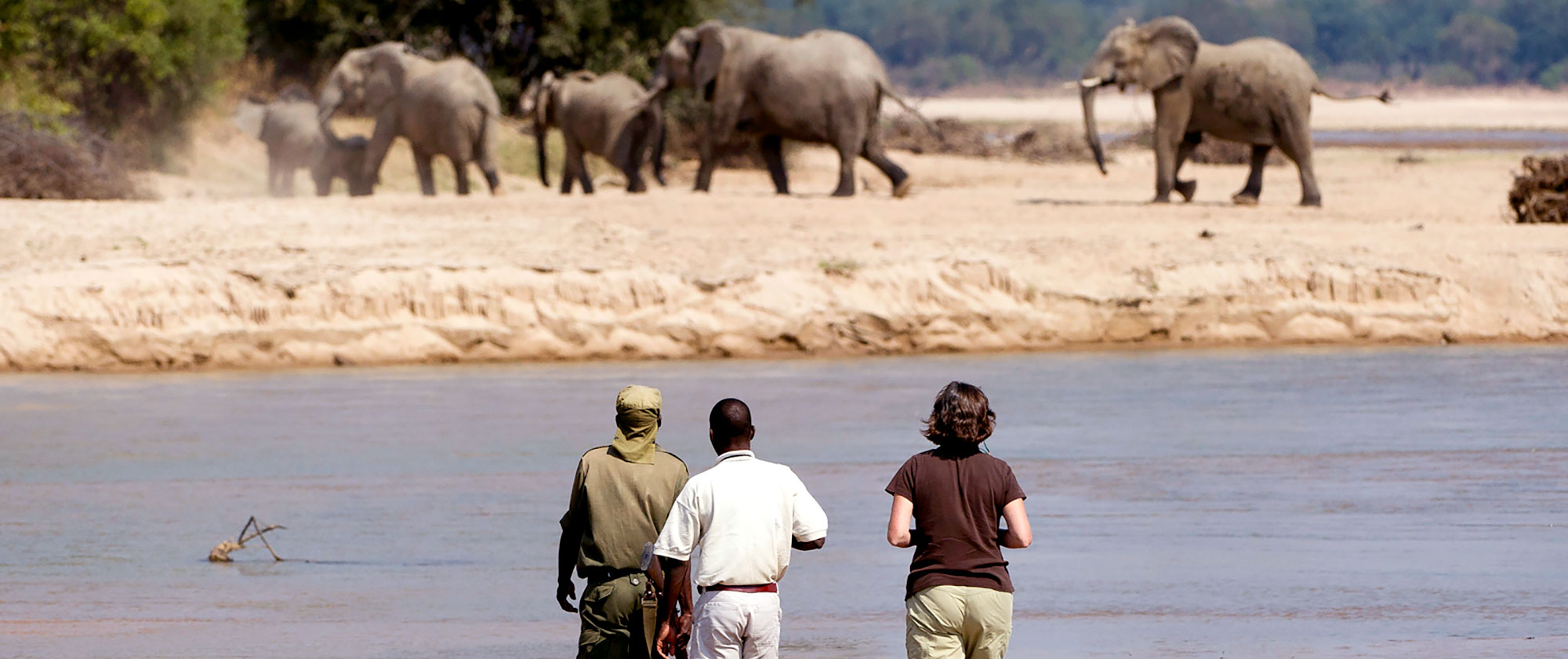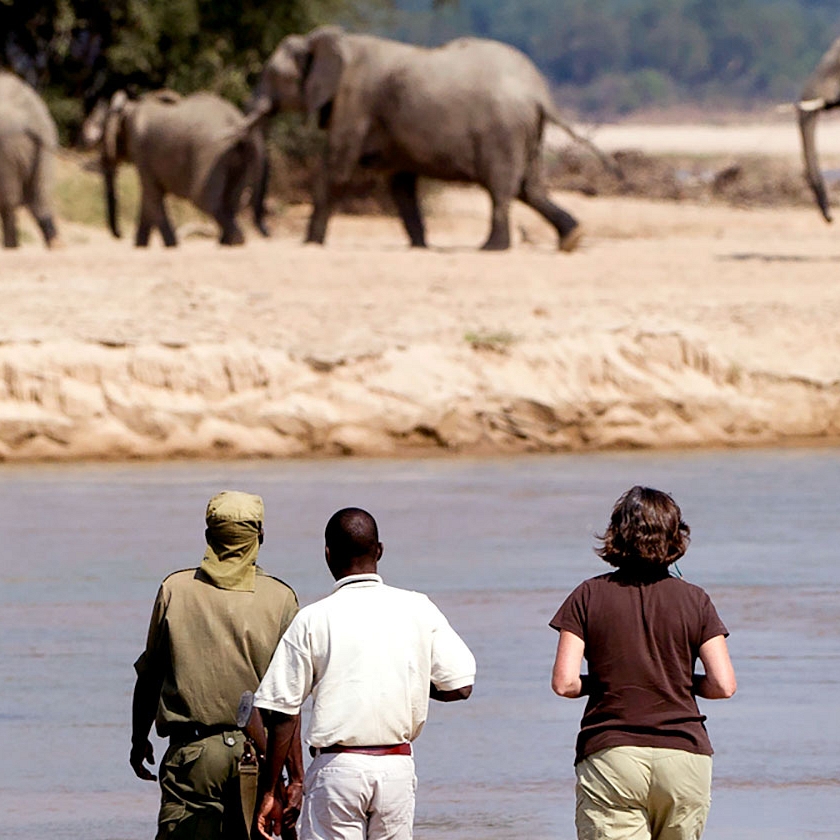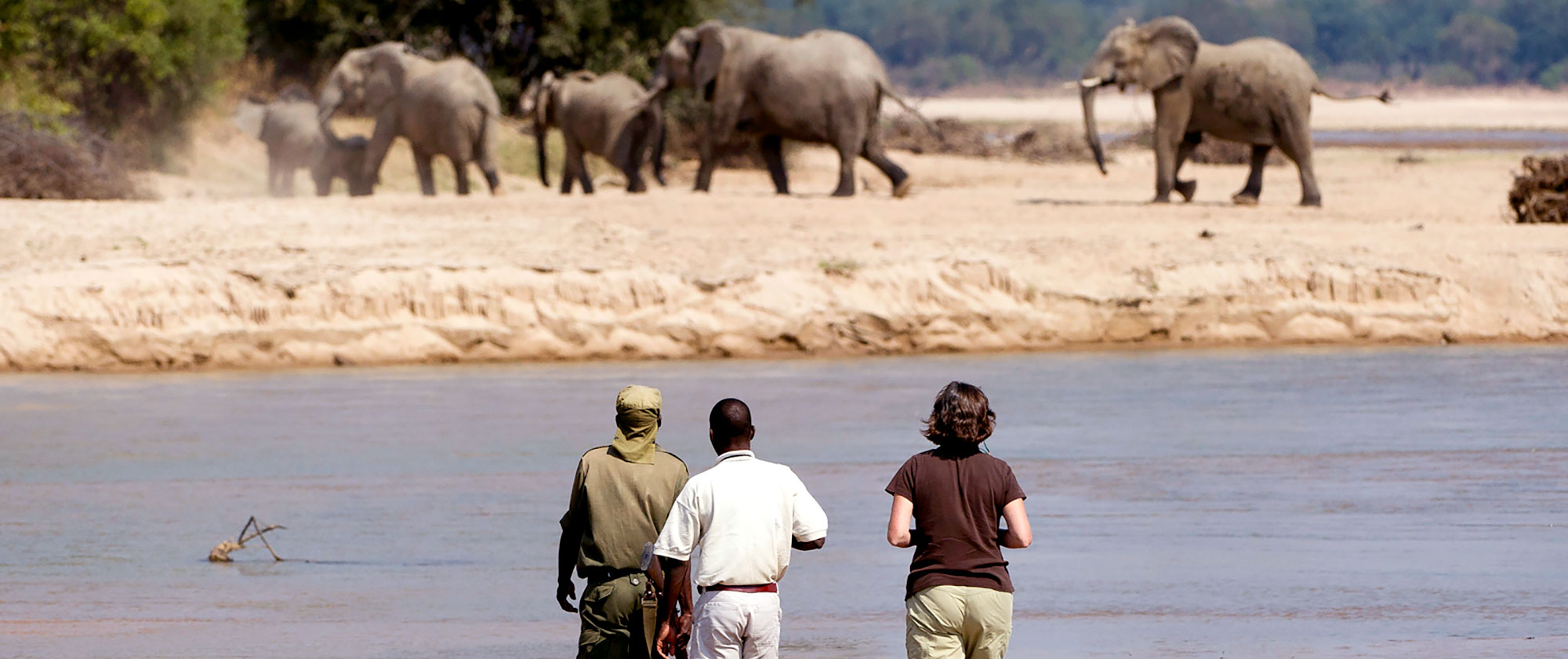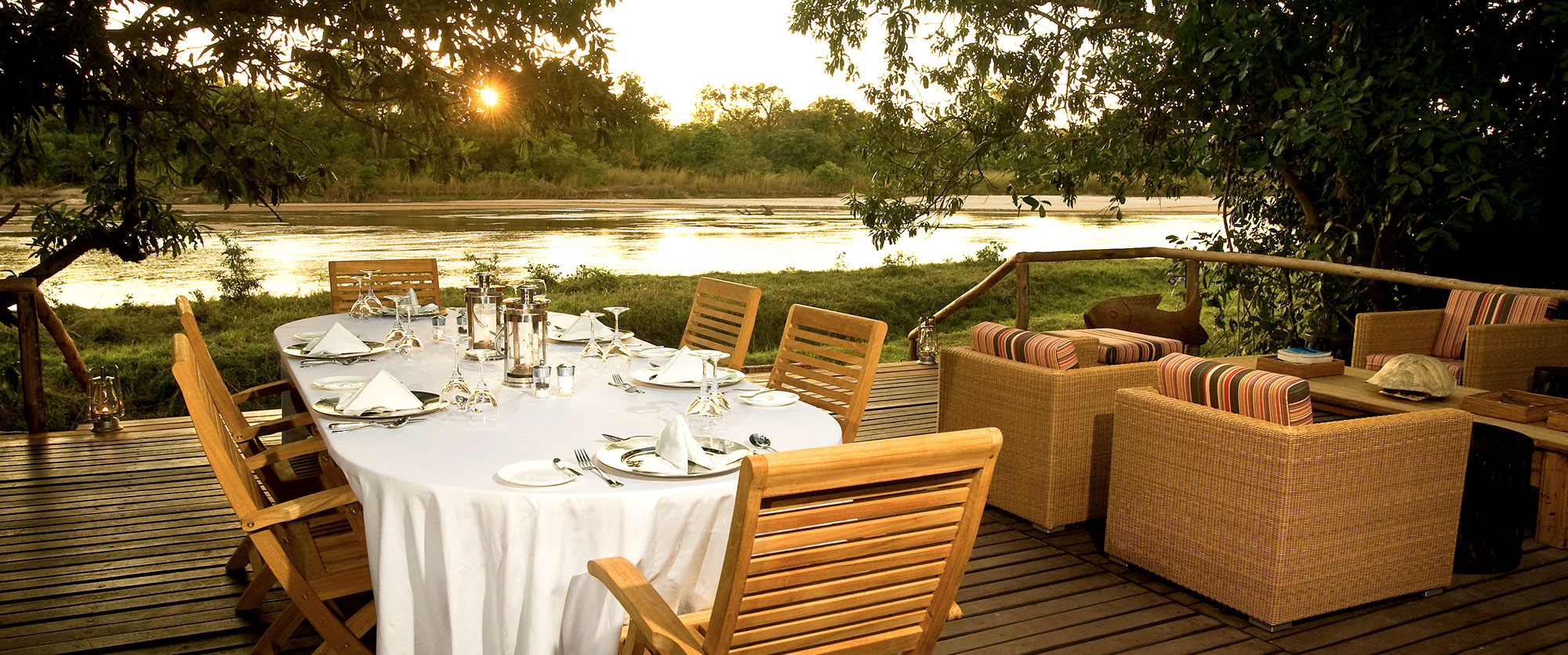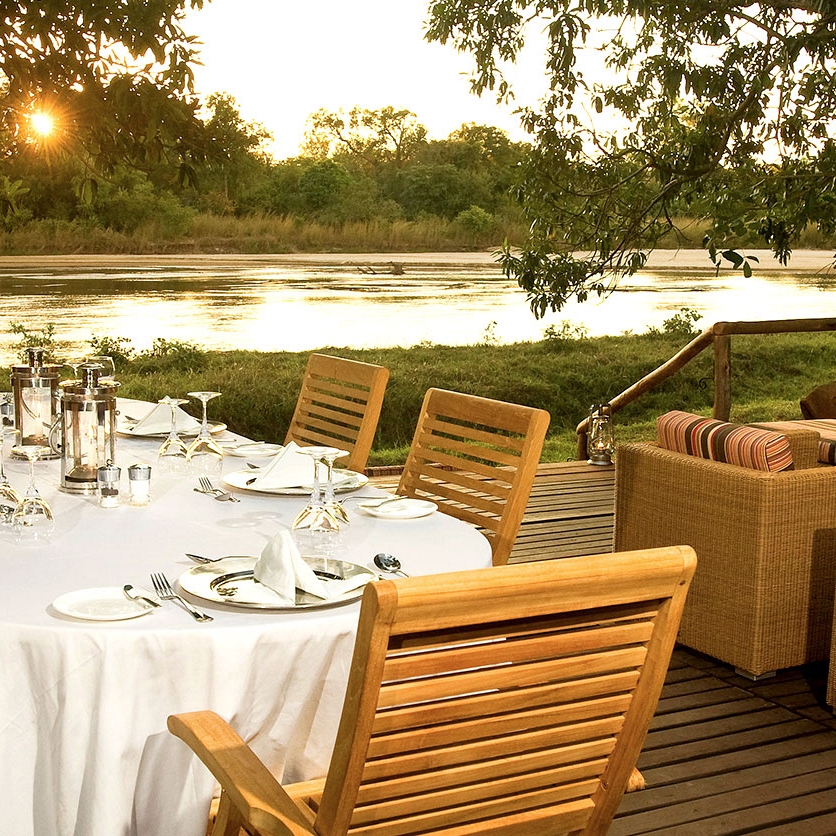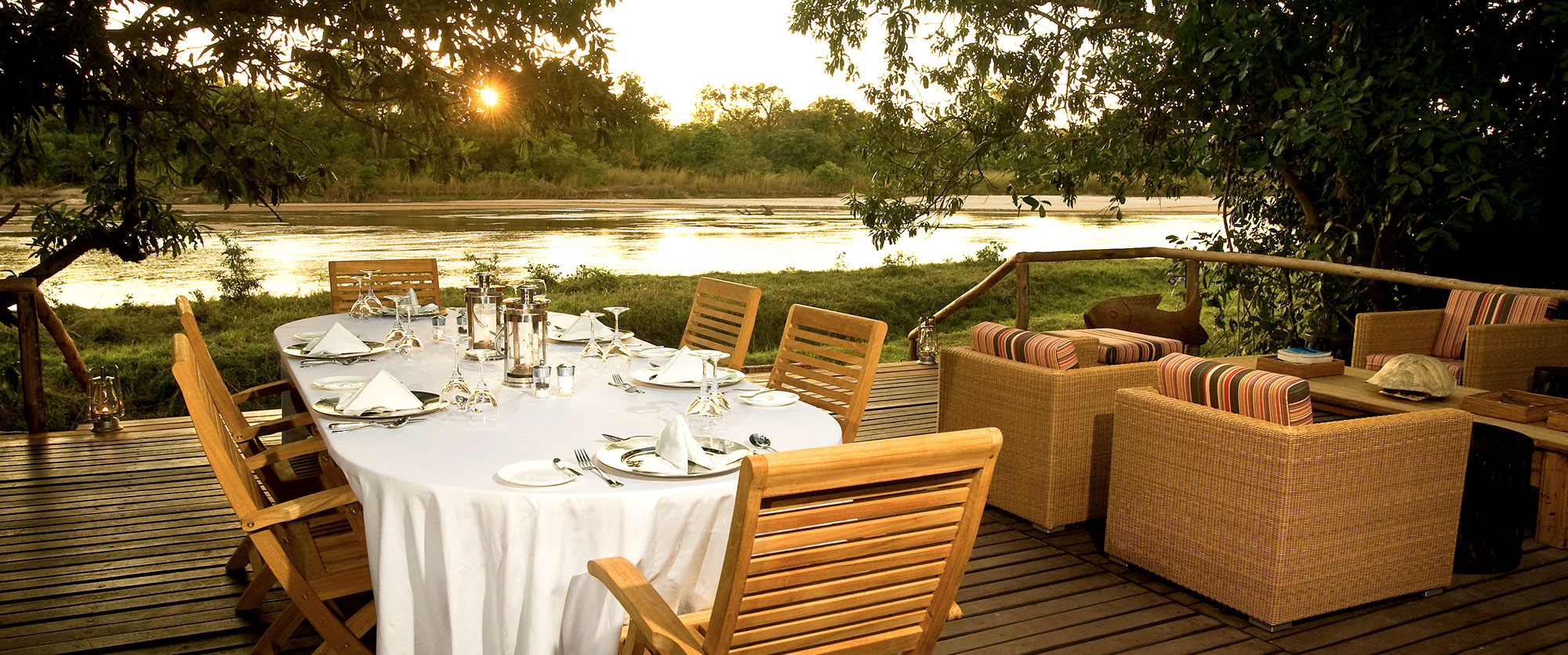 Remote Safari Tour: Zambia Adventure
Go off the beaten path with this very active and remote safari tour of Zambia. Explore the magnificent South Luangwa National Park on walking safaris and game drives with expert guides!
Our Remote Safari Tour was designed for a mother and daughter duo from California who wanted to celebrate the daughter's college graduation with the ultimate African wildlife experience. Because they wanted to go off the beaten path, we planned this very active remote safari tour across Zambia that allowed them to be fully immersed in nature.
They started at Mwaleshi Camp, a small, family owned camp built of natural materials that sits on a scenic bend of the Mwaleshi River. This camp is the only camp operating on the enormous North Luangwa National Park and provides an intimate and authentic safari experience perfect for those who love the outdoors. Mwaleshi Camp boasts rich wildlife and specializes in expertly guided walking tours.
Next, we flew them to nearby Chikoko Trails, which consists of two camps, the Tree Camp and Crocodile River Camp. Visitors are encouraged to stay 2-3 nights at each camp and walk between them via well-worn animal trails. The expert guides at Chikoko Trails led our clients on an intimate walking safari alongside African wildlife. Like Mwaleshi Camp, the Chikoko Trails camps are remote and blend in with their surroundings to give a sustainable and authentic safari experience.
To continue their Remote Safari Tour, our clients visited the unique and isolated Tafika Camp, located in one of the richest wildlife sanctuaries in the world. The camp is highly secluded and surrounded by exciting African wildlife such as lions, hippos, elephants, and leopards. They went on a mountain bike game drive and were able to relax at night in luxury beds covered by an open thatched building.
Finally, they arrived at the gorgeous Kapamba Camp to finish off their Remote Safari Tour in style. The camp is isolated in one of Zambia's most vibrant parks, but offers luxurious accommodations and stunning views of the Kapamba River. They were able to witness elephants, lions, buffalo, and more crossing the river right from their cozy deck. After 3 nights of intimate wildlife encounters, their unforgettable Remote Safari Tour came to an end.
Suggested Itinerary
Day 1 – 4
Welcome to Zambia! Upon your arrival, you'll be escorted to your connecting flight to Mfuwe Airport. Once you've landed at Mfuwe, you'll be transferred to your luxury accommodations at Mwaleshi Camp. Located in the remote North Luangwa National Park, Mwaleshi Camp is situated 10 km from the Mwaleshi and Luangwa river confluence. Here, you can catch a glimpse of hyenas hunting puku in the shallow waters of the Mwaleshi, enjoy impressive herds of buffalo and Cookson's wildebeests, and see a large number of resident lions. Enjoy 4 exciting nights exploring the area and receiving an authentic safari experience.
Accompanied by an expert manager/guide and an armed national park scout, enjoy the freedom of Africa's vastness on foot. Explore further afield either by vehicle or on a day trip to the Mwaleshi Falls, located upstream of the camp. Surround yourself with natural beauty and enjoy excellent cuisine and accommodations.
Mwaleshi Camp
Day 5 – 7
After breakfast, enjoy a light aircraft flight from Mwaleshi airstrip to Lukizi airstrip, followed by a quick transfer to your accommodations at the wonderful Chikoko Trails Camps. Chikoko Trails Camps consists of two rustic bush camps: Chikoko Tree Camp and Crocodile River Camp, both situated in the northeastern region of South Luangwa National Park. Both bush camps are remote and intimate. Activities at the bush camps focus entirely on walking safaris. Ideally, guests can visit both camps, walking between the two. Spend 3 fabulous nights at Chikoko Trails.
Chikoko Trails
Day 8 – 10
After a delicious breakfast, your shared road transfer will pick you up and bring you onward to Tafika Camp, where you will stay 3 nights. An owner run and managed camp, Tafika is spaciously set at a scenic bend on the banks of the Luangwa River just outside the Nsefu sector in a game management area. Situated in a remote area of the park, Tafika offers excellent leopard sightings and a prolific supply of wildlife along the Luangwa River. Tafika offers day and night game drives, walking safaris, mountain biking, and a cultural visit to the local village and school.
Tafika Camp
Day 11 – 14
Rise and shine! Your journey continues today after breakfast. Take a light aircraft flight from Lukizi airstrip to Kapamba airstrip, where your luxurious accommodations await at Kapamba Camp. Set in a remote corner of the southern region of the South Luangwa National Park, you'll find Kapamba Camp lying on the banks of the shallow, spring-fed Kapamba River. Immerse yourself in this peaceful, secluded area, surrounded by some of the park's richest wildlife with fabulous views over the watercourse.
From Kapamba, you can explore the rich diversity of the surrounding area on guided morning and afternoon walks or day and night game drives. The river itself can also be used for a cool wade through the crystal waters or a scenic riverside sundowner. Cap off your African wildlife adventure at Kapamba Camp.
Kapamba Camp
Day 15
This morning marks the end of your journey.  After breakfast, you will take a shared transfer from Kapamba Camp to Mfuwe Airport, where you'll begin your journey home.
You might also be interested in