I have just returned from my first adventure in Tanzania and thought I would share some of my Tanzania travel tips with you all!
Long story short: This destination is not for everyone. But if you want a wild, adventurous, and life-changing safari experience (and have a little patience with the transportation), you will fall in love with Tanzania as much as I did!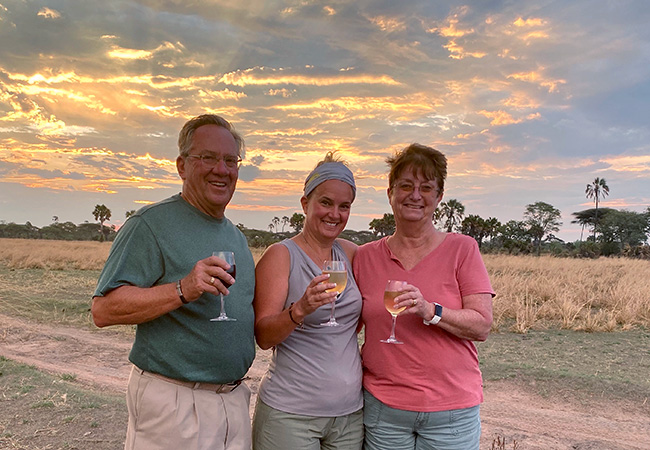 Sundowners in Africa… the best part of any safari!
Introduction to Tanzania Travel
When you think of Tanzania, you probably imagine something that looks like the Lion King… wide, grassy plains filled with wildebeest, lions, and zebras. While it's true you can see all this in the Serengeti, Tanzania has a HUGE variety of landscapes to explore, including tropical islands and remote rainforests!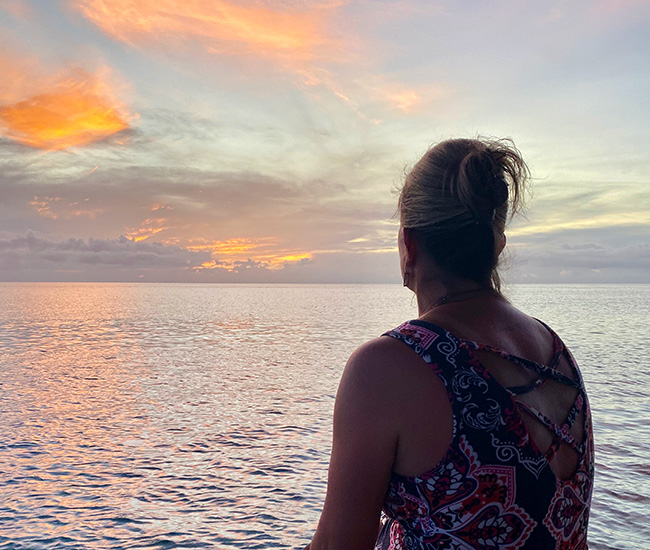 Sunset at Manta Resort on Pemba Island
My parents and I spent 18 days on the "path less traveled," exploring the very remote areas in Central and Western Tanzania, as well as one of the islands. The wildlife experience—both in the water and on land—was simply amazing! I went scuba diving and chimpanzee trekking, and of course did some safari game drives as well.
I'll start with some of the challenges you should know about before traveling to Tanzania…
Tanzania Travel Tips: Know Before You Go
Flight times and routes are merely a suggestion. Flights generally run like bus schedules. Your flight time, routing, and stops can change drastically. Luckily for our clients, we have a local office IN Tanzania to handle all of this and make sure you get where you need to go.
The airports are not very modern; don't expect air conditioning or comfy lounges, especially in remote areas. Be ready to have your bag X-rayed or inspected by hand multiple times before boarding a flight.
Tanzania is a huge country and therefore, with flights and land transfers, you should be prepared to spend 5-10 hours to get from one place to another.
WiFi, running water, and power MAY not be available in some of the most remote areas. It's all about connecting with nature! If you are a person who needs to stay plugged in, you may want to focus on more popular areas like the Serengeti.
Now that that's out of the way, let me share some of the best things about traveling in Tanzania! The "wild" aspect, while presenting some challenges, also makes Tanzania a one-of-a-kind safari destination.
Big 5 Safaris in Tanzania
Tanzania offers some of the best game viewing in all of Africa. You have the Wildebeest Migration in the Serengeti, fantastic Big 5 safari parks throughout the country, and the opportunity to see TONS of game in relatively small spaces, like Ngorongoro Crater or Arusha National Park.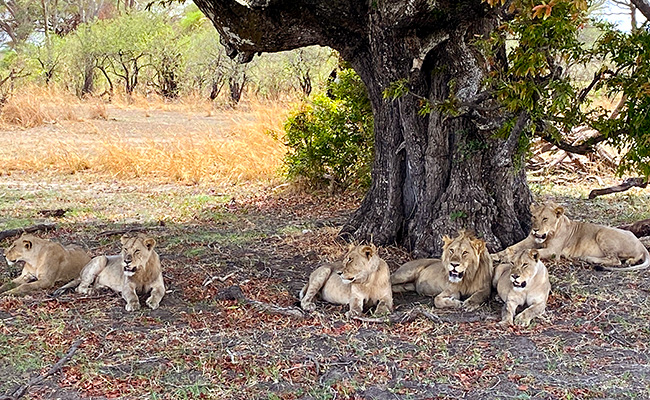 A pride of lions in Katavi National Park, Tanzania
In Katavi National Park (a huge, rarely touristed safari park in Western Tanzania), I had one of the most amazing wildlife sightings of my life! As we were watching 5 lions eat a hippo at the water's edge at night, we saw some crocodiles approaching. When one of the crocs got too close, a lioness WHACKED him on the nose and made him back off. It was like watching a nature documentary in real life. (Unfortunately, I couldn't take a video since it was so dark.)
Unique Experiences in Tanzania
It's not just lions, hippos, and other typical safari animals that you can see in Tanzania. You can also see wild chimpanzees! This was a truly magical experience, and you can read all about it in my Mahale chimp trekking blog post.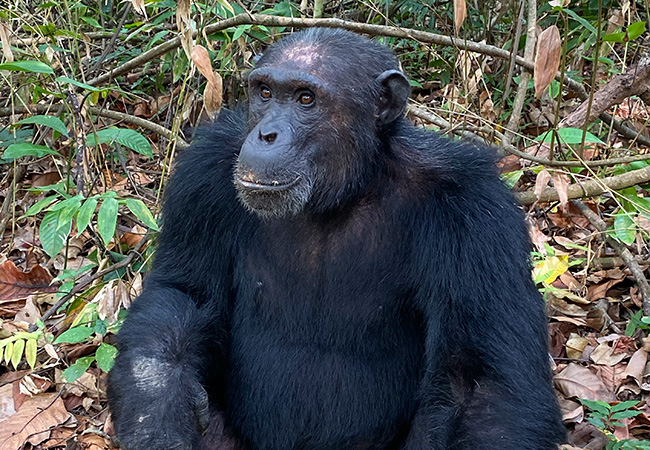 I couldn't believe how close we got to the wild chimpanzees!
Plus… FLAMINGOS! Everyone who knows me knows I love the color pink, so I was on a mission to see the famous flamingo-filled lakes on this trip. In places like Arusha National Park, Ngorongoro Crater, and Lake Manyara, these lakes can be literally PINK. I was not disappointed with my flamingo sightings!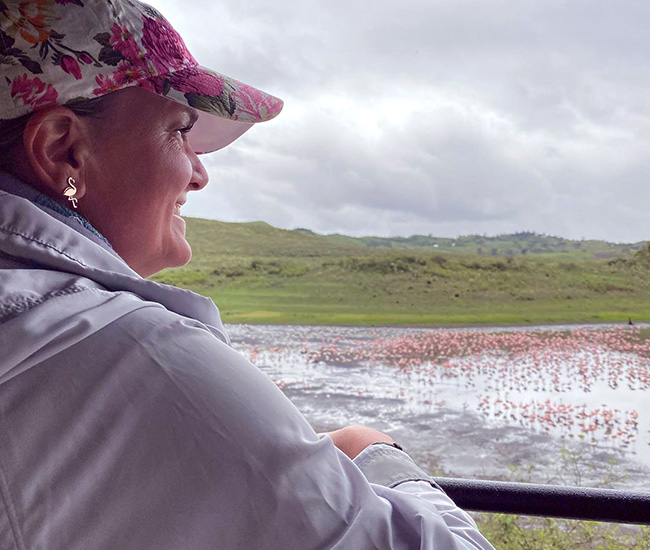 Of course I wore my matching earrings for flamingo day
Last but certainly not least, the people of Tanzania are so passionate about their country and their wildlife, and they are happy to help you see it. I made wonderful connections with my guides and lodge staff throughout this trip.
---
Is a Tanzania adventure on your bucket list? Browse our Tanzania safari packages online or give me a call at (888) 367-0933 to learn more about this incredible country!