I have just returned from an absolutely magical trip to Tanzania. This was my first time in the country and I spent about 3 weeks traveling ALL over, from Arusha to the beaches in Zanzibar. But today I want to share with you the most amazing experience of the whole trip: chimp trekking at Mahale.
I was simply blown away by how close we were able to get to the wild chimpanzees. This might just be the COOLEST experience I've ever had on my travels!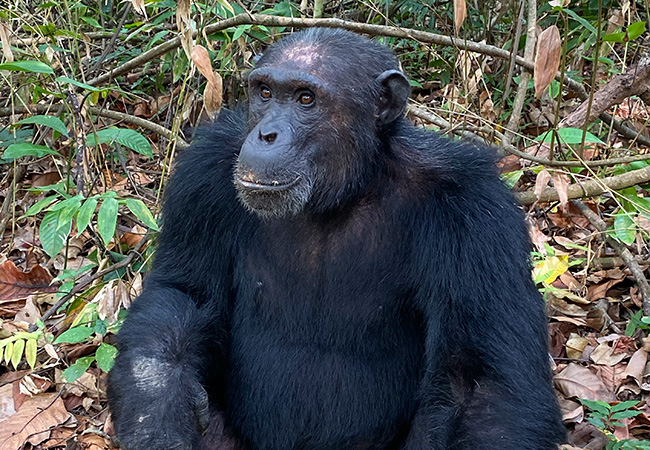 One of the wild chimpanzees we saw in Mahale Mountains National Park
Where to See the Chimpanzees
Chimpanzees live in one of the most remote areas of Tanzania, Mahale Mountains National Park. This park is on the banks of Lake Tanganyika, right on the western edge of the country—a little over 400 miles from the famous Serengeti.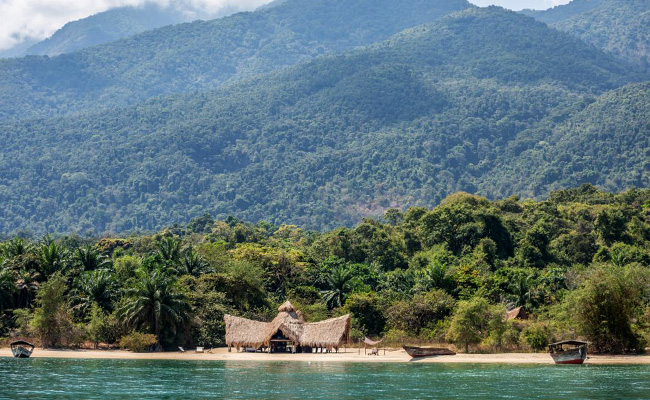 Your view on arrival at Greystoke Mahale. Image: Nomad Tanzania
When it comes to accommodations, you only have two options here. I stayed at Greystoke Mahale, a little seven-room eco lodge on the beach. This place is true "jungle chic"—the rooms, called bandas, are thatched roof and have open fronts to give you uninterrupted beach views. You can hear the bush pigs wandering around at night. You get one power outlet in your room and no WiFi whatsoever. But the managers are fantastic and the food is even better!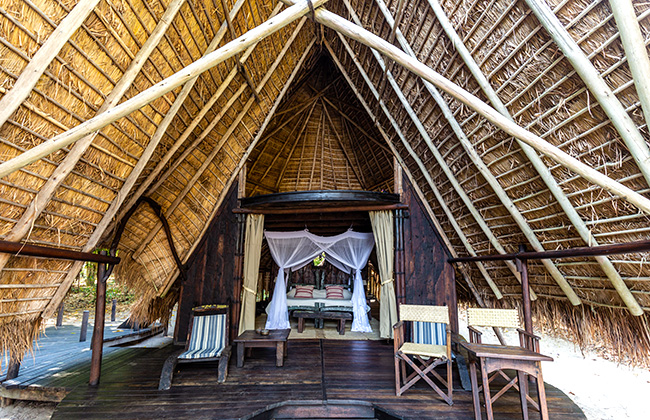 Inside one of the thatched-roof bandas. Image: Nomad Tanzania
Chimp Trekking Experience at Mahale
Every morning, trackers head off to find the chimpanzees. We were in LUCK on our chimp trekking day, as they found the chimps at around 7:30 a.m. Once the animals are located, you head out with a guide to see them for yourself.
Now, these guys live in a rainforest, so it is humid—and the trek is straight up the mountain! It's not like hiking Kilimanjaro, but I would recommend a decent level of fitness. (My mom and dad did the trek with me and it was somewhat strenuous for them.)

It was so fun to watch them playing around!
Since the '60s, Kyoto University in Japan has had a chimpanzee research station set up in Mahale. This means that the whole group has been around humans for almost 60 years. Many of the chimpanzees have grown up around humans. The researchers know each of their names, their behaviors, and their hierarchy.
Because of all this, we were able to get SO CLOSE to the chimpanzees! I thought for sure I would need my binoculars. BOY was I wrong. These chimpanzees consider you a part of their group. They will hold your hand, brush right by you, and sit by you. Most of the time, I was just an arm's reach away from them.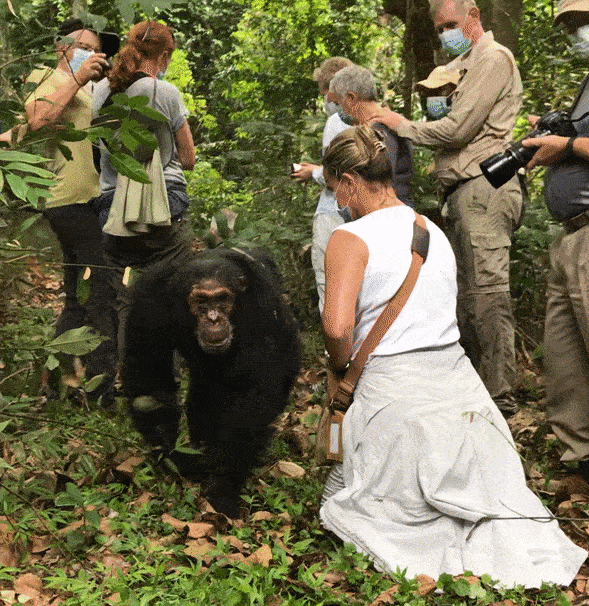 The chimpanzees didn't even seem to care that we were there
It is so hard for me to put into words what this experience is like. These animals are so human-like and have distinct personalities. They were even showing off for us. It is truly one of the most special experiences you can have.
Between the remoteness of the property, the beautiful beach, the food, and the chimpanzees, I can't imagine a better place in the world than Greystoke Mahale. It takes a 4-hour bush plane and a 90-minute boat ride to get there, and it is not inexpensive, but the experience is worth every minute and every dollar.
---
I would LOVE to talk to you about chimp trekking at Mahale and answer all your questions, so please email me or call me at (888) 367-0933 if you'd like to learn more!