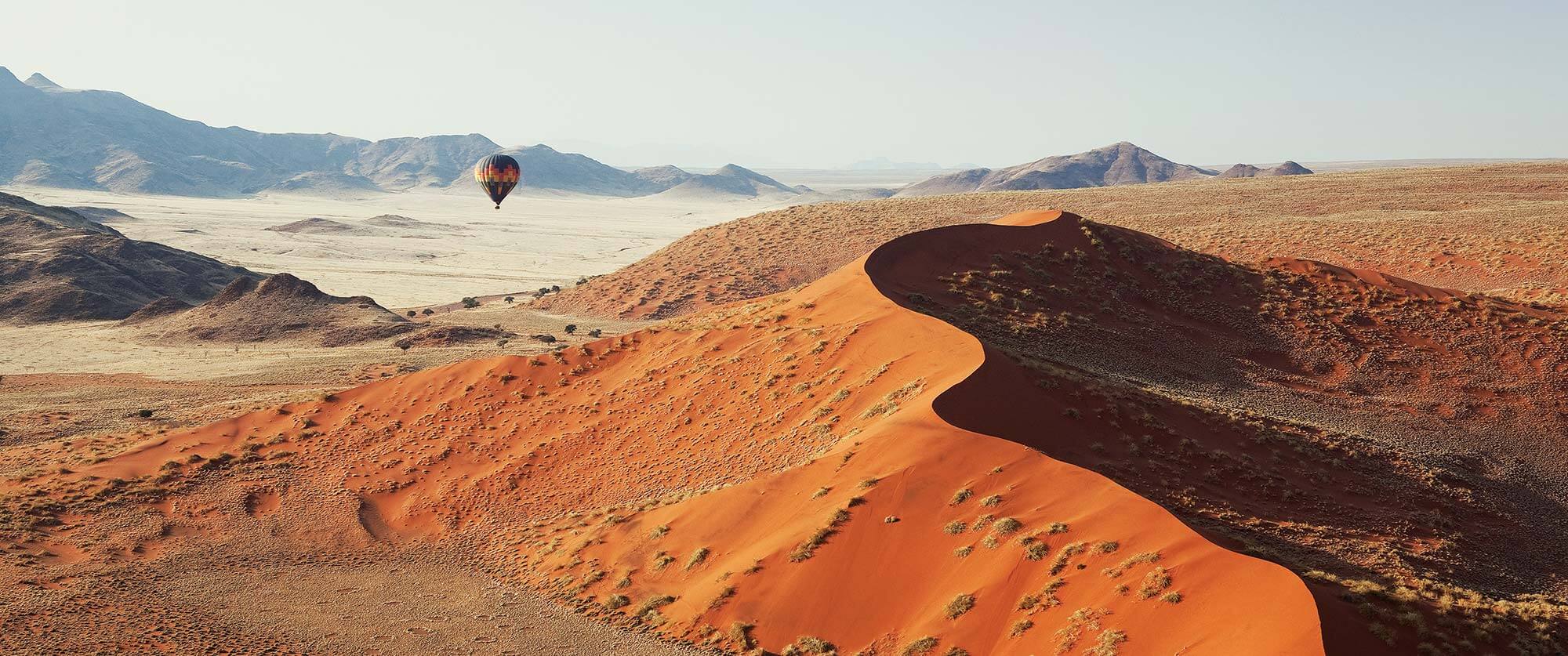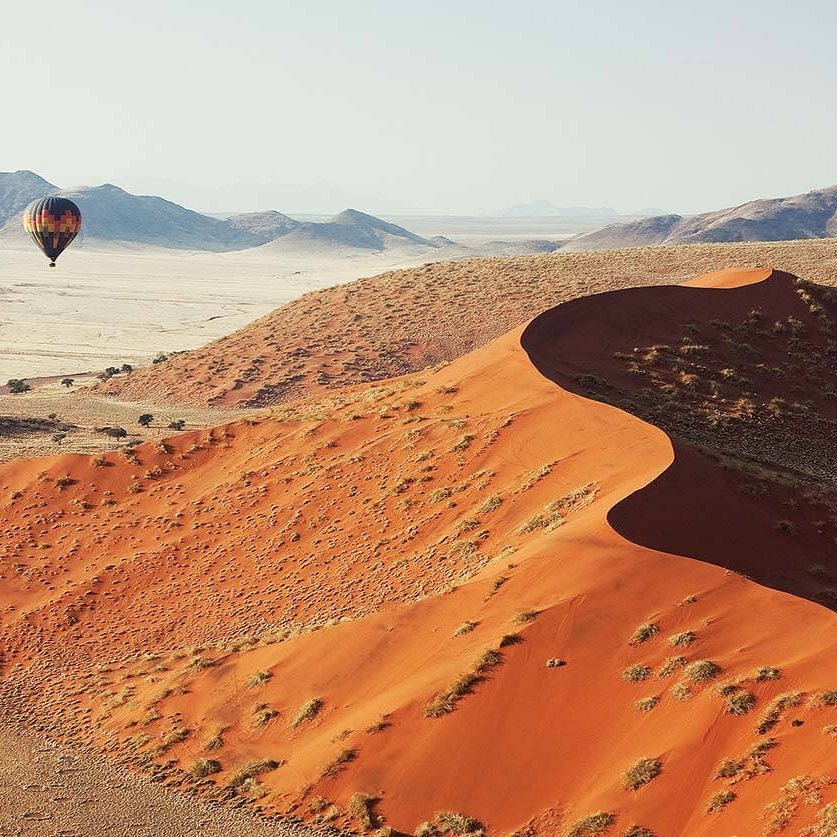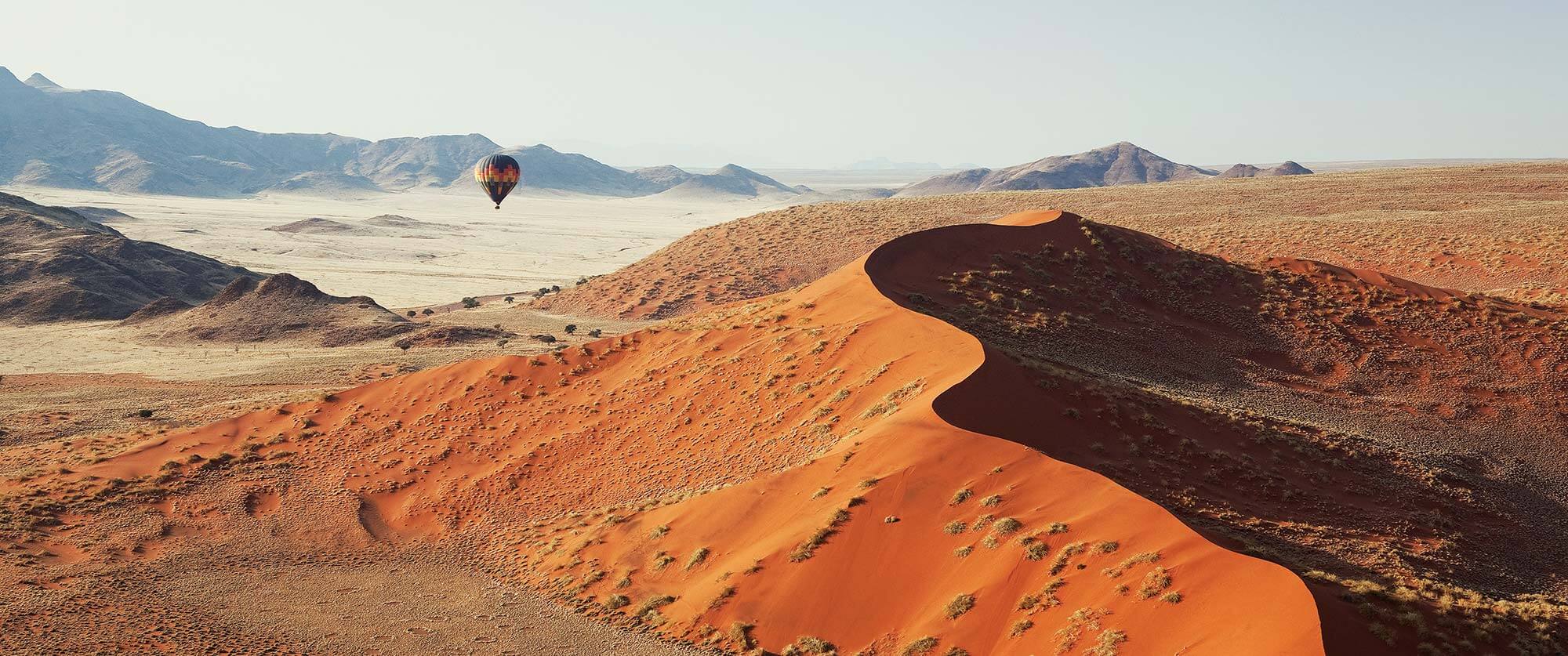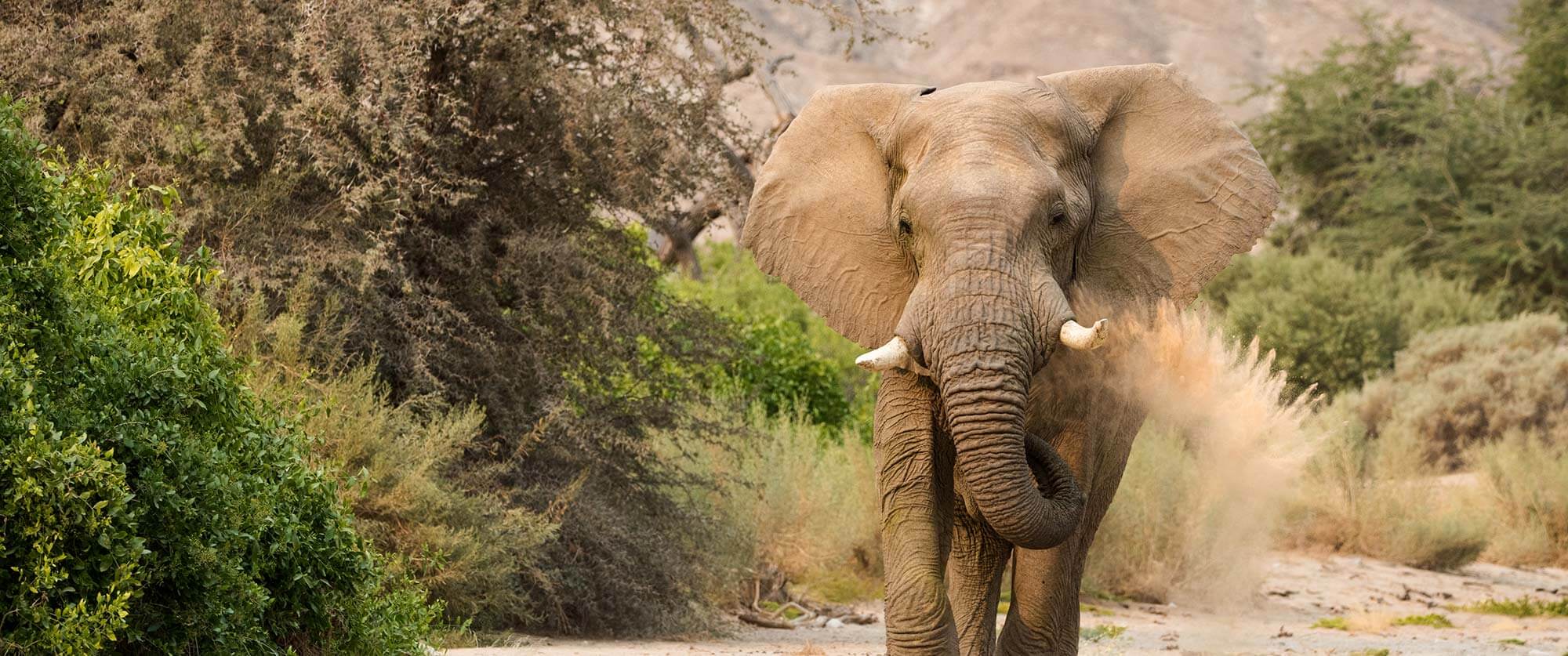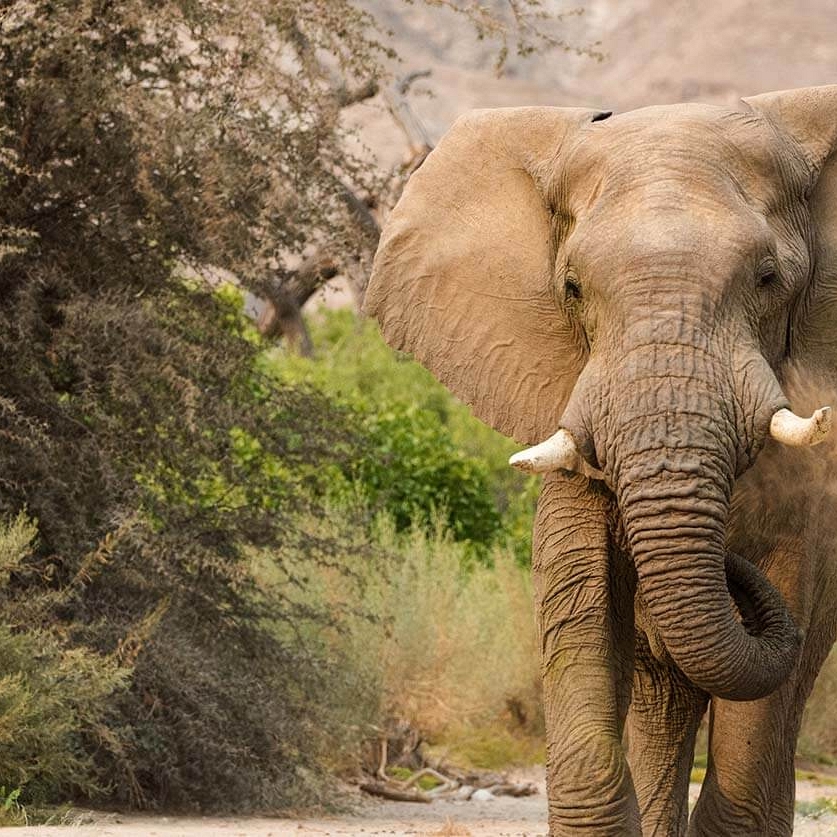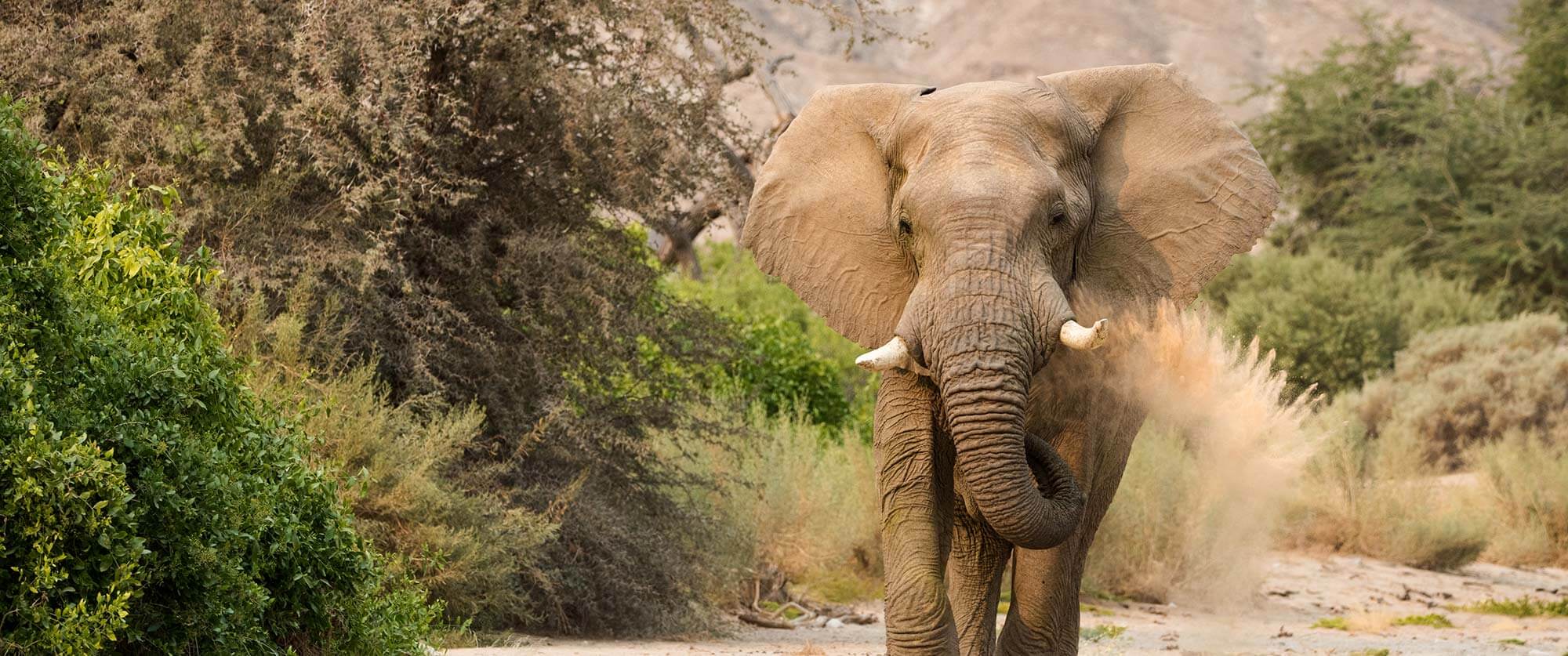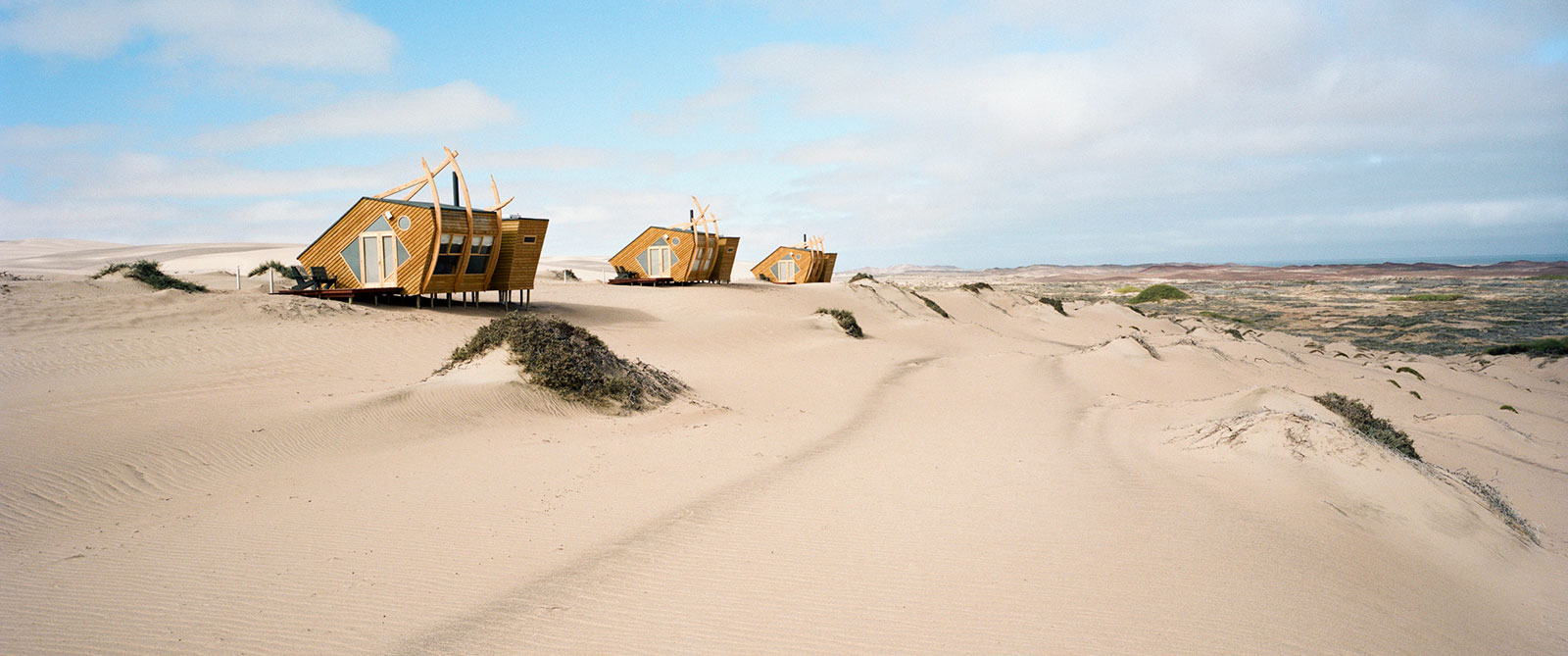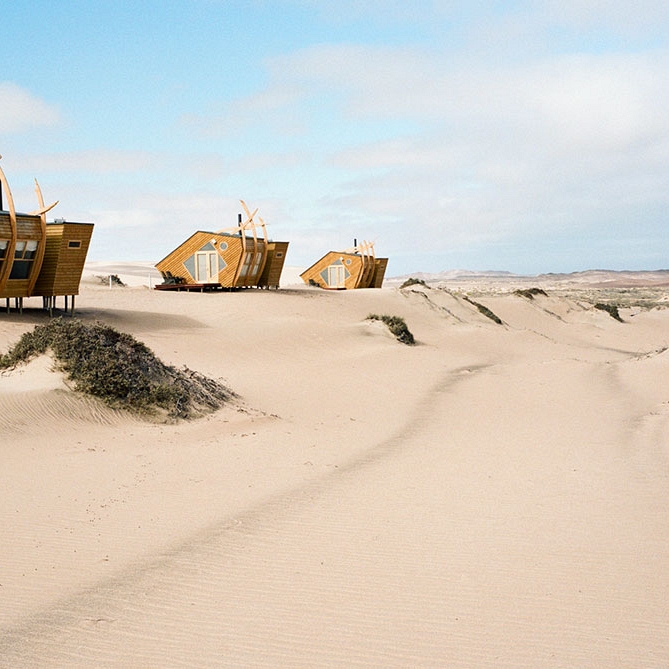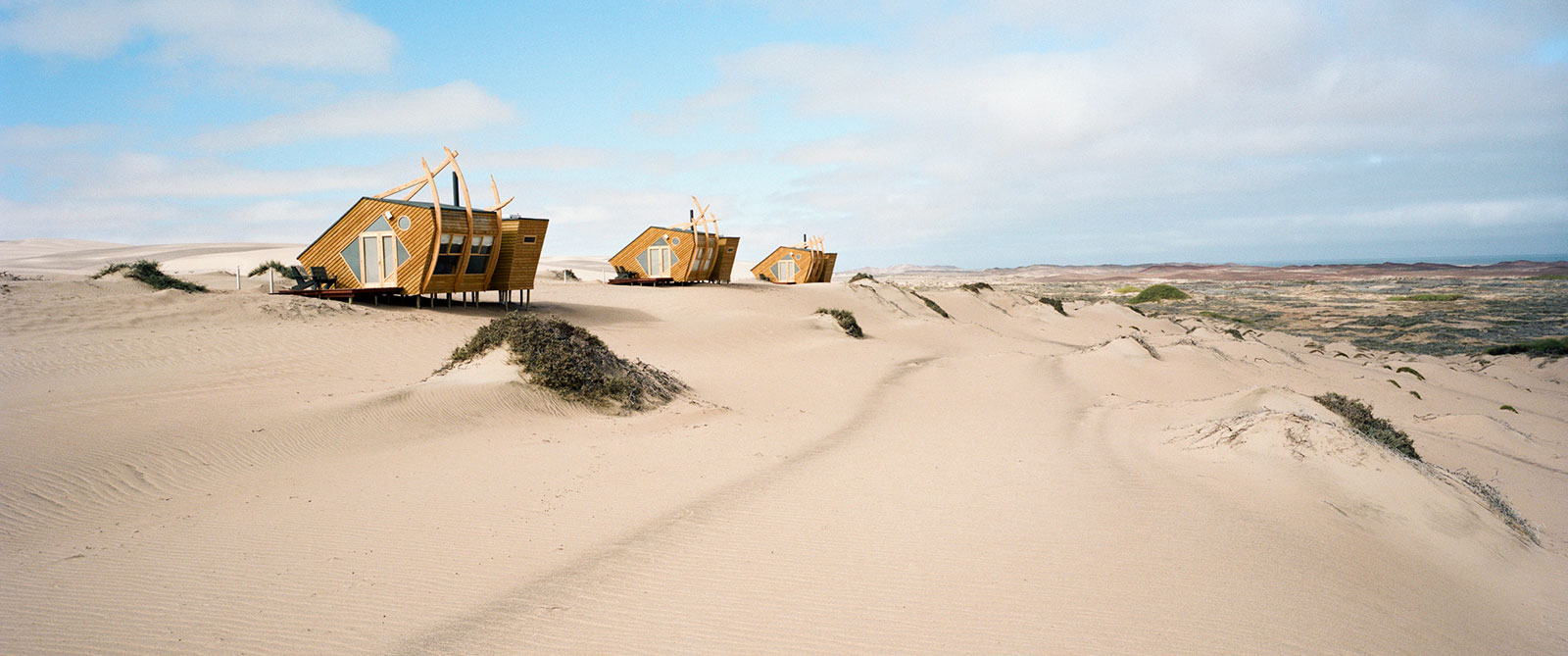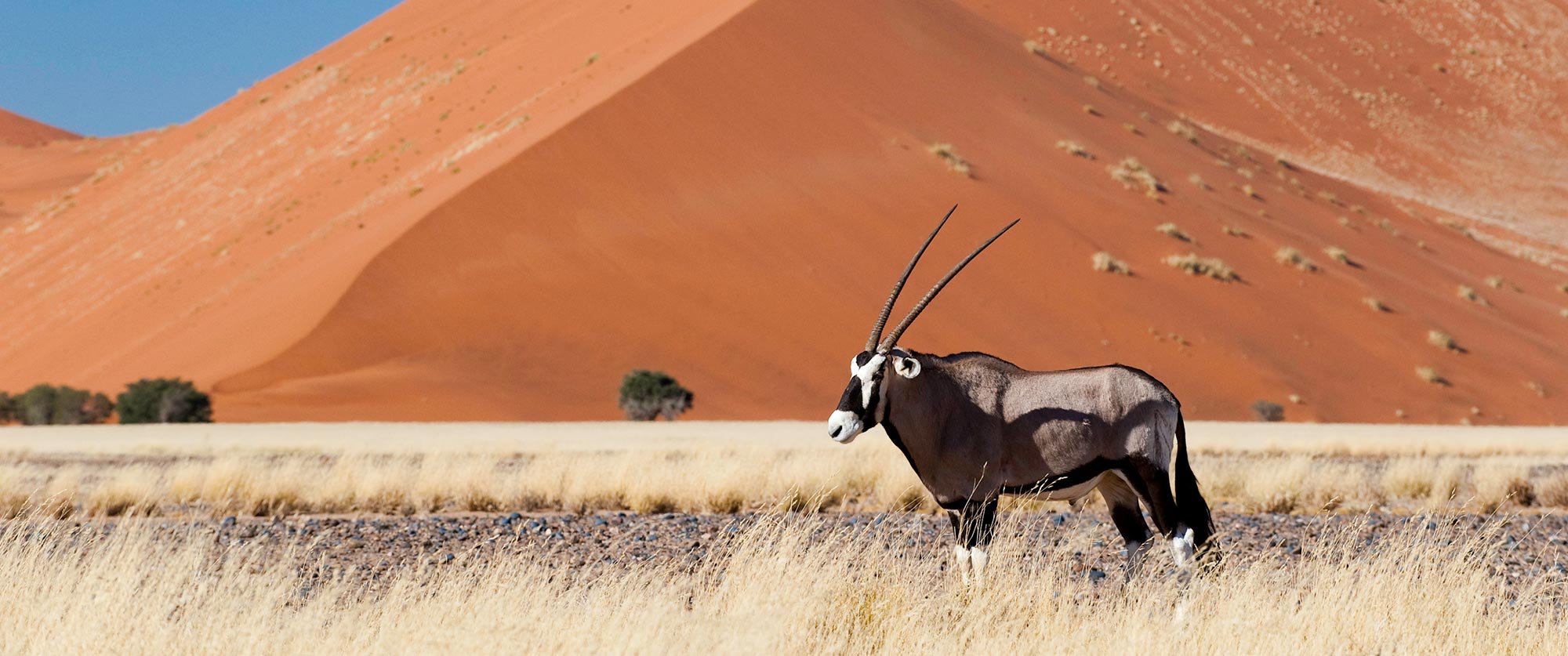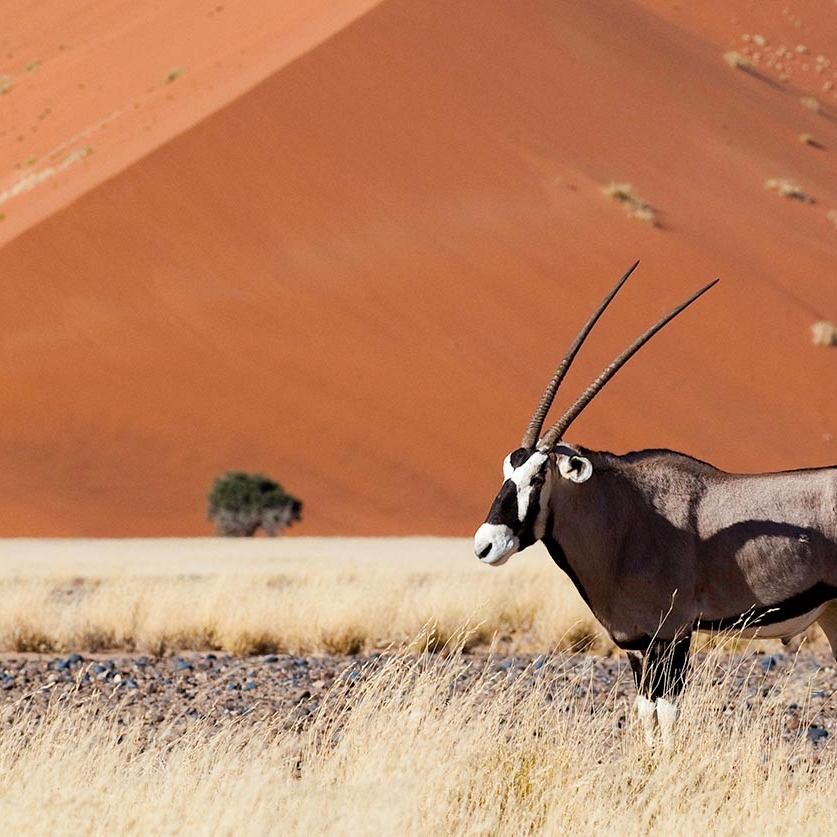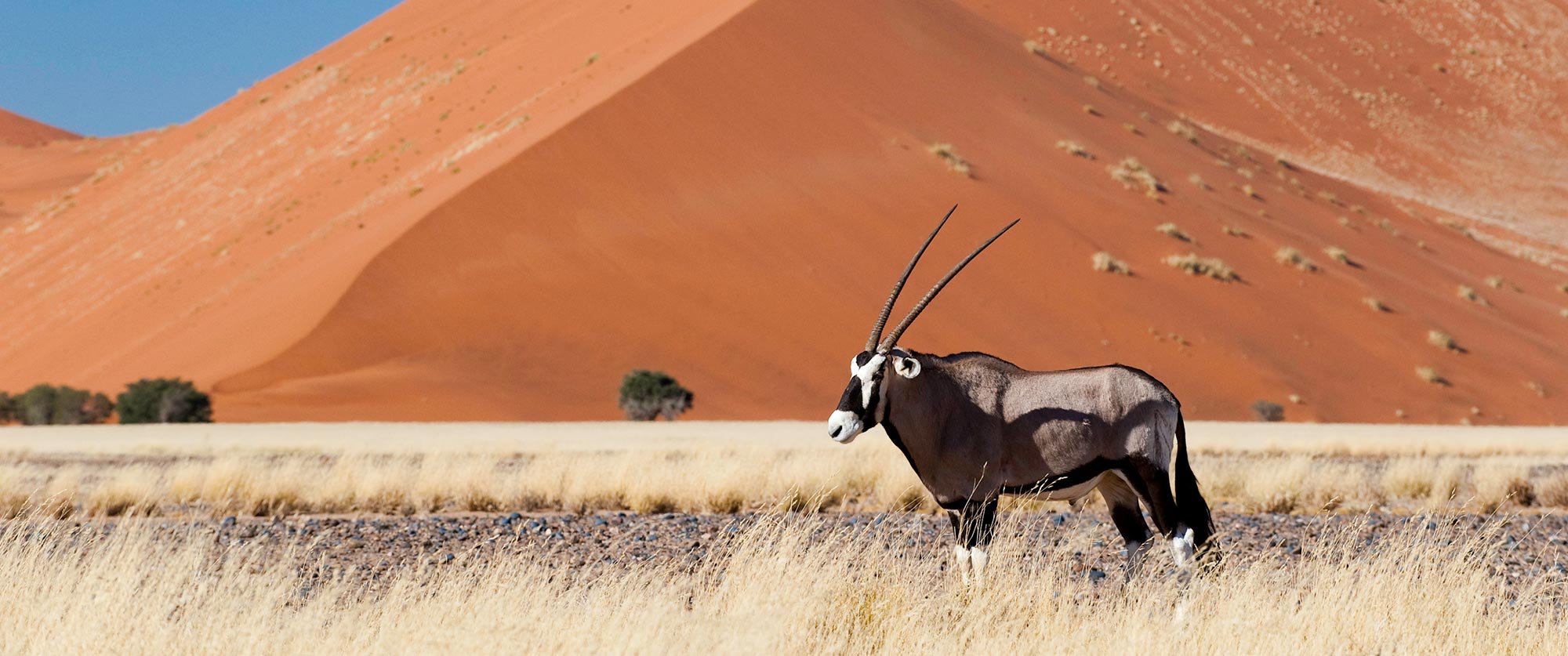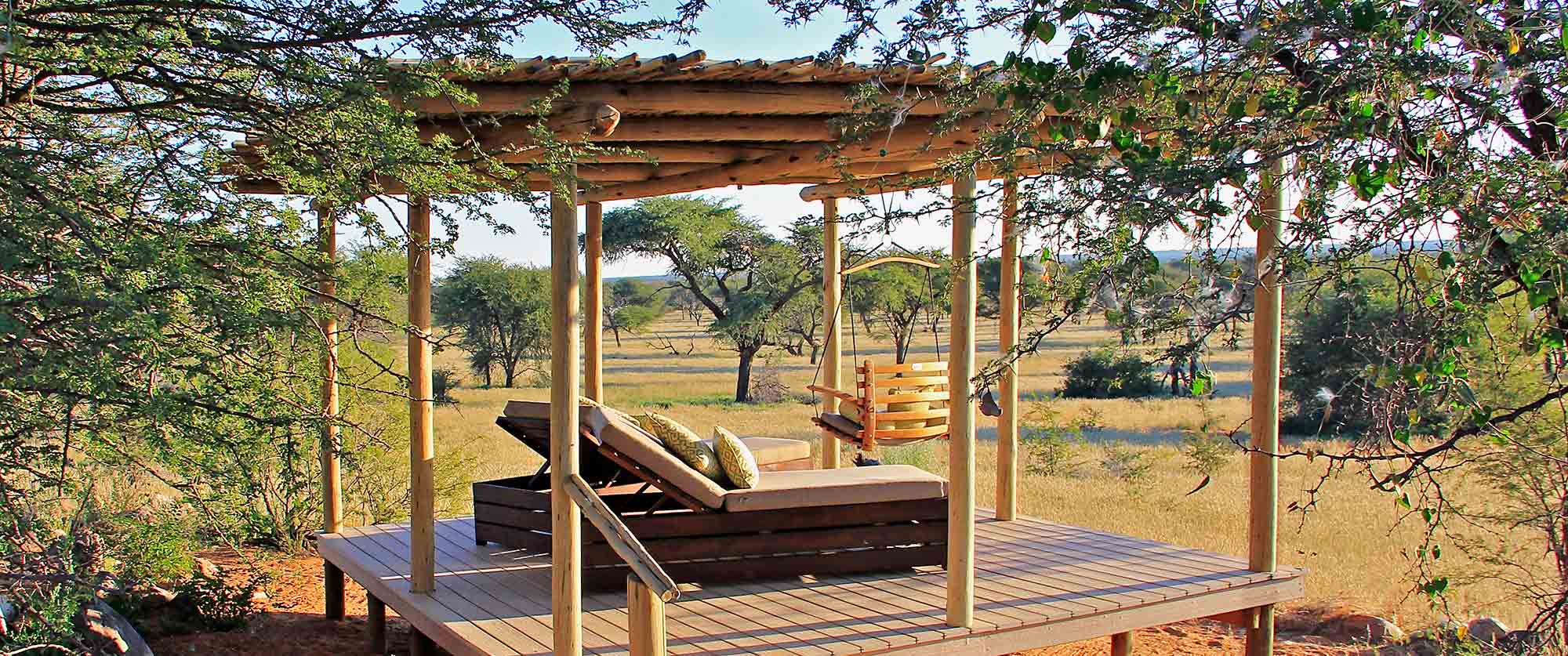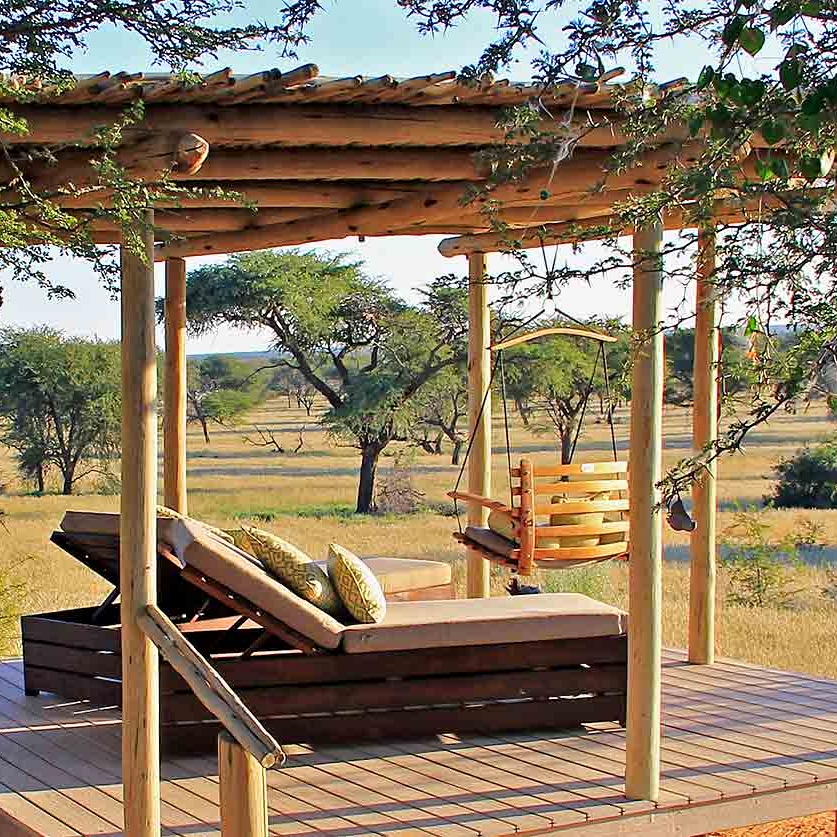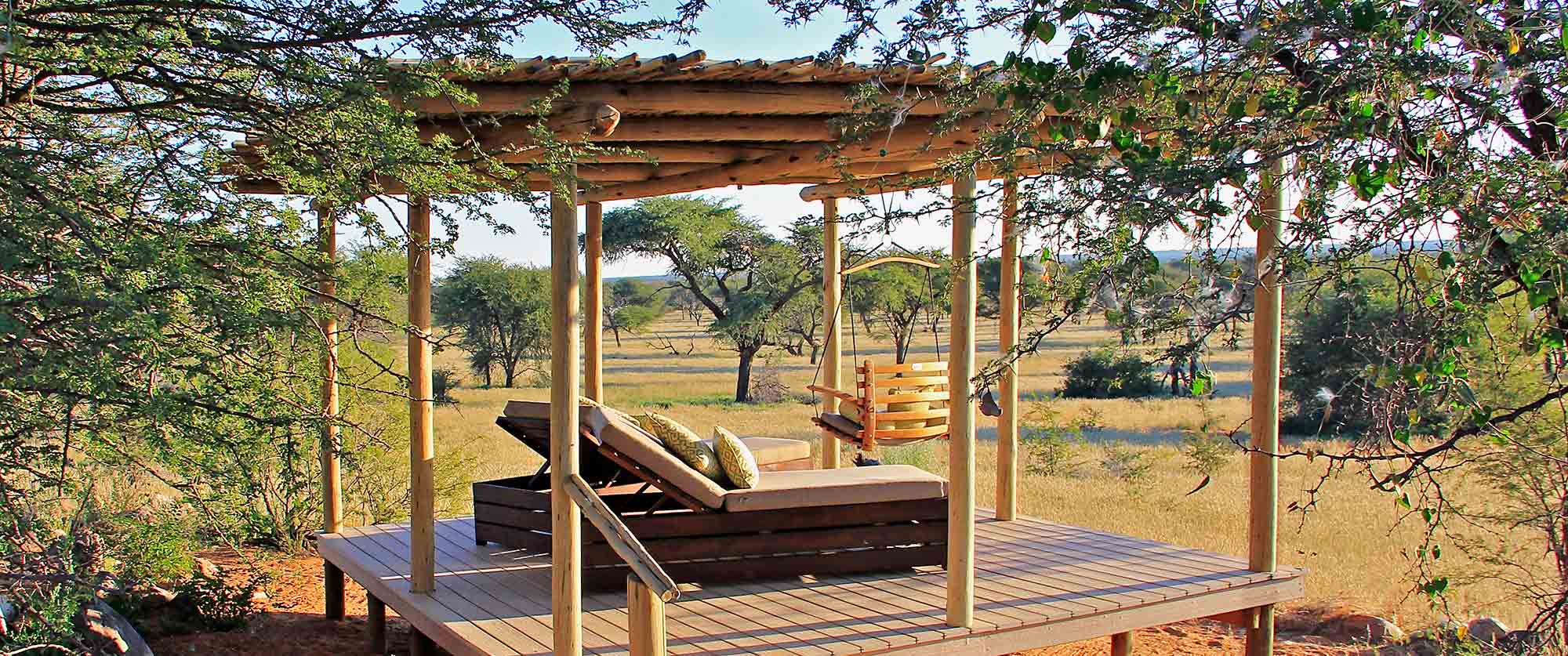 Namibia: Ultimate Romance and Luxury Package
This once-in-a-lifetime journey takes you to some of the most inaccessible, seldom-visited, and ruggedly beautiful places on earth. Explore the highlights of Namibia, including Sossusvlei and Deadvlei, Kaokoveld, and the Skeleton Coast, staying in unique luxury lodges that showcase the hidden gems of each region.
This Namibia trip package is perfect for the adventurous couple who want to explore the unknown, visiting remote and untouched areas where few have ventured before. Namibia is home to far-reaching, otherworldly landscapes; breathtaking sunsets; and exclusive, remote luxury camps where you'll feel as if you alone can enjoy these jaw-dropping experiences.
We created this Namibia: Ultimate Romance and Luxury Package for a couple from Texas celebrating their wedding anniversary. They had a wonderful private guide throughout their trip, and they decided to make the most of their time in Namibia by traveling around the country on scenic flights instead of long drives.
They started their Namibia: Ultimate Romance and Luxury Package at a fabulous resort and spa near Windhoek, then flew over desert dunes to the beautiful Namib-Naukluft National Park region—home to the famous Sossusvlei and Deadvlei, as well as the highest sand dunes in the world. They spent 2 days exploring the area, overnighting in a luxurious, boutique bush camp.
Next, they flew from Sossusvlei to Swakopmund, taking in dramatic scenery and some of the most remote, inaccessible areas in the world. In Swakopmund, they got a taste of bohemian city life and took a cruise to see the local seals and dolphins.
Continuing their Namibia: Ultimate Romance and Luxury Package, they flew to Hoanib Valley Camp, a fabulous bush camp in the remote Kaokoveld region, where they saw desert-adapted elephants and even tracked endangered black rhinos on foot! After 2 nights at Hoanib, they flew to the unique, mysterious, and practically untouched landscape of the Skeleton Coast. They spent 3 nights at Shipwreck Lodge—the only accommodation on the Skeleton Coast. Exploring this incredible region, where few have ever set foot before, was a highlight of their trip.
The final stop on their journey was Otjimbondona Kalahari luxury villas, located on a private nature reserve on the fringes of the Namibia Kalahari basin. Here, they visited some of the local caves, but spent most of their time relaxing at their private plunge pool and enjoying the views.
At last, their Namibia: Ultimate Romance and Luxury Package came to an end and it was time to head back to Windhoek and make the journey home.
Suggested Itinerary
Day 1
Welcome to Namibia! Fly into Windhoek, where you'll meet the private guide who will accompany you for the duration of your trip. Your guide will pick you up at the airport and drive you to Gocheganas Nature Reserve and Wellness Village—a luxurious introduction to Namibia's stunning scenery. Soak up dramatic views from your spacious suite, from the pool, or from the fabulous bar. After your long journey to Namibia, enjoy a rejuvenating visit to the onsite "wellness village."
Gocheganas Nature Reserve and Wellness Village
Day 2
You're in for a treat today: your first scenic flight of the trip! Fly to the Namib-Naukluft National Park region, with breathtaking aerial views of the desert and sand dunes down below. Make your way to Little Kulala, a luxurious permanent tented lodge bordering the national park. In your fabulous thatch roof suite, enjoy air conditioning, an outdoor shower, and your own private verandah with a plunge pool. Time permitting, enjoy a game drive or a guided nature walk to see the amazing desert-adapted wildlife, finishing with a scenic sundowner. Adventurous travelers can opt to spend a night on the open-air star bed for dazzling views of the night sky.
Little Kulala
Day 3
Rise early today for a visit to the famous Namib-Naukluft National Park—home to the world's highest sand dunes, which are highlighted beautifully by the early morning light. Escape the crowds using Little Kulala's private park entrance. Climb the red-hued sand dunes and run down the other side to Deadvlei, a striking white clay pan where the remains of ancient trees stand in stark contrast to the surrounding dunes. Once you have explored Sossusvlei, Deadvlei, and surrounding dune fields to your heart's content, you can enjoy a relaxed picnic brunch in the shade of a camelthorn tree. Return to the lodge in the afternoon and enjoy the rest of the day at your leisure.
Little Kulala
Day 4
Enjoy another scenic flight today over some of the world's most remote and inaccessible areas. Watch in awe as sand dunes give way to the Atlantic coast, where you'll get an aerial view of ancient shipwrecks, diamond beaches, and wildlife like whales, flamingos, and Cape fur seals. Arrive in the lovely coastal town of Swakopmund, where you can enjoy the cooler seaside air for the next 2 nights.
Strand Hotel Swakopmund
Day 5
After an early breakfast, your guide will drive you along the scenic coastal road to Walvis Bay for a memorable seal and dolphin cruise. This is an ideal way to see Cape fur seals, dolphins, pelicans, flamingos, and a wide variety of other sea birds. If you're lucky, you might also see whales, leatherback turtles, and sunfish!
Strand Hotel Swakopmund
Day 6 – 7
Continue your adventure with a flight to Namibia's remote northwest. Kaokoland is one of the most wild and marvelously unique areas of the country—a land characterized by rolling dunes, rocky mountains, and desert plains all criss-crossed by ancient, dry riverbeds. Spend 2 nights at Hoanib Valley Camp, a luxury tented camp that blends seamlessly with the rugged beauty of its surroundings.
Here, you'll have the rare chance to track desert-adapted lions, elephants, giraffes, and even endangered black rhinos on safari. You can also enjoy cultural interactions with the local Herero tribes. With just 6 tents at Hoanib Valley Camp, you'll be assured of an exclusive and truly immersive experience in this fascinating region that few people are lucky enough to visit.
Hoanib Valley Camp
Day 8
Today, take a scenic flight over the eerily beautiful Skeleton Coast. Described by the San Bushmen as "the Land God Made in Anger," the beaches are strewn with bleached whale bones and the wrecks of over a thousand ships, and the interior is an uninhabited desert of rolling, endless sand. This unique, mysterious, and practically untouched landscape will be your home for the next 3 nights. Shipwreck Lodge is actually crafted in the shape of an abandoned ship, and is the only accommodation in this remote region which is normally only seen from the air.
Shipwreck Lodge
Day 9 – 10
Spend the next 2 days exploring your fascinating surroundings. Go on game drives to see desert-dwelling elephants and track elusive desert lions; discover the enchanting desert flora; sit atop the dunes as the sun sinks below the horizon; spend the day beach-combing for whale bones and debris from centuries of shipwrecks; or marvel at the remarkable Clay Castles. Shipwreck Lodge provides a luxurious oasis where you can relax and unwind between activities.
Shipwreck Lodge
Day 11 – 12
You'll have another opportunity to view the Skeleton Coast from above as you fly down the coast and back to Windhoek. Enjoy a short road transfer to Otjimbondona Kalahari luxury villas, located on a private nature reserve on the fringes of the Namibia Kalahari basin. Your villa contains elegant and cozy decor, a fireplace for chilly evenings, and a private deck with plunge pool—the perfect place to sip champagne and take in the stunning sunset. Camp activities include game drives, nature walks, cave excursions, stargazing, and more.
Otjimbondona Kalahari
Day 13
It's time to say goodbye to Namibia today. Enjoy a transfer to the Windhoek airport, where you'll begin your journey home.
You might also be interested in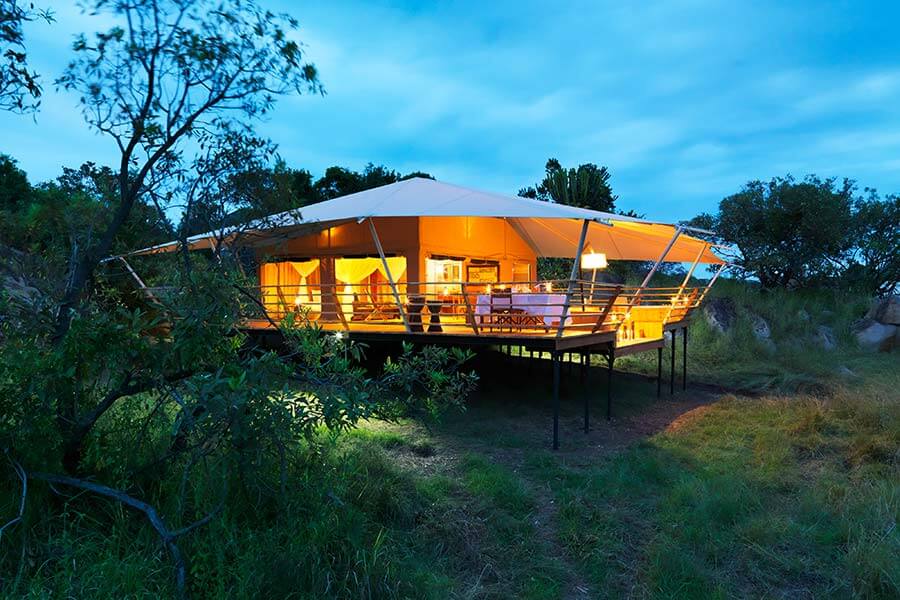 Discover adventure and luxury in East Africa's most breathtakingly beautiful regions. Walk with the Maasai in the Chyulu Hills; witness the Great Migration; soak up views of Ngorongoro Crater from your luxury lodge; and enjoy 5 days of beach bliss on beautiful Pemba Island.