South Africa is a beautiful destination to visit at any time of year. The best time to go depends on what you want to see and do while you're there.
Read on to see the best times of year to experience South Africa's most popular attractions: Safari, Cape Town, Great White Sharks, and the Garden Route. For more info, get in touch and speak with one of our South Africa travel experts!
---
Best Time to Go on a South African Safari

Image: Sabi Sabi Private Game Reserve, Greater Kruger National Park
In most of South Africa's safari destinations, including Kruger National Park, the year is divided into 2 seasons: dry and rainy. The best time to go depends on what you want to see.
Dry Season: May to October
South Africa's dry winter months are widely considered the best time for wildlife viewing. In these months, vegetation and water are scarce, so animals flock to the remaining waterholes.
The beginning of the season (June to August) is the most comfortable time to visit, with mild temperatures and few mosquitoes.
The peak winter months (September to October) can be quite hot and humid, but this is considered the very best time for game viewing in South Africa.
Rainy Season: November to February
During the rainy season, or "green season," South Africa's landscapes transform into lush, vibrant scenes that make for stunning photographs.
With abundant food and water throughout the game reserves, wildlife is more spread out and not as easy to spot compared to the winter months.
You will have the chance to see newborn animals at this time, as well as plenty of thrilling predator action.
If you are traveling in the rainy season, we recommend consulting a medical professional for malaria precautions. You can also visit one of South Africa's malaria-free game reserves (a good option for families with young children).
Insider Tip: Keep in mind that safari lodges book up very quickly in South Africa, especially for dry season travel. We recommend planning 9-12 months in advance to secure the best accommodations.
---
Best Time to Visit Cape Town

Cape Town is on a different weather pattern than the rest of the country—when the popular safari destinations are receiving rain, Cape Town is dry, and vice versa. Cape Town's temperate climate makes for pleasant temperatures year-round, but in the winter months, you can expect more rain and strong winds.
Summer: November to March
This is the best time to visit Cape Town's beautiful beaches. This is also the peak tourist season, so hotels are more expensive at this time of year.
Holidays: December and January
If you plan to visit Cape Town during Christmas or New Year's Eve, be prepared for high prices and be sure to book your trip well in advance. Cape Town will also be busier during South African school holidays in December and January.
Winter: June to August
Cape Town in winter will have fewer crowds but more unpredictable weather. If you're keen on hiking up Table Mountain, it's best to avoid this time of year, as your Table Mountain activities may be cancelled due to weather.
---
Best Time to See Great White Sharks in South Africa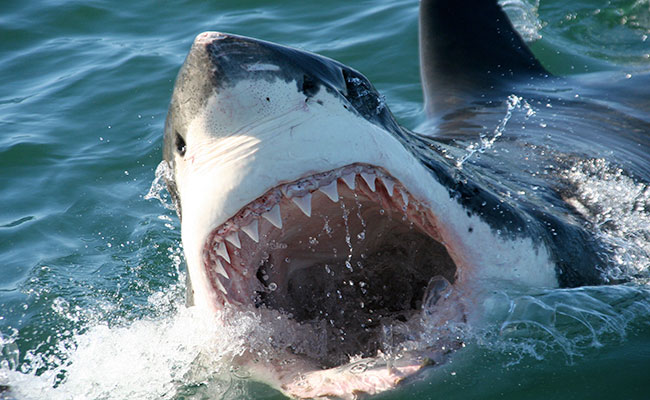 Image: Birkenhead House, Hermanus
Gansbaai
False Bay
February to September: Cage diving and surface viewing are available
June to August: The best time to see Great White Shark breaching (a rare behavior seen around Seal Island)
Approximately 45 minutes from Cape Town
Insider Tip: Great White Sharks can be affected by rising orca populations around the Western Cape. Inquire with our Africa travel agents for the most up-to-date information.
---
Best Time to Visit the Garden Route and Eastern Cape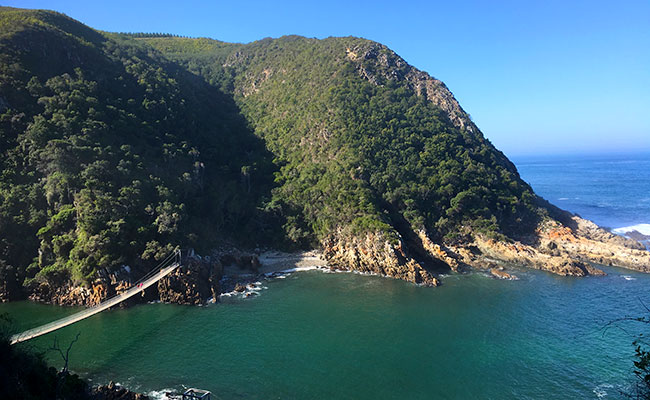 Tsitsikamma National Park, South Africa's Garden Route. Image courtesy of Candice Heckel
The Garden Route is a great vacation destination year-round, with temperatures around 60℉ in winter and 85℉ in summer.
Summer: November to April
Summer is the warmest time of year and great for beaches, but it's also the most popular time to go. Expect higher prices and busy beaches during these months.
Insider Tip: February to April is the best time for a beach holiday with fewer crowds.
Winter: June to September
The winter months see the most rain. (But remember, on the Garden Route and Eastern Cape, you may get rain at any time of year.)
July to October
The late winter months are the best time for whale watching along the Garden Route.
---
Planning a South Africa vacation? Search for packages with our trip planner or explore our custom South Africa travel itineraries below. Contact us to chat one-on-one with a luxury travel designer!