Green Season Safari: Why You Should Visit South Africa in March
I recently returned from my second trip to South Africa! It was also my second visit to the Sabi Sands Private Game Reserve, which borders the famous Kruger National Park. This time around, I did a green season safari, which means warmer weather, longer daylight, and lots and lots of babies!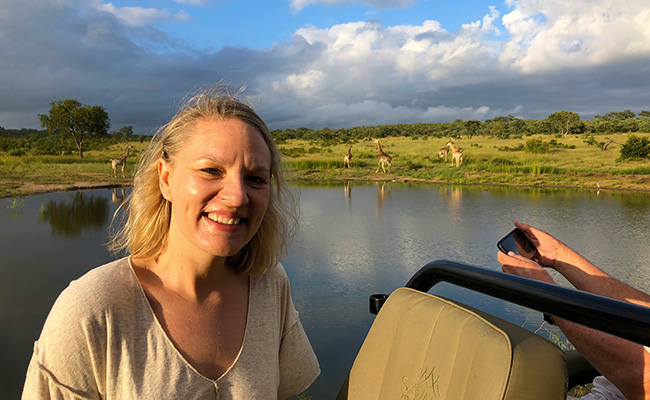 The lush greenery and blue skies make for beautiful photographs!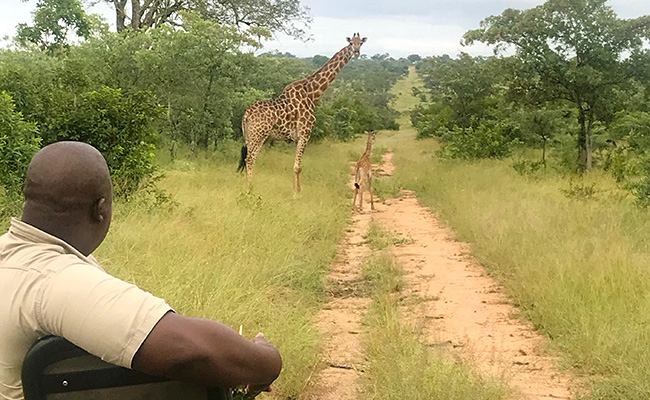 A mother giraffe and her baby
What is a Green Season Safari?
Most Big 5 safari destinations experience a dry season (winter) and rainy, or "green," season (summer). Many people like to go on safari during the dry season because most of the water disappears and the animals all flock to the few remaining water sources. However, don't write off a green season safari! Here's why:
Warmer Weather and Longer Daylight
March averages almost 2 additional hours of daylight compared to the winter months in the Sabi Sands, which can mean a little extra time out on a game drive and more opportunities to get up close to the wildlife.
A typical morning on safari in March means:
5:00 AM: Early wakeup call
5:20 AM: Coffee and a croissant
5:30-5:40 AM: Game drive!
5:50-6:00 AM: Gorgeous sunrise
9:30 AM: Return game drive and a delectable breakfast
The mornings can start off a little chilly, so don't forget your hat, scarf, and a light jacket. March can also bring on some occasion rainfall, so be prepared. However, by the time you return to relax at the lodge after breakfast, the temperatures will climb up to 80° or more, making it the perfect time to dip into the pool and take in the scenery!
Afternoon game drives begin around 3:30-4:00 PM—depending if you prefer a long, leisurely lunch or a smaller meal to save room for dinner—and have you back at your accommodation around 7:30 PM.
Lion Cubs, Leopard Cubs, Baby Ellies, and More!
Not only are days slightly longer on safari in green season, but as November/December are birthing season for many animals, the little ones begin to come out and about in March!
My sightings included: 3 5-month-old lions cubs after a feed, a 5-month-old leopard reuniting with its mother after a day apart, loads of baby elephants being playful with one another, and a young giraffe grazing with its mother, to name a few. The rangers are also very protective and careful not to frighten the newborns, so many of these were first-time sightings!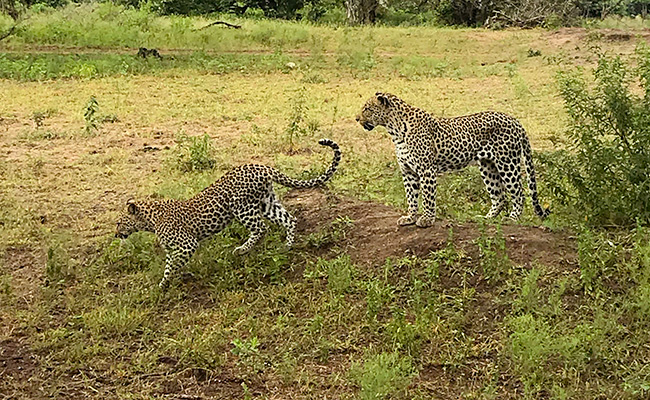 Two leopards in the Sabi Sands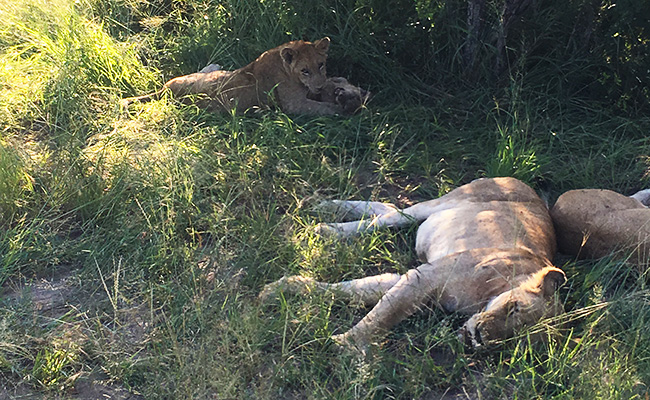 Lions—including some cubs!—relaxing after a feed
Green Season and Game Drives
The summer months in the Sabi Sands Game Reserve bring more rainfall; in turn, this means taller grass and more lush, green landscapes throughout March. It also means you need to work a little harder to spot even an elephant or a rhino!
The rangers and trackers of the Sabi Sands sure know how to make the most of this time of year with some great off-roading adventures. The area is known for great game viewing all year, so there's no need to worry that you won't see animals. Going off-road in search of wildlife makes the sightings fun, exciting, and rewarding!
And if you're interested in bird watching, March is an excellent time of year to go on safari in the Sabi Sands, thanks to all the fascinating migratory birds in the area.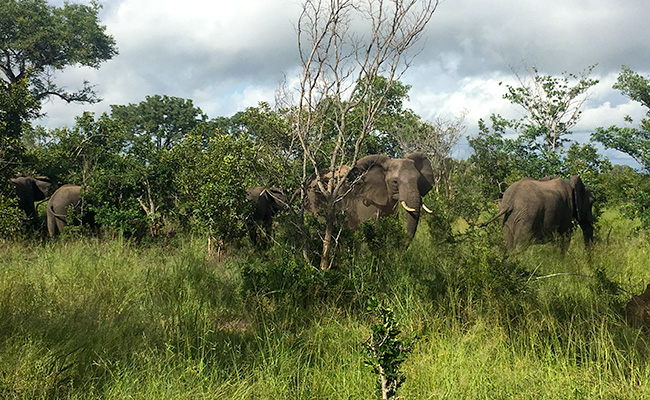 The dense vegetation makes searching for big game a thrilling adventure!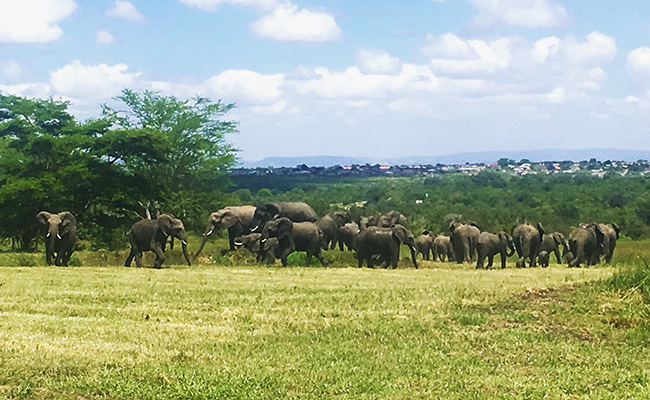 There are still plenty of elephants to see in green season
---
There truly is no bad time of year for a South Africa safari, especially in the Sabi Sands Game Reserve! When you're ready to plan your own adventure, give me a call at (888) 367-0933 or email me at ahazners@africaendeavours.com; I'd love to help you bring your safari dreams to life!