If you love elephants, you may think an elephant ride at Victoria Falls is the perfect adventure. Elephant-back safaris used to be a popular activity at Victoria Falls, and our clients often inquire about them, but many people don't realize that elephant rides can actually be quite harmful to the animals.
Within the past several years, reputable tour companies have been moving away from elephant rides. At Africa Endeavours, we encourage our clients to engage in interactions that are safe, fun, and rewarding for both human and animal. If you love elephants and want to interact with these magnificent creatures, take a look at some alternative elephant encounters that we've personally vetted.
Why Are Elephant Rides Harmful?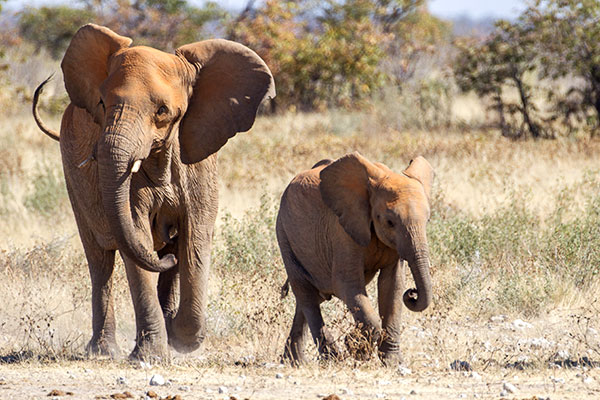 Elephants in Etosha National Park, Namibia
The simple fact is that elephants don't naturally let humans ride them. They have to be domesticated, and the process is much more brutal than breaking a horse. Many people want a photo on the back of an elephant, but don't realize what the animals have to go through for that photo op.
The process of domesticating an elephant—known as "the crush"—usually starts with taking a baby elephant away from its mother. It is then restrained or held in a small space where it can't move, and may be deprived of food and sleep for a prolonged period of time. The baby elephants are also beaten with clubs or even pierced with sharp bull hooks until their spirits are broken and they become submissive. You can see a disturbing photo of "the crush" process and a Q&A with the photographer here.
If an elephant is being ridden by humans, it has sadly gone through this cruel process. Keep in mind that elephants are some of the most intelligent, social, and empathetic creatures in the animal kingdom, which makes "the crush" that much more heartbreaking. Many of the elephant rides in Africa use elephants that have been rescued from inhumane environments, but the fact remains that the animals had to be mistreated in order for humans to ride them.
Also, despite their size, elephants aren't physically designed to carry humans on their backs, and this can actually cause damage to their spines.
Alternatives to Elephant Rides
Elephants are truly amazing creatures, and being able to interact with them is a once-in-a-lifetime experience you don't want to miss! There are many opportunities to interact with elephants in a way that will be rewarding for you and for them. Here are some of the best elephant encounters in Africa that our safari experts personally recommend.
Wild Horizons Elephant Sanctuary and Orphanage, Victoria Falls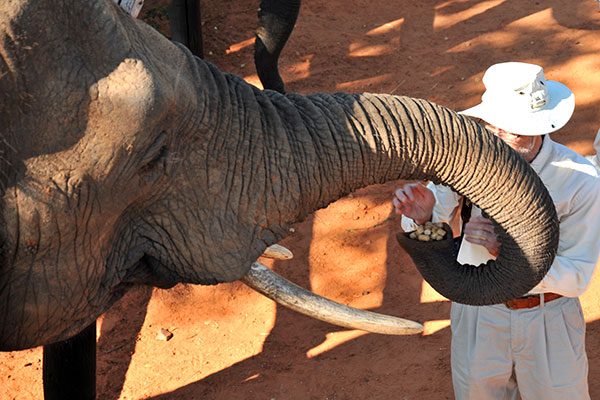 Photo courtesy of The Elephant Camp
This elephant sanctuary brings in orphaned or injured elephants and allows them to live as wildly and freely as possible with human care. You can visit the sanctuary to get up close to the elephants, watch them interacting with each other, and learn about threats facing the world's wild elephant populations. You can also get your photo taken with the elephants!
After your elephant encounter, you'll enjoy some refreshments, including hot and cold canapés, coffee and tea, and a selection of local beers and wines. This is a great option if you're staying at The Elephant Camp.
The Elephant Café, Victoria Falls
The Elephant Café offers more than a meal; it combines exclusive fine dining with intimate elephant encounters and a fun jet boat ride. First, you board a boat from Livingstone and cruise down the Zambezi River, with the opportunity to spot game on either side. When you land, you'll get to meet a very special elephant family that was rescued years ago. You can stroke them, feed them, and pose for photos.
The elephants will roam freely as you dine in an open-air restaurant that seats only 24 guests. You can enjoy a prix fixe menu made from wild and locally sourced ingredients, with fine wines to match.
David Sheldrick Wildlife Trust, Nairobi, Kenya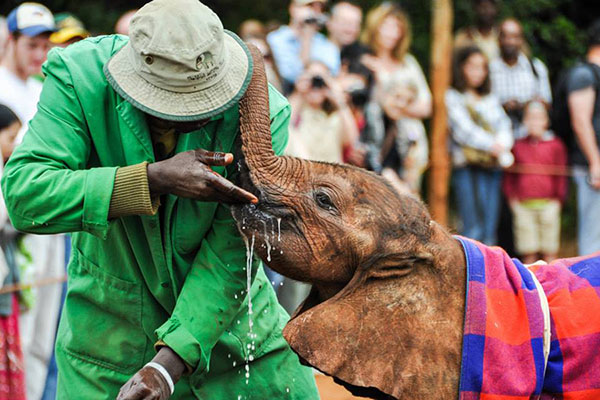 Photo courtesy of Candice Heckel
The David Sheldrick Wildlife Trust fosters orphaned elephants from all corners of Kenya and, when they're older, integrates them back into the wild. At the elephant nursery, located near Nairobi, you can visit them during their feeding hour.
The morning feeding is open to the public with a minimum donation of $7, and you'll be able to see the adorable baby elephants filing in and being bottle-fed. If you've fostered an elephant (with a minimum donation of $50 per year), you can return for the more exclusive evening feeding. A VIP experience is also available if you want a private elephant encounter.
Nairobi is a common starting place for African safaris. The elephant nursery is located just outside of town, making this an ideal way to start or end your adventures in Africa.
---
These are just a few of our favorite ethical elephant interactions in Africa. To learn more, contact our Africa specialists online or call us at (888) 367-0933!