Lake Kariba, Zimbabwe: A Unique Spin on Safari
Hello, everyone! I've just returned from almost 4 weeks in Africa, and I learned so much! This year is definitely all about Zimbabwe, and I was lucky enough to spend some time exploring this beautiful country. Lake Kariba, Zimbabwe, was one of my favorite new places to discover.
Lake Kariba is the world's largest manmade lake, which borders Zimbabwe and Zambia. It has a fascinating history littered with controversy, which you can read more about here. These days, Lake Kariba is known for iconic scenes of trees half-submerged in the water, as well as absolutely gorgeous sunsets.
For such a massive area, there is little accommodation, but I expect that will change in the coming years. In addition to houseboats (which are very popular), there are also a few lodges on the lakefront. I visited 2 of them on this trip, and they both offered very different experiences.
Bumi Hills Safari Lodge
Our first stop was the recently renovated Bumi Hills Safari Lodge. This lodge is stunning, with sweeping views out onto the lake. I almost forgot I was in the African bush, because the setting felt more like a tropical resort.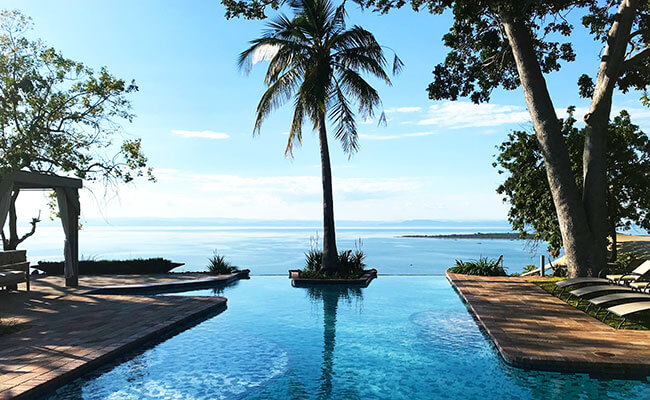 The pool at Bumi Hills Safari Lodge
While there is game on this concession—you can go on bush walks and game drives—the focus is really on lake activities. Fishing and cruises are quite popular. One of my favorite days out was just sitting out on the lake near one of the islands and listening to the birds, while 5 crocodiles hunted the waterbuck on shore. The experience was truly magical (though maybe not so much for the antelope). We also saw loads of elephants, including cheeky little babies coming to the water for a drink.
I would highly recommend Bumi Hills for stunning views, an amazing pool and spa, and serene sundowners. This is definitely a great place to enjoy a little R&R between safari lodges, and perhaps catch some wildlife as well!
Changa Safari Camp
Our next stop was Changa Safari Camp located on a private concession in Matusadona National Park. The name of the park comes from the local word "Matuzviadonha" meaning falling dung—most likely from elephant dung rolling down the hills. Luckily, the park is way more beautiful than the name suggests!
Changa has an amazing location right on the water (don't go swimming, though… lots of crocs and hippos). I loved just sitting at the camp, listening to the water lap up on the beach. There is a real sense of contentment and peace on the property. The tents are also very large and well appointed, with both indoor and outdoor bathrooms, and an amazing tub.
Here again, it's all about the lake. Make sure to do a sunset cruise and visit the dramatic Sanyati Gorge. With the forested hills surrounding you and the half-submerged trees contrasting starkly against the sky, I promise you'll never forget this sundowner!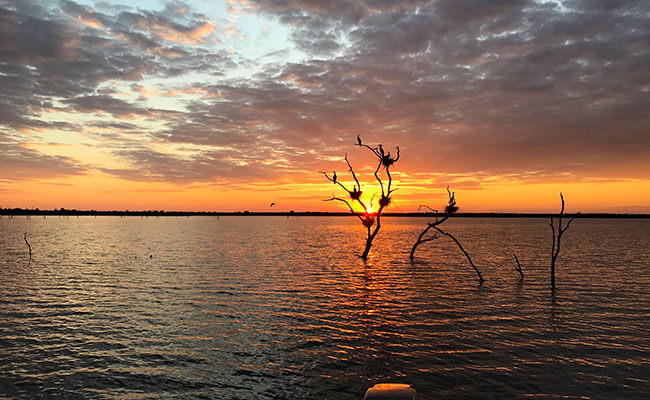 An iconic view of sunset on Lake Kariba
Fishing and game drives are popular at Changa, but if you want to get your heart pumping, I would suggest doing some "adventure" bush walks, which will get you VERY close to some of the biggest game in Africa. This experience isn't for the faint of heart, but it's well worth it. We did this a couple of times during our stay and it was amazing. First, we tracked a herd of 300 buffalo. These animals are the most overlooked members of the Big 5, but their massive size is no joke! Later in the day, we went searching for lions, but ran into 5 elephants instead. A heart-pounding adventure for sure!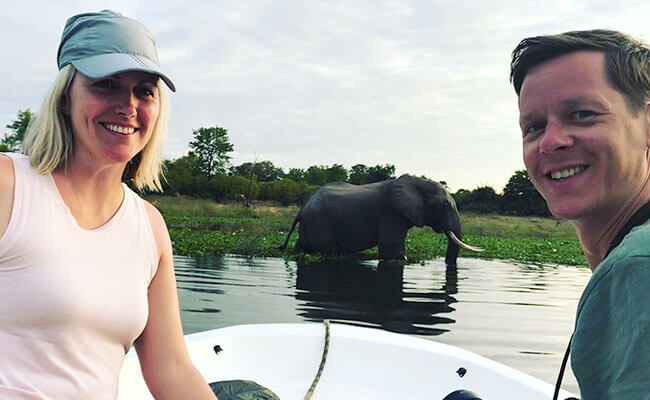 Water safari at Changa Safari Camp
Like most places throughout Africa, depending on what you want to experience, it's important to visit at the right time of year. Please do reach out to me and I'll help you find the best time and places to visit. Keep Zimbabwe on your radar, because this destination is hot!
---
Ready to plan your own trip to Lake Kariba, Zimbabwe? I recommend combining it with Victoria Falls, Hwange National Park, and maybe even South Africa!
Please email me to plan your trip or give me a call at (888) 367-0933 (be sure to ask for Candice)!