Exclusively Yours: Rwanda is More Than Gorillas
One of our Africa Travel Experts, Candice, went to Rwanda in January. Here is her review of her amazing experience.
I was able to go gorilla trekking in Rwanda back in 2013, and this once-in-a-lifetime adventure (as I thought at the time) was one of the most amazing things I've ever done. Recently, I was lucky enough to return and explore more of the country thanks to Tourism Rwanda!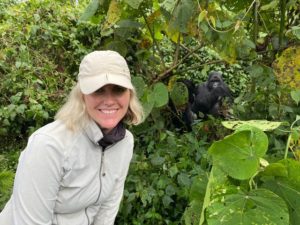 Rwanda is so much more than just gorillas (which are still incredible, of course). The people, scenery, top notch accommodations, and incredible wildlife offer so much to explore. Here are some of the highlights from my recent adventure:
AKAGERA NATIONAL PARK
Akagera is a 4-hour scenic drive from the capital of Kigali (well worth it to see the countryside), but if you are crunched for time, it's only 25 minutes by helicopter! This park is pretty new to the US market, with Magashi Camp opening just last year, and is definitely a destination to watch. Although Akagera is a Big 5 safari park, we only saw one elephant in the distance. However, we did have the most incredible black rhino, leopard, and lion sightings!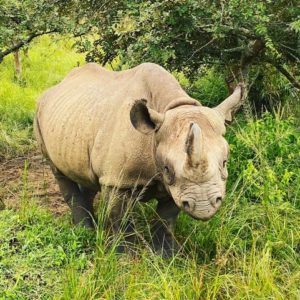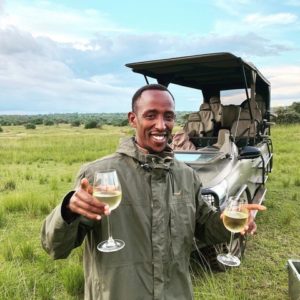 NYUNGWE NATIONAL PARK
At Africa Endeavours, we were so excited to hear about the new One&Only Nyungwe House, and it did NOT disappoint. This stunning resort is located among beautiful tea fields, surrounded by mountains. While the lodge does offer fun daily activities (see my archery video) and an epic spa and pool area, the primates are the real draw here. In the national park, you can spy habituated colobus monkeys and chimpanzees (and then come back to the lodge for a much needed rest!). Aside from the animals, Nyungwe is also a great place for magical forest canopy walks and hikes through the park. It's quite accessible, too. Just a 30 minute heli from Kigali! Side note: The head chef at this property, Treasure, has an incredible story that was featured in Conde Nast Traveler last year.
KING'S PALACE, NYANZA
This area is not super accessible, as it's about a 2.5-hour drive from Kigali. But if you're doing a road transfer between Kigali and Nyungwe, it's the perfect halfway stop. Here, you can learn more about the rich history of Rwanda and visit the king's cows (which, if I'm being honest, is what I was most excited for). They seriously have to be the world's most beautiful bovines, and spoiled as well! They have caretakers that spend all day singing to them and swatting away the flies. What a life!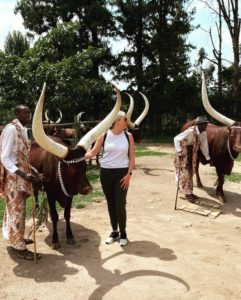 LAKE KIVU
I have a feeling this will be an up and coming spot for international visitors. While luxury accommodation isn't quite there yet, it is quite a stunning destination. The scenic drive from Nyungwe along the Kivu Belt is breathtaking, taking you through local villages and high into the mountains until you're looking down on this beautiful lake. It's also a holiday destination for locals where water activities abound—everything from canoeing to swimming. And there are some pretty incredible sunsets!
VOLCANOES NATIONAL PARK
The gorillas will always be the main event, but this beautiful area is also home to golden monkeys, coffee plantations, and some serious hiking opportunities. The accommodation is at a WHOLE other level compared to my last visit. I stayed at the amazing Singita Kataza House (they had to pry me out of there!), but I also visited One&Only Gorillas Nest and Bisate Lodge. All stunning and all very different. Plus, they all offer various activities that can be done on property, from volcano lake hikes to tree planting. Or, you can just sit and enjoy your impeccable lodging. But back to the gorillas—I've said it before, but it's still my all time FAVORITE thing I have ever done in my life! It's a "pinch me, I can't believe this is happening" experience, and I can't recommend it enough. It is truly life changing.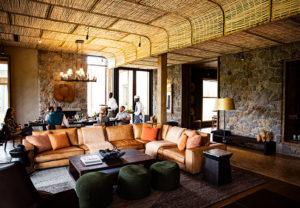 Pro tip: Rwanda offers a 30% discount (about $500 USD!) on gorilla permits if you travel during low season and visit areas beyond Volcanoes National Park. All you have to do is spend at least 3 days in Akagera or Nyungwe National Parks during the low season of November – May. That's a BIG savings!
KIGALI
This vibrant city is worth a couple of nights. Do a cooking class at a local's home, take a walking tour through a vibrant neighborhood, and get some custom made clothes at the local markets. SO much to do in a short time!