Beyond the Big Five: African Wild Dogs
One of the most rewarding things about going on safari is discovering a new favorite animal you've never heard of before.
African wild dogs aren't necessarily the first animal that comes to mind when you think of a wildlife safari; you're more likely to picture elephants, giraffes, lions, and zebras. But after seeing these incredible painted dogs on my safari in South Africa, they're now one of my favorites! However, they're not as cuddly as they first appear.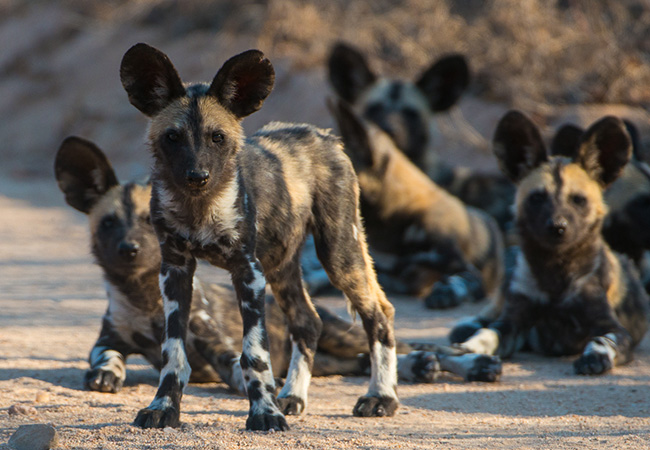 Wild dog pups in the Sabi Sands bordering Kruger National Park, South Africa. Image: Sabi Sabi Private Game Reserve
As a dog lover, your first thought when you see African wild dogs is, "AWWWW, they are so cute!" They do socialize in packs and live in dens; their babies are called pups; and they are gorgeous animals, with their vivid spots and white tails. But don't let them fool you—that's where the similarities to our spoiled domesticated pups ends!
Wild dogs are vicious, cunning hunters. They don't use their speed or brute force to take their prey down; they actually work as a group. They chase prey over large stretches of land while taking turns nipping at them. Overpowered by this relentless group of hunters, the prey eventually tires out from running, loss of blood, or both. The wild dogs' hunting style reminds me of raptors (you remember Jurassic Park, right?): they use their brains and their pack to survive.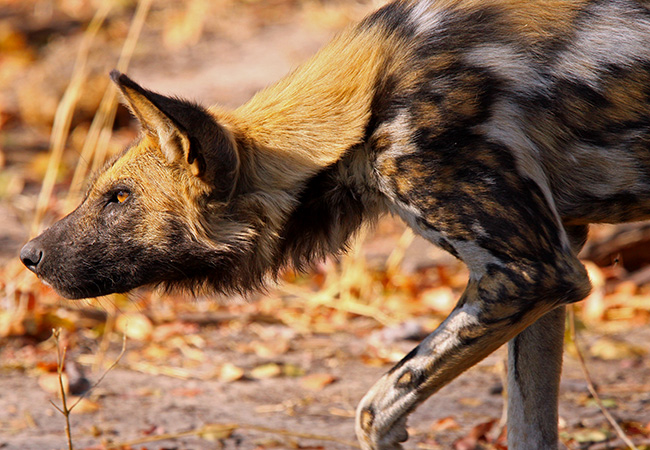 A wild dog sneaking up on prey in the Okavango Delta, Botswana. Image: Kwando Kwara Camp
African wild dogs are a bit rare, so sightings of them are very special. I was lucky enough to see a pack of 12 wild dogs while I was on safari in the Timbavati outside Kruger National Park in South Africa. The day before I arrived, some of my fellow safari-goers saw this group of dogs take down a young buffalo and throw it against the car. It was exciting, but also a little gruesome.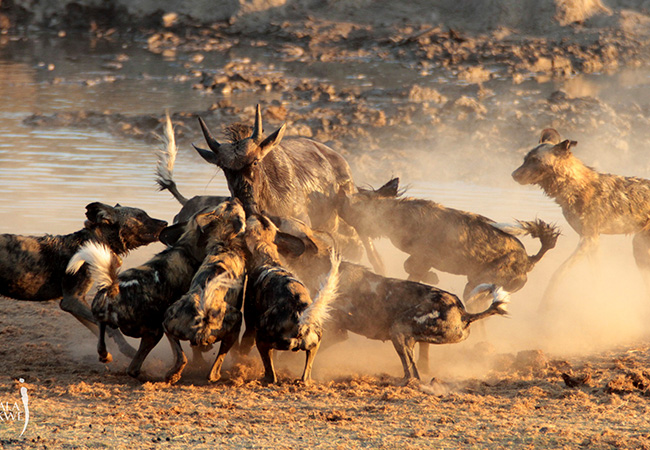 Wild dogs hunting in Madikwe Game Reserve, South Africa. Image: Jamala Madikwe
While wild dogs are widely spread in Kruger National Park and its neighboring reserves, there are other places with better sightings, including Madikwe Game Reserve in South Africa, Mana Pools in Zimbabwe, the Laikipia region in Kenya, Selous Game Reserve in Tanzania, and South Luangwa National Park in Zambia. Wild dogs are considered to be part of the Magnificent 7 (think Big 5 + cheetah and wild dog). So, as you're looking to book your safari, I think you definitely need to add a sighting of these gorgeous creatures to your bucket list!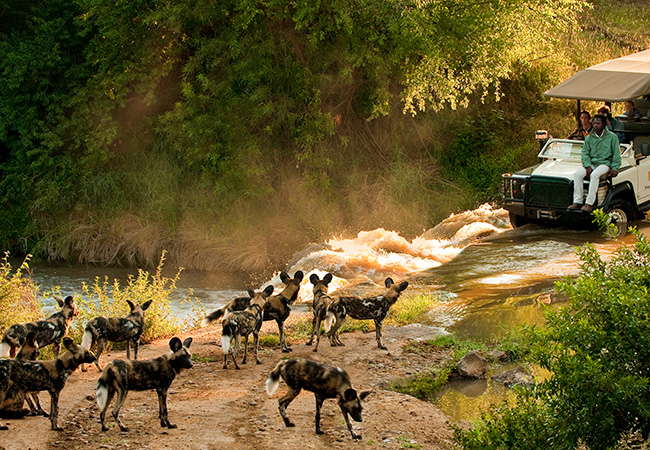 A pack of wild dogs seen on safari in Madikwe Game Reserve, South Africa. Image: Morokuru Family Madikwe
---
Want to book your African wildlife safari? Browse safari vacation packages on our website, or reach out at sbradley@africaendeavours.com to start planning!