Hi everyone, it's Shannon and I have just returned from an 18-night trip to South Africa and Kenya! It is not a combination that many people do when traveling to Africa. But I have to say that the experiences were wildly different, so I thought I would give you some of my thoughts on the different safari and game viewing experiences in each country.
South Africa Safari: Timbavati and Singita
We spent 5 nights near the Kruger National Park in South Africa. We started in the Timbavati and ended in the Singita game concession within Kruger. Insider Kruger National Park, there are rules as to the type of vehicle you can ride in and which roads you can use to view game. If you stay in a lodge or camp within a private game concession, the rules are more lax. I would recommend a private game concession so you can go off-road and follow animals into the bush!
In South Africa, you have a driver/guide and tracker. The tracker on the front of the vehicle has an excellent vantage point for finding animals. The vehicles are all open, which makes it easier to see the game. We had lions and leopards walk right past our vehicle. You can be so close to them that you can hear them breathing!
If you want to be able to see the Big 5 within the first few game drives, a game concession in the greater Kruger area is the way to go.
White Lions in Timbavati
You may or may not know that there are such things as white lions. It's estimated that only 13 exist in the world outside of captivity. In the last few years, Kruger National Park started seeing white lions being born again, and I was lucky enough to see 2 of them on this trip! White lions are not albinos; it's simply a rare recessive gene.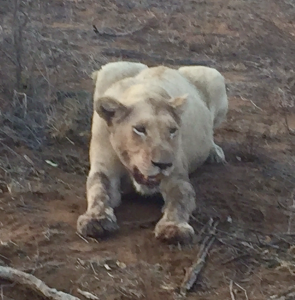 Kenya Safari: Masai Mara and the Great Migration
Next, we traveled to the Mara National Park in Kenya. Outside of the national park, Kenya has private game conservancies that work with the local Maasai villages. The land owners are paid rent from the camps, and the Maasai men with herds of sheep, cows, and goats can allow their herds to graze on conservancy land. It's a wonderful way for tourism to directly help the local communities!
In Kenya, you will only have a driver and most vehicles will have a roof. Some vehicles have full sides and a pop-up lid. You do have to work harder to find game in the Mara compared to South Africa, however, you will get incredible viewings of cheetah and lion.
The other thing that you'll see is LARGE herds of plains game, like zebras, gazelles, topis, and impala. The plains are wide open for viewing. AND the Mara is home to the Great Migration of wildebeest July through October. If you're lucky, you can see a river crossing!
Both South Africa and Kenya are wonderful for game viewing. You can get so close to the animals in the wild, you will never be able to look at a zoo the same way again.
---
Give me a call at 888-367-0933 if you'd like to plan your own safari adventure! Or, you can use our trip planner to browse South Africa vacations or Kenya safari packages. All the travel packages on our website are completely customizable!