Africa Travel Experts
Meet the Team
Our team consists of experienced travel experts. We are passionate about good, old-fashioned service and exploring the world's exotic destinations. We travel overseas every year to ensure you have the most up-to-date, unbiased information. We're based in Chicago, but travel the world to find the best of the best for our clients
Corinne, Owner and Founder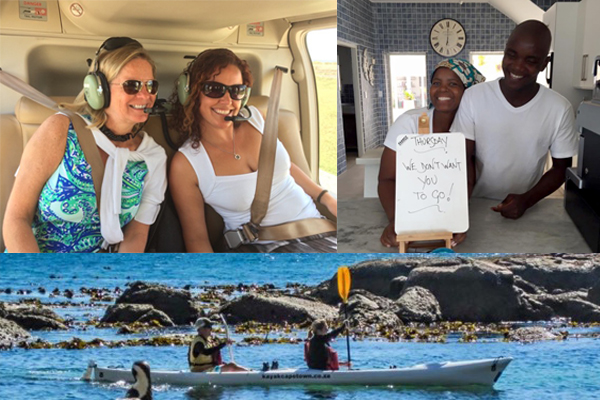 Born and raised in Young, Australia, Corinne relocated to the United States in 1996 as a member of Tourism Australia. She founded Down Under Endeavours in 1998, focusing solely on enabling travelers to experience the South Pacific in luxurious style. But in 2003, she fell in love with Africa…
Ever the adventurer, Corinne has traveled to 5 of the 6 inhabitable continents. Her itineraries can sometimes be unusual. For instance, after completing the Paris Marathon in April 2010, she traveled straight from France to South Africa for a safari in the private Phinda Game Reserve, rugby matches in Durban, and golf at Leopard Creek near Kruger National Park (and site of the European PGA's Dunhill Cup).
I have been traveling to Africa since…
2003. It's actually a funny story. I was at a fundraising event, made some wonderful friends, and long story short I walked out with a trip to Africa! Little did I know that would change the course of my future forever. I explored Cape Town, took the Rovos Rail to Pretoria, and went bush on my first game drives. I was hooked, utterly and completely.
Some of my most incredible memories of Africa are…
Seeing wild dogs on the hunt, getting up close and personal to a leopard with a kill, having sundowners in the bush, and going great white shark cage diving.
My favorite part of traveling in Africa is…
The people! They say home is where your heart is. Well, I left part of my heart in Africa and I keep coming back to her… as often as I can. I've gone to rugby matches, played golf with locals, sat down on long wooden benches and shared a pint. I've even been offered as a trade for 20 cows! (Not sure what the going rate was…) I found it incredibly hard to leave. You have been warned—it will happen to you, too!
---
Candice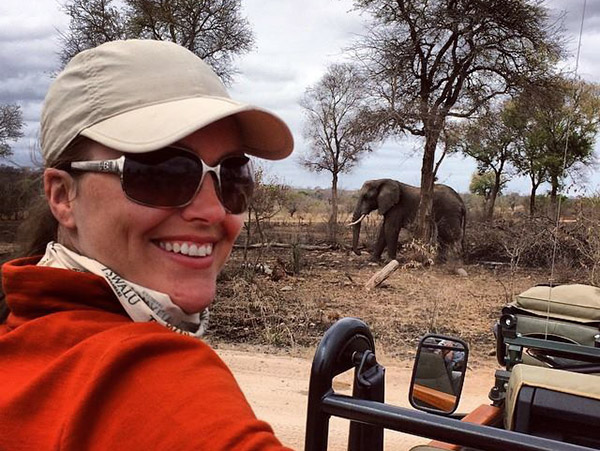 I fell in love with travel when…
I was just a girl and dreamed of someday visiting Paris. I've been blessed to be able to visit that wonderful city, as well as many other unique and amazing places.
In Africa, I have traveled…
To South Africa, Botswana, Zimbabwe, Tanzania, Kenya, and Rwanda.
My favorite part of traveling in Africa is…
Hard to pinpoint: the wildlife, the people, the scenery, together create an almost indescribable experience. It really is one of those places where you have to go to truly understand its impact. Once you visit, I promise you will be counting the days until you return.
My most incredible memory from Africa is…
Gorilla trekking in Rwanda. Dian Fossey was a hero of mine growing up, so to be up close with these gentle giants that she dedicated her life to saving was truly inspiring.
---
Vanessa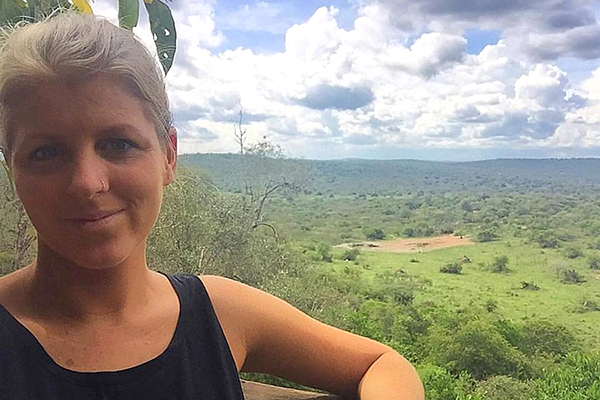 I fell in love with travel when…
I was 10 on my first trip to Bali. I have a vivid memory of stepping off the plane and being hit by the strong incense smell and the profound heat. I was fascinated by the different culture and way of living.
In Africa, I have traveled…
To Uganda and Rwanda, so far. I am looking forward to October when I will be going back. This time 'round, I will be visiting South Africa and Zambia.
My favorite part of traveling in Africa is…
The diversity. There is something for everyone and so many different breathtaking experiences you can have. Take Uganda; it is a country that has it all. Although mountain gorillas are the big draw for many people visiting, the country offers a lot more, such as a visit with tree-swinging chimpanzees, a hike on the ledge to the top of the thundering Murchison Falls, game drives in the Ishasha region of Queen Elizabeth National Park to see tree climbing lions, and amazing boat safaris. Finally, top that off with what Uganda is especially known for: its beautiful people.
My most incredible memory from Africa is…
Gorilla trekking in Bwindi Impenetrable Forest. This is no zoo experience. These wild gorillas aren't just waiting for you at the forest's edge. You must plunge into the jungle to find them—without the sort of trekking paths you might be used to. The day I went, it had just rained, so the terrain was rough and muddy, and I had to pull myself up many muddy hills by grasping roots and branches. Although the hike was physically demanding, the beauty of the forest and surrounding scenery made the trekking so worthwhile. And once we located the family of mountain gorillas, all fatigue was forgotten.
Douglas, Vice President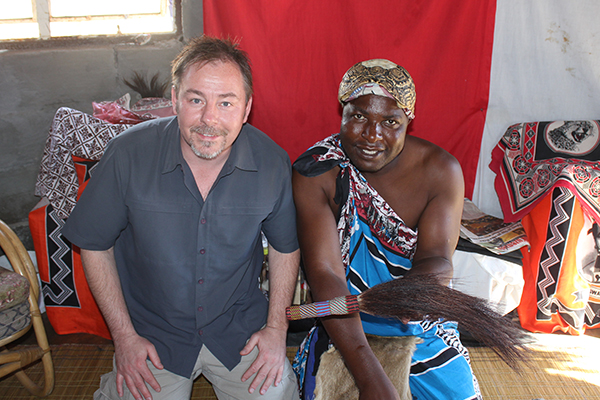 When did you fall in love with travel?
When I was in college, getting a passport, and using it, helped me understand how vast, incredible, and varied this blue and white pebble is that we all call home.
When did you last travel to Africa?
A few months ago.  I've been in South Africa so much it feels like a second home at times.  In reality, each trip to Africa is a completely different experience.  Whether enjoying a game drive in Sabi, shark cage diving in False Bay, sandboarding the white, hilly beaches of Vilanculos, or helicoptering through the wine region of Stellenbosch, it is always a new and rewarding adventure.
What is your favorite part about travel to Africa?
The locals.  That's what I always enjoy.  The scenery, the wildlife, the food – those things are great, but it's always the people I meet along the way that I enjoy the most.  That's what will keep you going back again and again.
What is your most incredible memory in Africa?
I enjoyed kayaking with the penguins in False Bay; at the end of the trip, I really loved hearing the guide tell us we just kayaked through "Shark Alley" – the same one you see on Discovery Channel during shark week.  Being an idiot, I had to investigate these so-called sharks by cage diving the next day.  I can safely report back that in fact, yes – they are there.
---
Shannon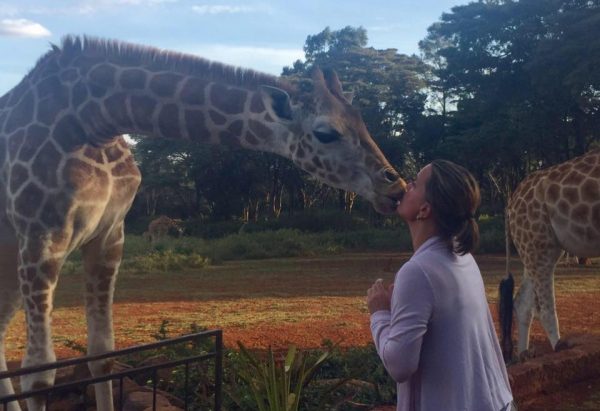 I fell in love with travel when…
My parents took us on U.S.-based summer trips. When I was 17, I went to Europe for 20 days after studying European History in high school and that cemented my love for travel to other parts of the world.
In Africa, I have traveled…
To South Africa and Kenya. I spent 10 days in South Africa and 8 days in Kenya. The two countries are very different in the experience; it was a wonderful contrast. I have also traveled to the Maldives, which is not in Africa, but it is certainly a nice beach addition to your Africa safari.
My favorite part of traveling in Africa is…
The people and the animals. You are able to get so close to the animals, you can hear them breathing. It makes an experience at a traditional zoo seem very pedestrian. In Kenya, the people have such a connection to their tribe and many Maasai people still live in traditional villages with cattle, sheep, and goats. One thing I love about the conservancies around the Mara National Park is that they work with the local villages, so it's a great way for tourism to contribute to the local community.
My most incredible memories from Africa are…
Seeing TWO white lions near the Kruger National Park (there are estimated to be only 13 white lions in the wild). Kissing a baby giraffe at Giraffe Manor—they are such beautiful, gentle animals, and it was an amazing experience. Seeing a wildebeest crossing at the Mara River—this is considered part of one of the natural wonders of the world. Lastly, my trip to South Africa's Winelands in a helicopter and spending 2 days wine tasting.
---
---
Laura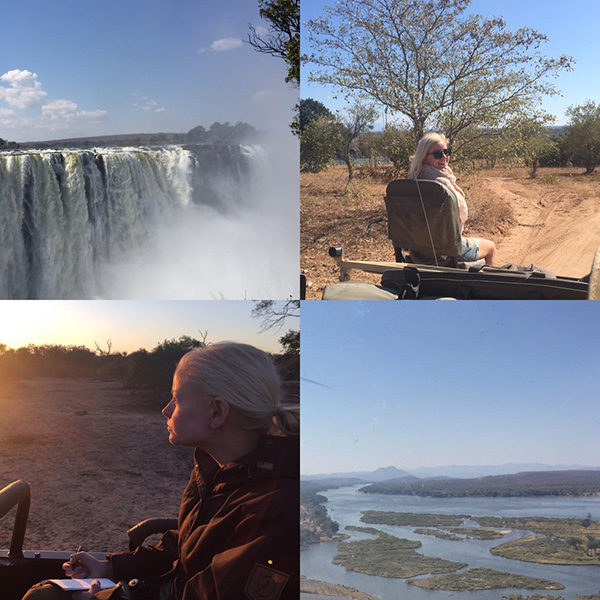 I fell in love with travel when…
I moved to Germany and had the opportunity to adopt another culture. However, my first trip to Asia proved to be the most impactful. It changed the way that I view travel and how much of an impact tourism can have on the local communities and their development, as well as wildlife conservation.
In Africa, I have traveled…
Within South Africa, Zimbabwe, and Zambia.
My favorite part of traveling in Africa is…
The mutual relationship that the local communities, wildlife, and tourism sectors have developed. The local communities are able to maintain their traditions and way of life all while being supported by the tourism industry to obtain basic amenities like clean water, education, and medical care. The animals are protected by conservation groups funded, and often established and managed, by the nearby lodge owners. Visitors, of course, benefit by learning about the local culture and experiencing great game viewing. It is this symbiotic relationship that makes Africa one of the best locations to visit.
Some of my most incredible memories from Africa are when…
I was in the Sabi Sands and one evening we spent 1.5 hours tracking a young male leopard that was hunting for his dinner. While he made several attempts he was unfortunately unsuccessful. However, the adrenaline rush that you get from watching the circle of life play out in front of your eyes is unbelievable. And, second, I spent some time in the Lower Zambezi, a much less developed area. The camps are fewer and more spread out, meaning there are fewer vehicles. Because of this, the animals are harder to spot since they shy away. With that said, when you do find animals, you notice how their behavior is different and understand how truly untouched the destination is.