In the span of two months, most people's lives have been turned topsy-turvy. It seems that with each day we hear of new challenges that we must conquer. And yet each day hopeful news materializes that we are advancing in the right direction and will come out on top. Albeit, with time. We at Africa Endeavours are committed to our clients' dreams, the travel industry and the health and safety of each and every one of you.
We are often asked: What does the future of travel look like? We have coordinated with the airlines, local lodges and tour operators to provide you some clarity for the future.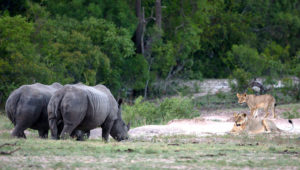 Air Travel

Yes, air travel has nearly grinded to a halt. And yes, it will pick back up again. Based on previous regional and global pandemics, here is what you can likely expect to experience:
Health screenings and requirements: Since the Ebola outbreak in West Africa in 2016, most countries in the African continent already have a temperature screening requirement prior to reaching customs and immigration at arrival in a new country. This is likely to be rolled out in many other locations. Other countries may require an antibody test or immunization proof via Yellow Card. Travel requirements will likely come hand-in-hand with borders re-opening and we are here to advise you on what you will need.
Plane requirements: The airlines have announced policies requiring both staff and customers to don a mask or face covering for the duration of their time both in the airport and on the plane. Precautions are being taken including additional cleaning requirements, access to hand-washing or sanitizing stations and overnight aircraft fogging.
Seating configuration: For the near future, at least, airlines are blocking off seats and reducing capacity to accommodate for distancing between passengers. While this isn't a viable long-term option you may see some new and improved seating options in the future.
Flexible booking terms: As many are hesitant to make new travel arrangements, the airlines are providing enticing offers such as zero change fees, extended use of credit and additional loyalty perks.
So you have adjusted to the new air travel requirements and made it to your final destination. What does that look like?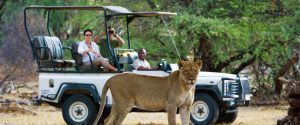 Preventative Measures In Place:
Safari operators have made plans to reduce guest numbers. Each safari vehicle normally seating 6-9 guests, will now max out at 4 guests. (for DUE, vehicle max is set at 50% or private tours)
Small gatherings: Part of your safari stay would often include a Boma or Braai/BBQ dining experience with all of the lodge staff and guests. It was commonplace for men, women and children from the local community to come and express their gratitude through song and dance passed down through the generations. Moving forward, gatherings will be more intimate and more likely to include only your private party.
Dining: Sharing stories of evening sightings over a G&T at the bar or a communal dining table will be placed on hold. The lodges are swapping out the oversized Leadwood tables for intimate, open-air experiences set amongst nature. Room service options are being expanded and encouraged for guests wishing to spend more time in their own suite.
Cleansing: Throughout your stay, you will have access to complimentary hand sanitizer, and most often luxury brand soap and lotions to round out the experience.
Screening/Isolating Staff Members: Often remote safari lodges run with a 4:1 (or higher) staff to guest ratio. The lodges are prepared to minimize movement and isolate staff that you will be in contact with in order to create safe spaces.
Education: The lodges are acting now to ensure a safe future. They are educating staff members alongside a doctor on proper hygiene requirements for themselves and their guests.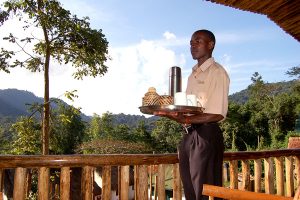 While Traveling:
Daily Temperature Screenings: To ensure the safety of the other guests and the local staff, regular screenings will likely be a requirement of your stay. The camps are working to ensure this is a non-invasive experience. Tests will be readily available should one be needed.
Isolation suites: Should any symptoms arise during your stay, arrangements can be made to depart or stay for test results. A room will be designated at the lodge for those requiring space.
Accessible Healthcare: Each lodge has an emergency plan in place already. This will be expanded to include a 24-hr hotline to a doctor on-call, providing a doctor on site and/or a local medical emergency partner. Procedure will be in place for easy access to healthcare facilities when required.
I am prepared and ready to safely travel. But where can I go?
Our Suggestions:
Emerging Destinations/Off-The-Beaten-Path Locations: Our goal has and always will be to give you a unique and local experience. We have been working with locally owned, small companies for 20+ years and believe in the character and unrivaled beauty of an untouched area. Visiting destinations that you have not previously heard of or traveling in the off-season means less people, private and genuine experiences and relaxed timetables.
Train Travel: As production has halted and our emissions lowered, we are focusing on those ways that we can travel in a more green fashion. Train travel was considered palatial in its hay day and is making a comeback in several countries as a posh way to discover otherwise inaccessible routes. It is also more eco-friendly than the competition: airplane and vehicle travel. We love Rovos Rail or the Blue Train.
Travel Responsibly: Now more than ever, we are reminded of the need to shop and dine local. Boutique hotels often partner with local artisans, winemakers and farmers to provide fresh and unique goods direct to you. It is imperative to support camps who work alongside the community and run projects with the people, wildlife and land as the beneficiaries. It is these boutique lodges, camps and hotels that collaborate to provide us spaces to safely return to, protection of endangered species, advances in technology and preservation of the past.
We are all in this together. Your commitment to us, your kind messages and intent to travel has been extraordinary. We look forward to helping you navigate the new normal and plan that dream trip.