Hello!  Are you ready to plunge into an unforgettable adventure? Let's put together a mental picture.  Just imagine, unique wildlife roaming free, amazing food and wine, and raw thrilling South Africa Adventures.
We're big on adventure and exploration at Africa Endeavours, here's what's on:
Game Drives & Safaris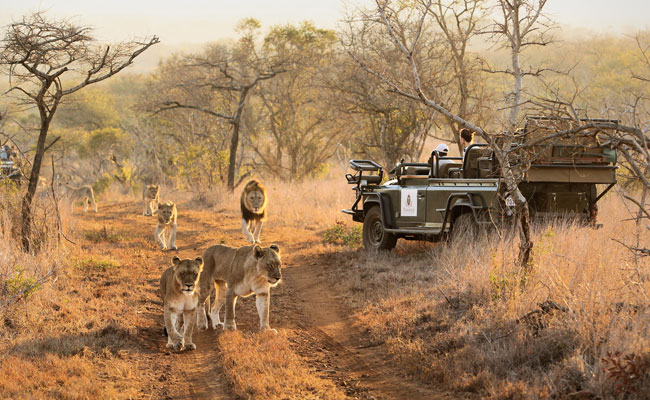 Enjoy seeing amazing wildlife in their natural habitat. Image: Thanda Safari 
A South African Safari is a must do on any adventure traveler's bucket list.  View wildlife from the comfort of an air-conditioned 4WD, on horseback, or from a bird's eye view in a hot air balloon!  One thing is for sure, you'll witness nature as never before.  Keep your eyes open and see how many of the Big 5 you can find!
Cage Diving
How's the saying go?  Do one thing every day that scares you?  Well, check off your list with a truly unique experience and get up close and personal with the kings of the deep- Great White sharks.  Few things compare to the adrenaline rush and excitement you'll experience while being 3m away from a Great White.  Get a taste for the action with the great video from our friends at South African Tourism!
Paragliding

If you're one for soaring high through the air, then South Africa is the perfect place to paraglide! From the Northern Cape Province and its amazing thermals to the coastal Eastern Province, KwaZulu-Natal National Park or inland to Mpumalanga, there are loads of places just waiting for you to explore!  Check out this rad video of paragliders and talk to a South Africa Travel Specialist today at https://www.africaendeavours.com/ or give us a call 888-367-0933.
Canyoning

We've got another one for your adventure travel bucket list, canyoning.  A truly unique and exhilarating experience, canyoning is the perfect activity for your next South Africa adventures.  Imagine descending a river canyon on foot, scrambling, swimming, jumping, sliding, and a little bit of rope work as well.  Are you up to the challenge?  Need a little more inspiration?  Check out this great canyoning video.
---
Ready to begin planning your own trip to South Africa? Browse our custom South African travel packages, or give us a call at 888-367-0933 to start planning the adventure of a lifetime!