Why a Trip to Namibia is Perfect for Your 2nd Time in Africa
A trip to Namibia is unlike anything else you'll experience in Africa. If you've traveled to Africa before, you know that once you go, you get caught up in the magic of the continent, the people, and the amazing wildlife. It certainly isn't a once-in-a-lifetime destination!
If you're thinking of a 2nd or 3rd visit to Africa, I can't recommend Namibia enough. This country is completely different from anything you'll see in popular destinations like South Africa or Kenya; it looks and feels like another planet. And let me tell you, the people there are very special.
Namibia: A New Side of Africa
Most first-timers to Africa are interested in a Big 5 safari where elephants, lions, leopards, giraffes, and other iconic animals seem to be everywhere you look. However, once you've had that first safari experience, it's so rewarding to see another side of Africa on your next trip. Perhaps you're ready to get on the ground and spend more time tracking the animals, or even have an in-depth experience with ancient African cultures.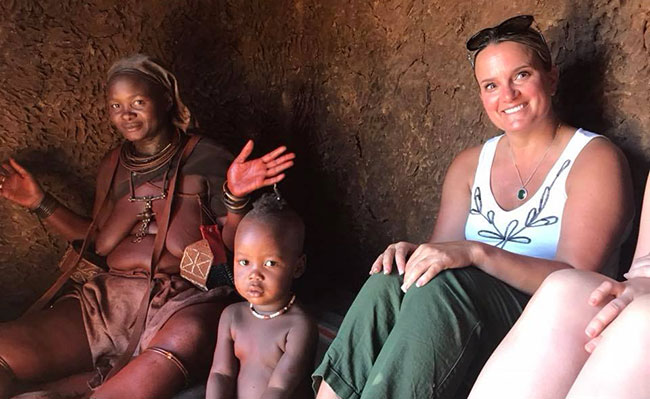 Village visit with a Himba tribe
I recently went on a trip to Namibia, and I have to say, it's unlike anywhere else in the world! The landscapes are truly breathtaking—think massive sand dunes, desert mountains, empty sun-bleached coasts, and so much more, all of which you can explore without any crowds. With a population of about 2 million people, Namibia is the second least densely populated country in the world, so the sense of space is incredible.
Highlights of Namibia
During my 9 days in Namibia, I was able to explore all the highlights. In Namib-Naukluft National Park, I saw the highest sand dunes in the world, and boy did I feel tiny standing next to those (or even trying to climb them)! I climbed to the top of the famous "Big Daddy" dune, and ran down the other side to Deadvlei, an amazing barren forest where the trees actually died nearly 900 years ago, but are still standing.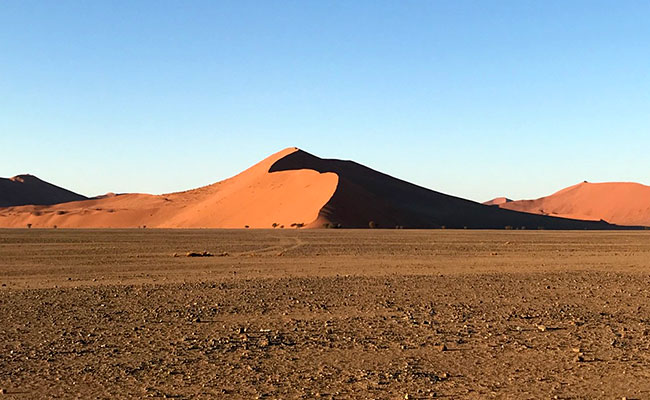 Sand dunes in Namib-Naukluft National Park, home to the tallest sand dunes in the world!
In Damaraland, I saw ancient rock carvings and some of the most unique soils and mountains in the world. The Organ Pipes made for a great photo op!
I also took a scenic flight along the coast from Swakopmund to Sossusvlei. On this flight, you can see shipwrecks, whales, fur seals, and flamingos. (I was so happy to see a large flock of flamingos from the area, as I'm a little bit obsessed with them!) Some of these areas are absolutely restricted from land traffic and you can only see them from the air. And then landing in the Wolwedens area, with its red sand surrounded by purple-hued mountains, you simply feel like you have landed on Mars.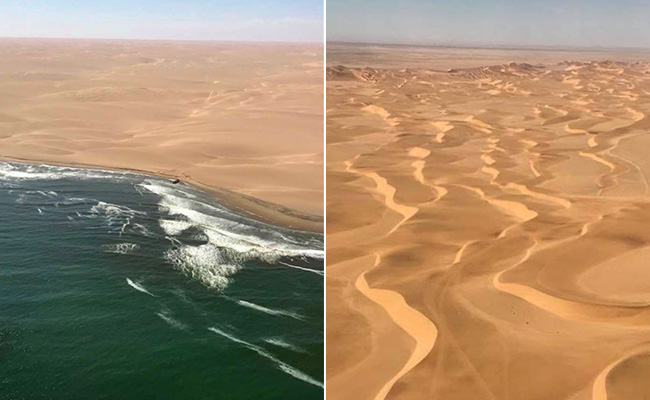 Some of the scenery on a flight over the Namib Desert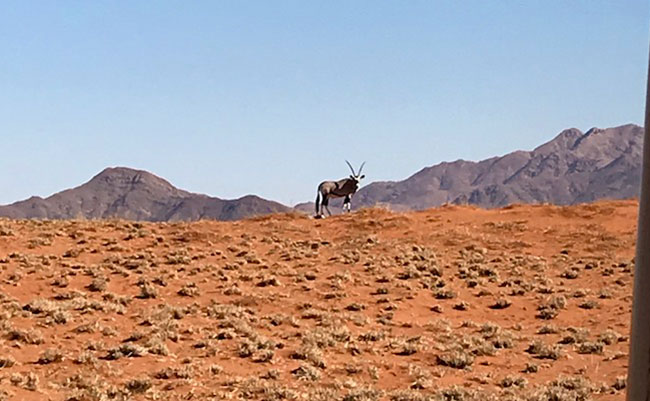 Oryx amid the Wolwedans landscape
The Road Less Traveled
Namibia is not place of convenience; many places have no WiFi, no A/C, no running water, and the roads…well, let's just say, they're a good advertisement for Land Rover. And while you can get some amazing wildlife sightings, like the endangered Black Rhino, you have to work for it. We tracked rhinos for 2 hours before seeing them and it was absolutely amazing to get so close!
So, if you've been to southern Africa already, done the game drives, seen the Big 5—if you're ready for untouched places, stunning landscapes, and feeling like you have been dropped onto another planet—Namibia is the perfect destination for your next visit to Africa.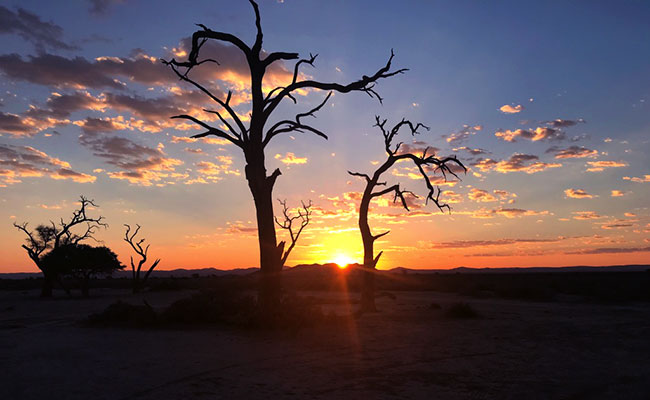 An incredible sunset in Namibia
---
If you're ready to start planning your trip to Namibia, or simply want to learn more about this incredible country, please email me at sbradley@africaendeavours.com! I would love to help you plan your own Namibia adventure. You can also find more inspiration with our Namibia travel packages.