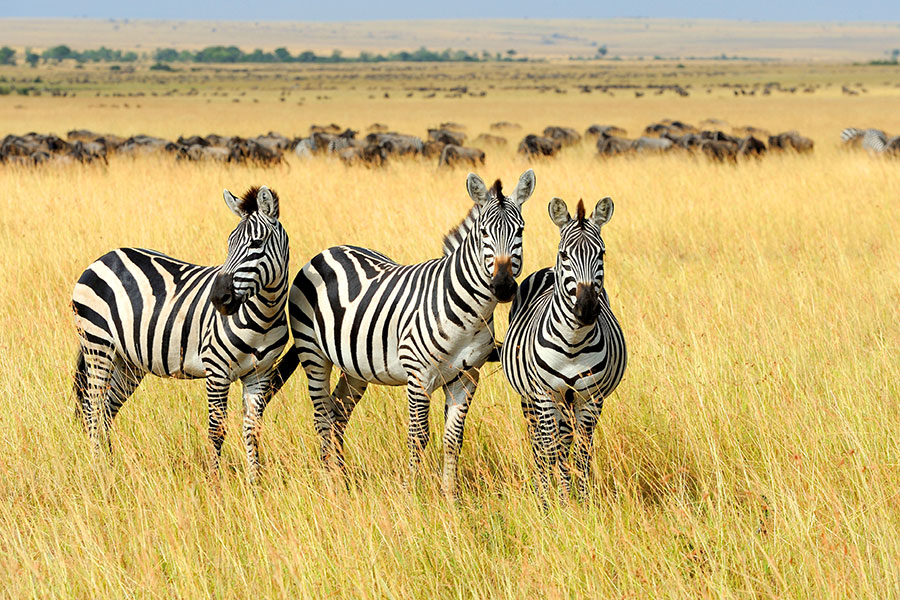 Zebras in Kenya
East Africa is an inspiring destination that lures adventurous travelers from all over the globe. From a Big 5 safari in the Maasai Mara to meeting mountain gorillas in the wild rainforests of Uganda, you'll find plenty of once-in-a-lifetime experiences that deserve a place on your bucket list!
But navigating the logistics of a multi-country African safari can be a headache. That's why we're here to make sure your trip is completely seamless.
Here are some important things to know if you're planning to visit multiple East African countries on your trip.
The East Africa Visa
Uganda, Rwanda, and Kenya have a shared East Africa visa, which will gain you entry into all 3 countries for $100 USD. Travelers must apply for their visa online via the diplomatic mission of the first of the 3 countries they plan to visit. (See applications for entering Uganda first, entering Rwanda first, or entering Kenya first.)
However, your travel between the 3 countries can't be interrupted—so, for example, if you travel Kenya/Tanzania/Uganda, you'll need separate visas for each country.
Tanzania Yellow Fever Requirements
If you're traveling to Tanzania from a country where yellow fever is endemic (see an up-to-date list on the CDC website), you must have a yellow fever vaccination in order to enter the country. This rule also applies if you have a long layover of 12 hours or more in one of these countries.
Thankfully, our clients have been well prepared and have not run into any issues, but some travelers have been stranded at the Tanzania border and unable to continue their travels. That's why it's a good idea to always research the entry requirements for each country you visit!
---
Want to plan an East Africa safari? Give our safari experts a call at 888-367-0933 or contact us online to start planning your trip!
You can use our trip planner to browse custom travel packages for Tanzania or Kenya. All the vacation packages on are website are completely customizable!