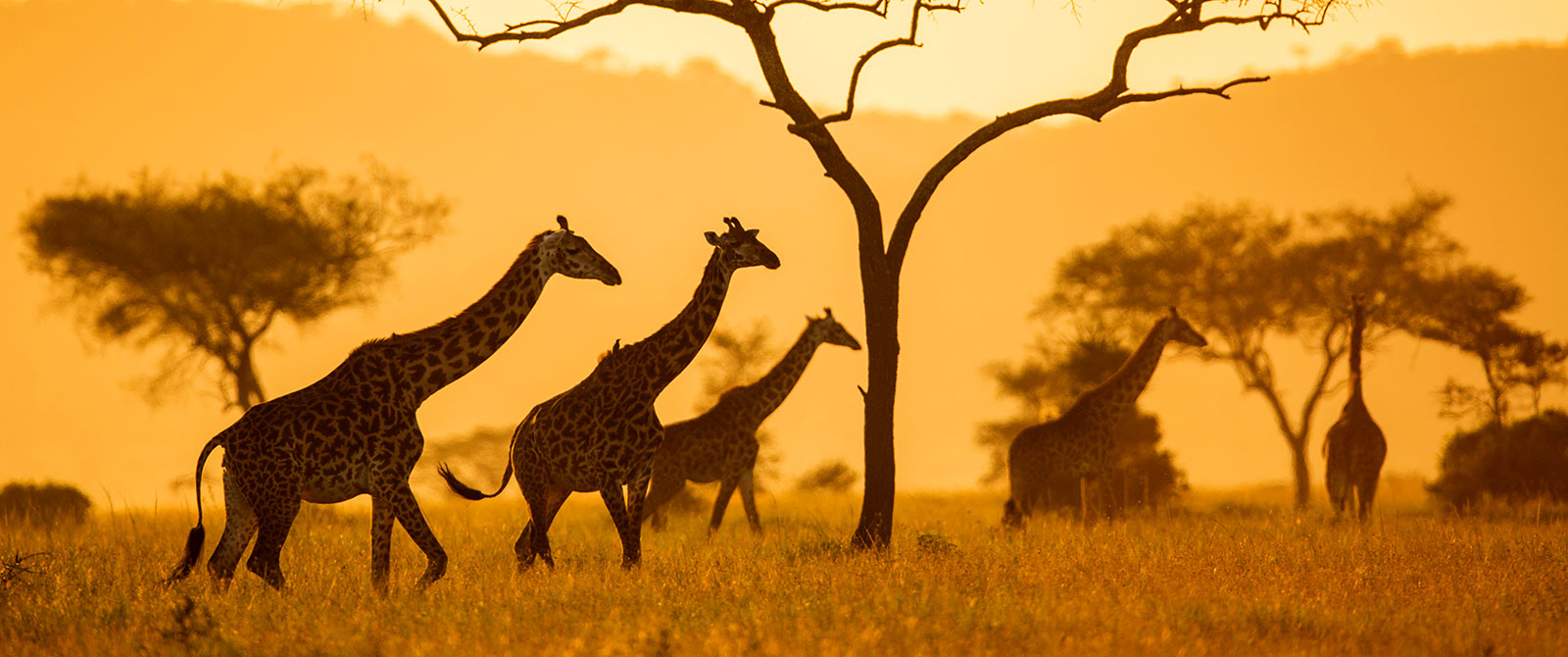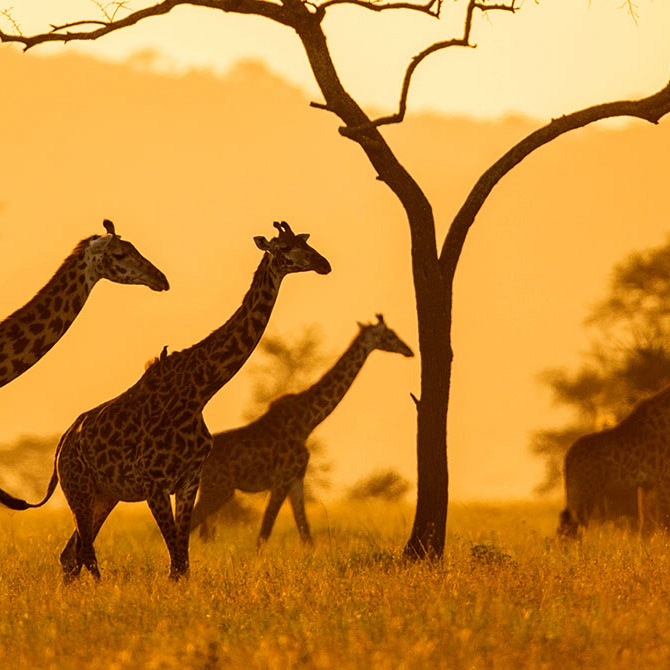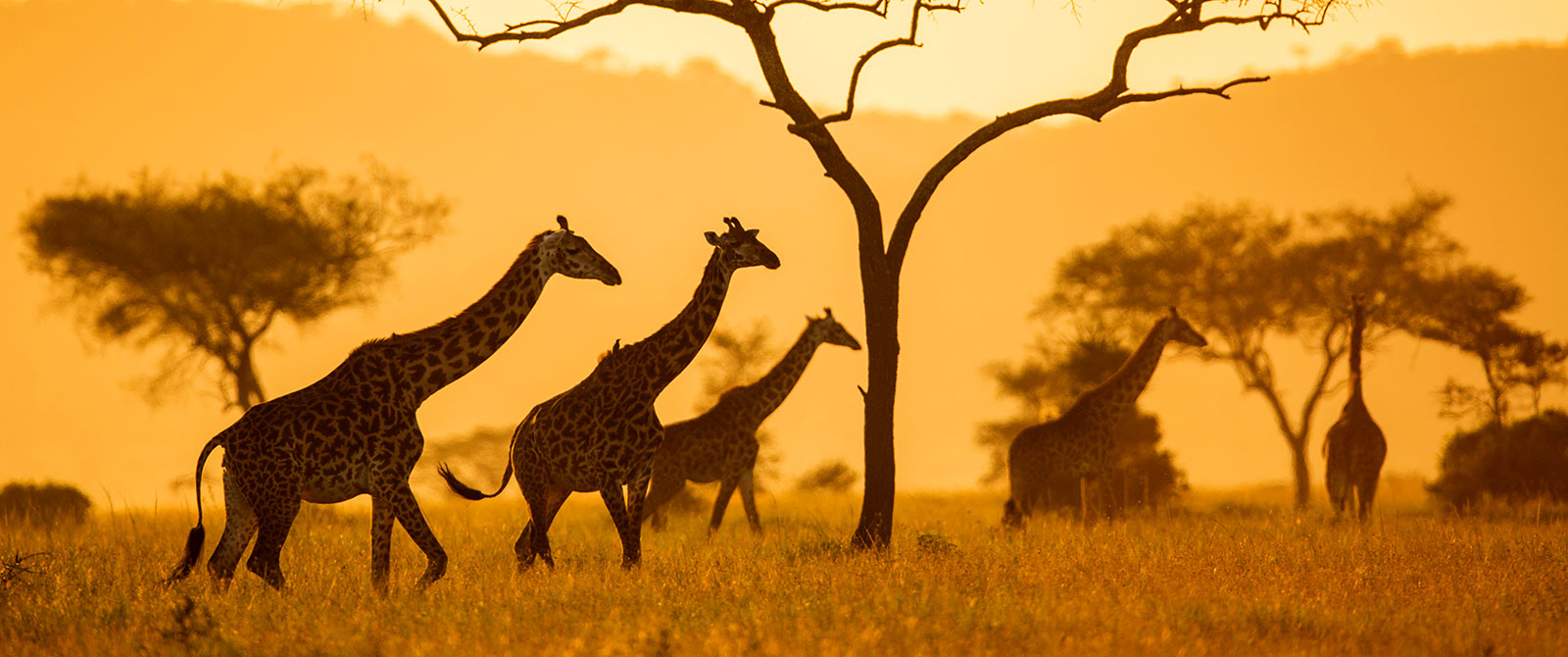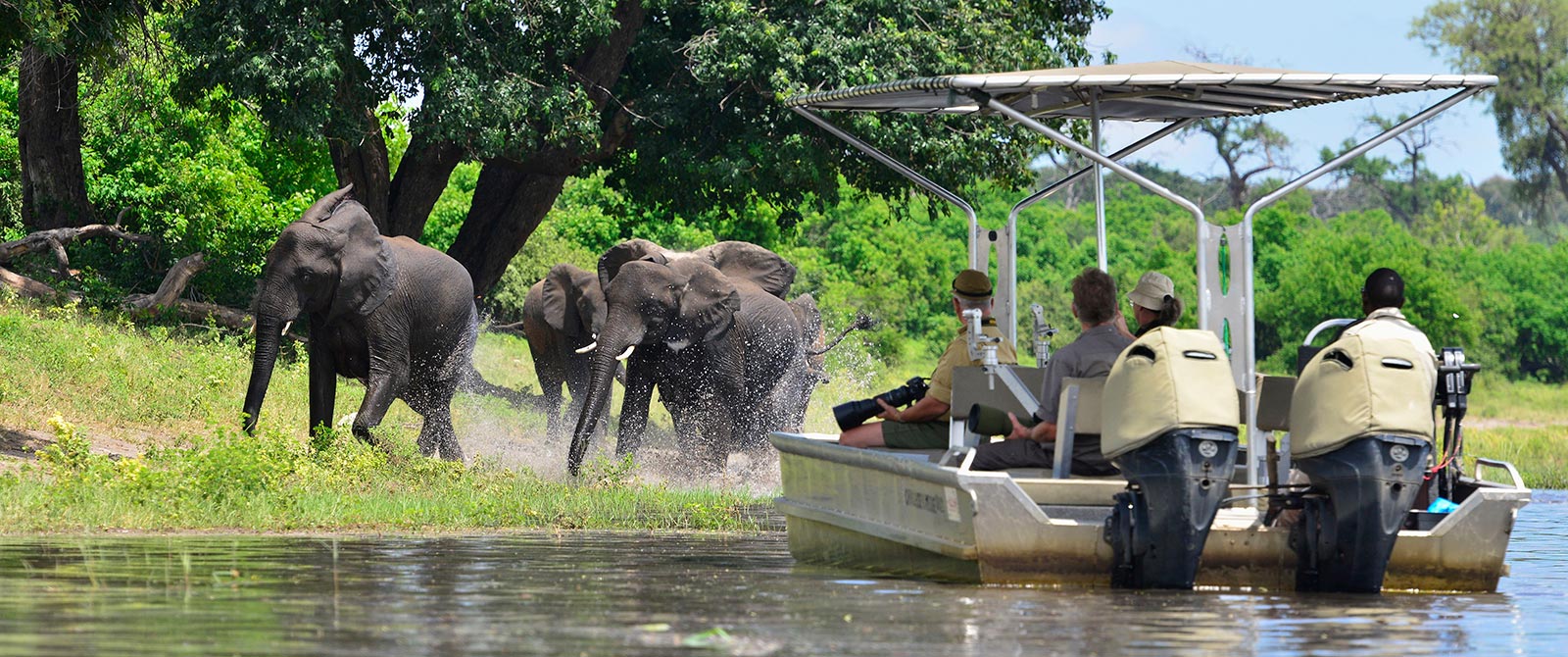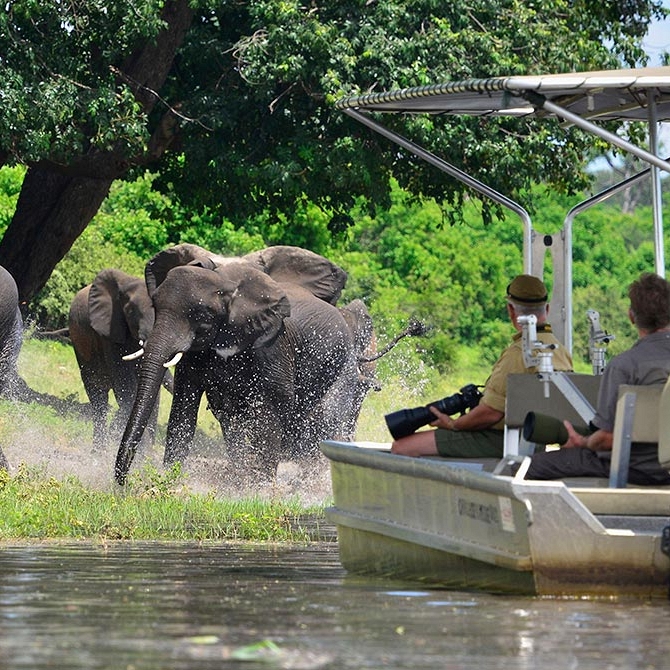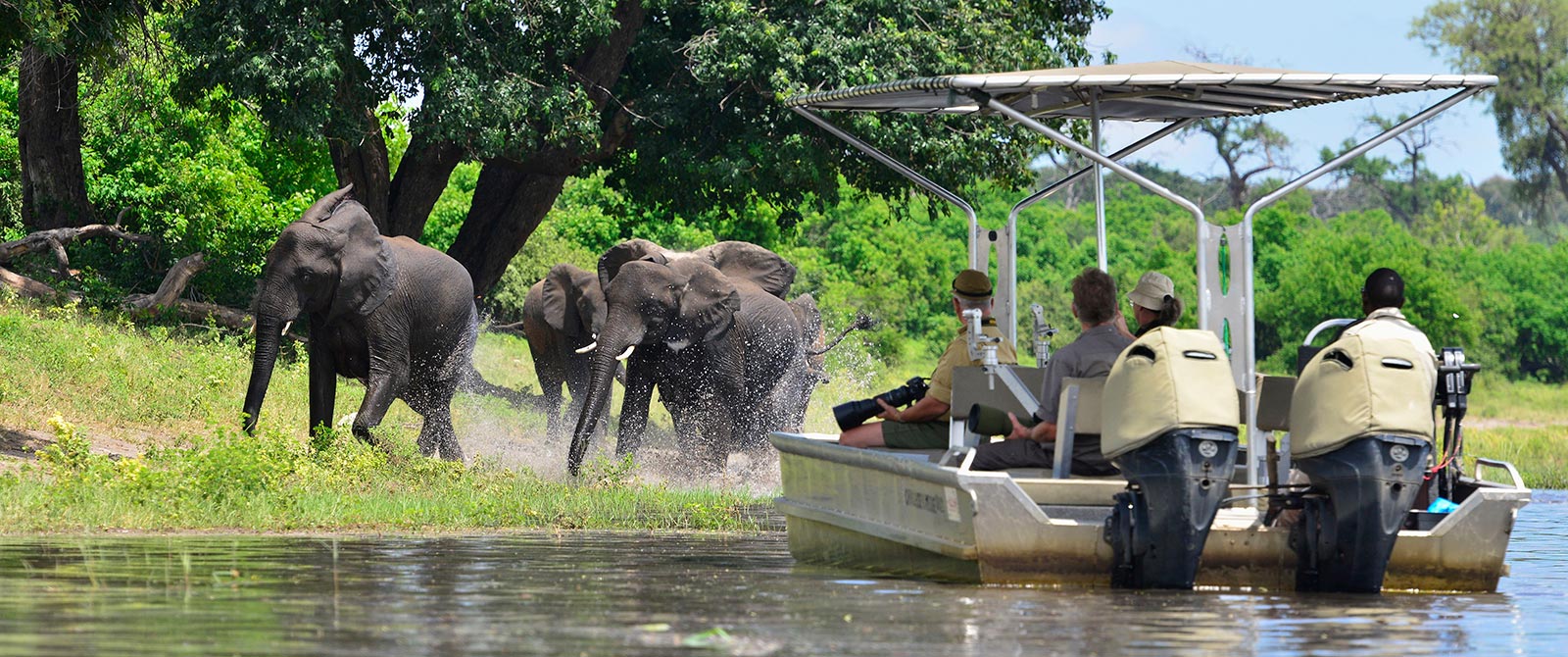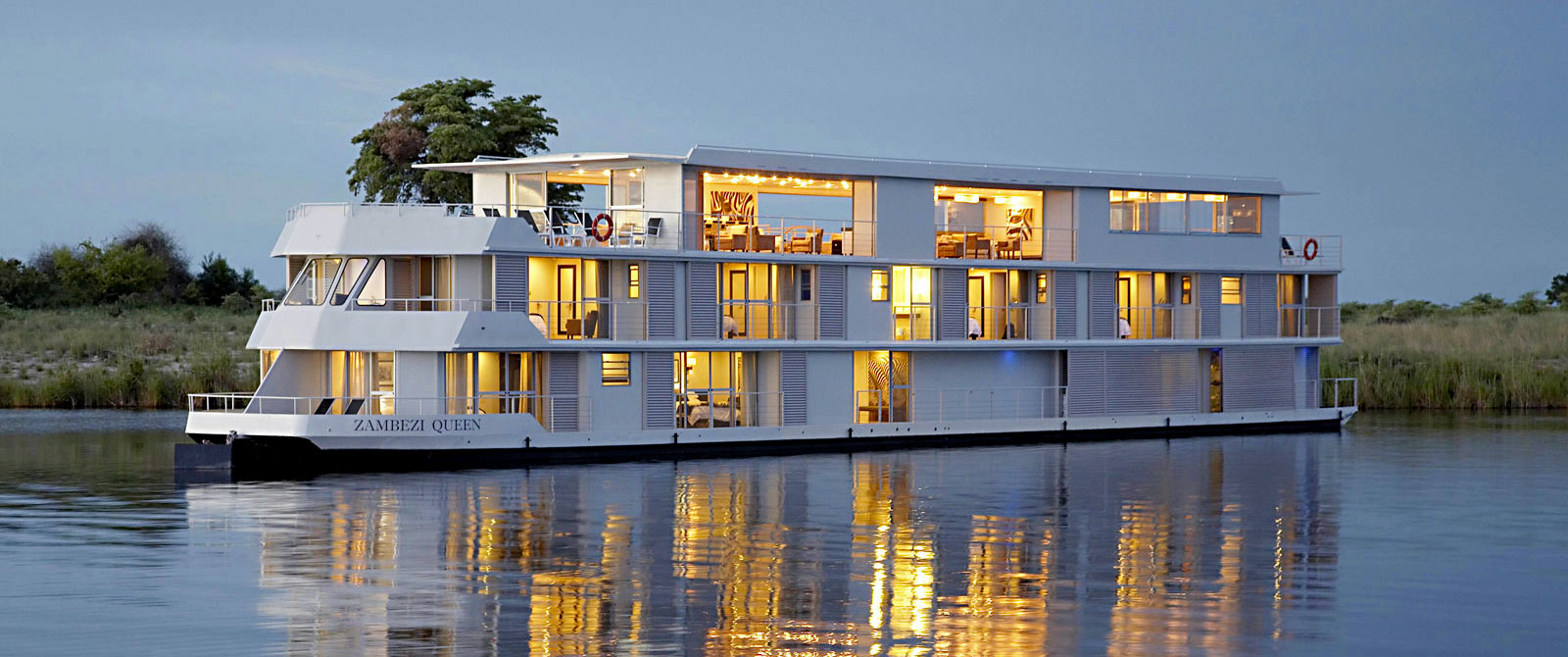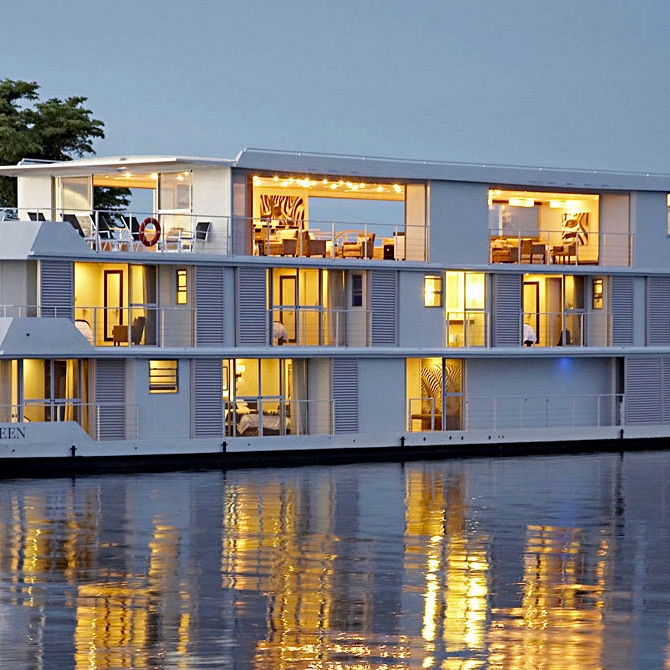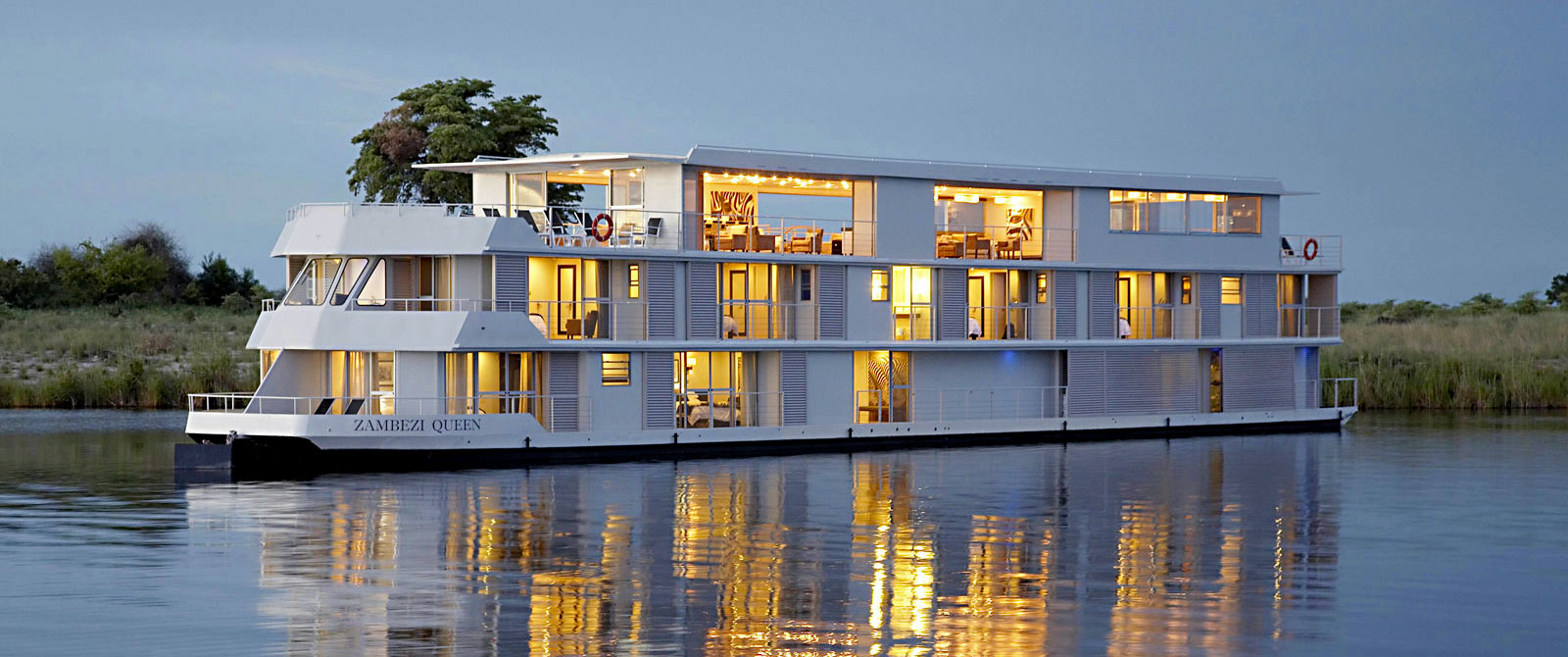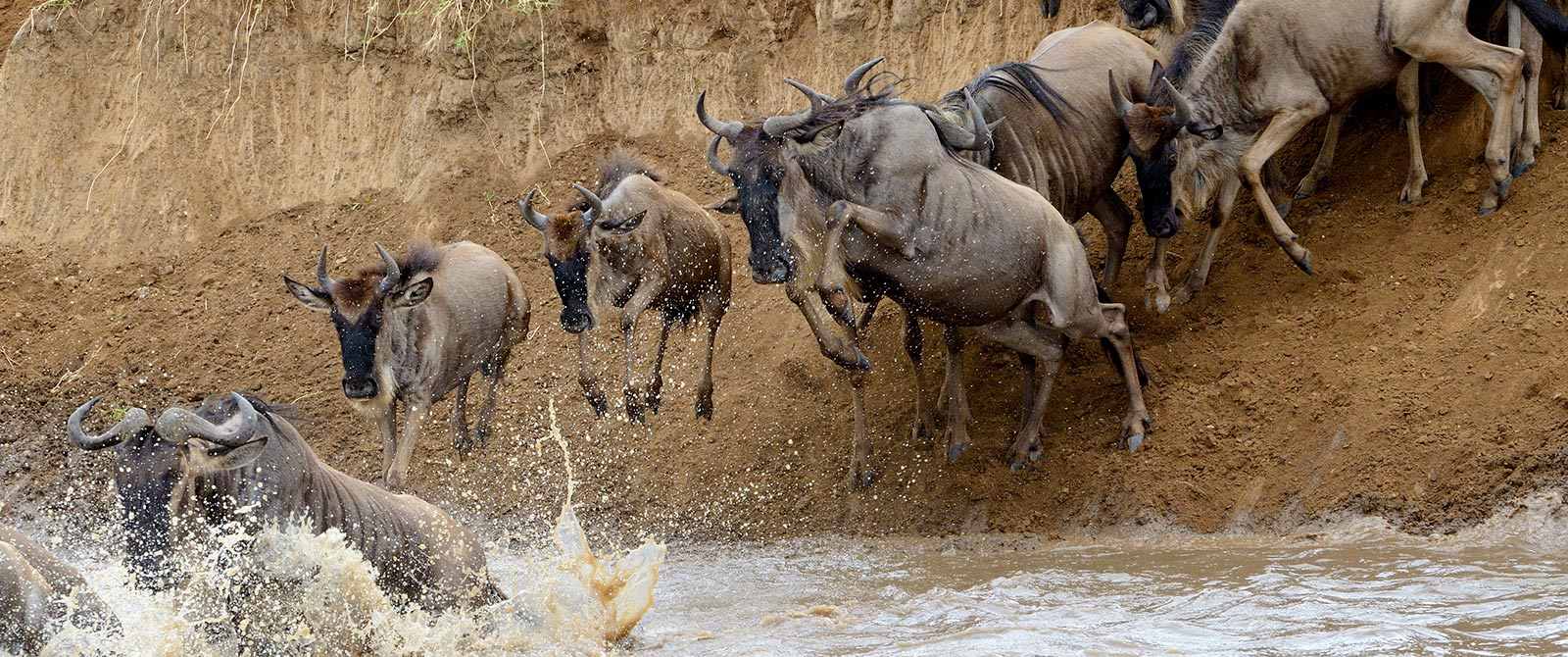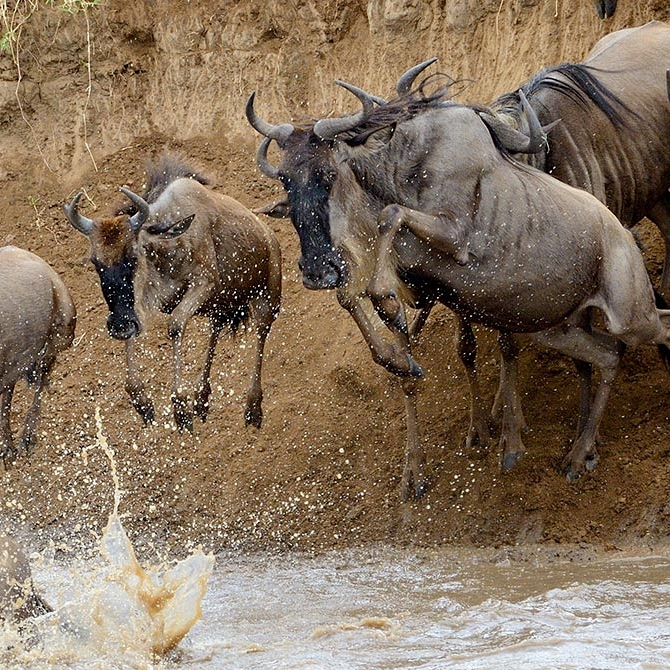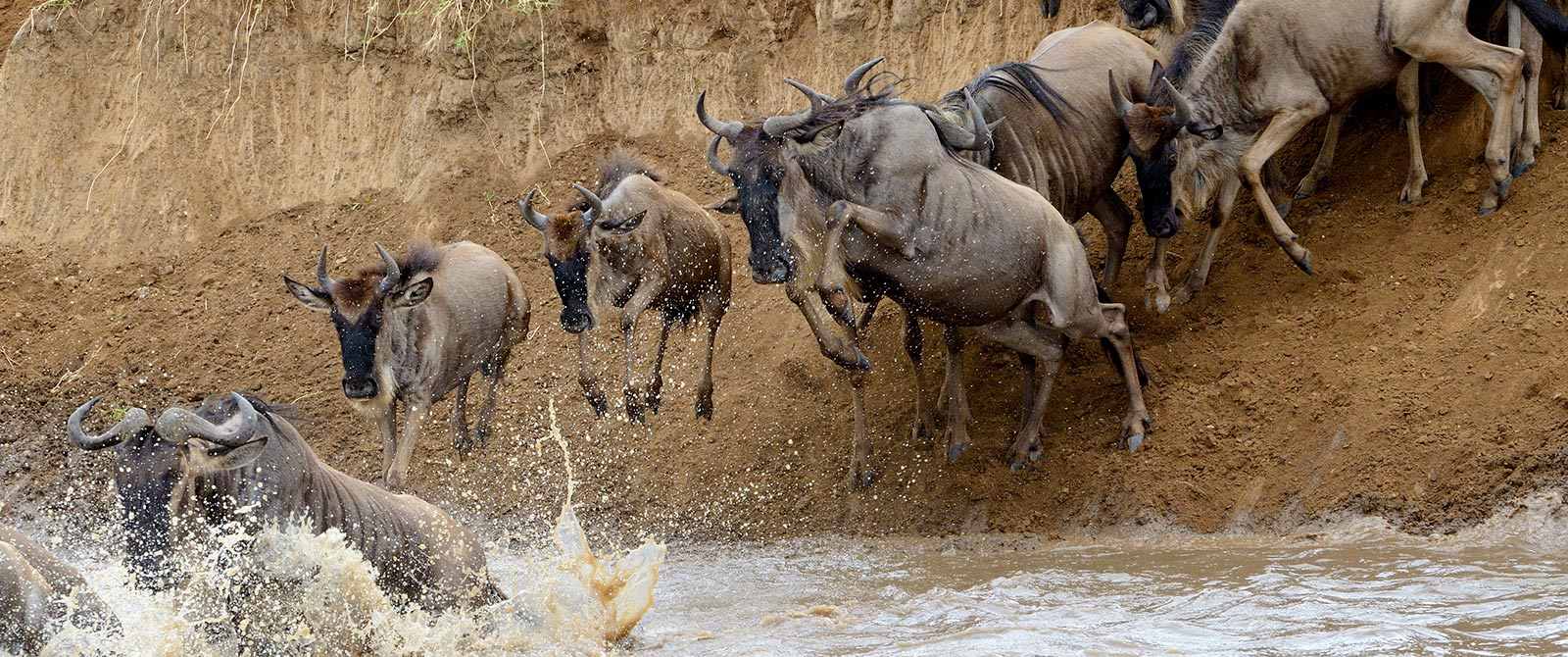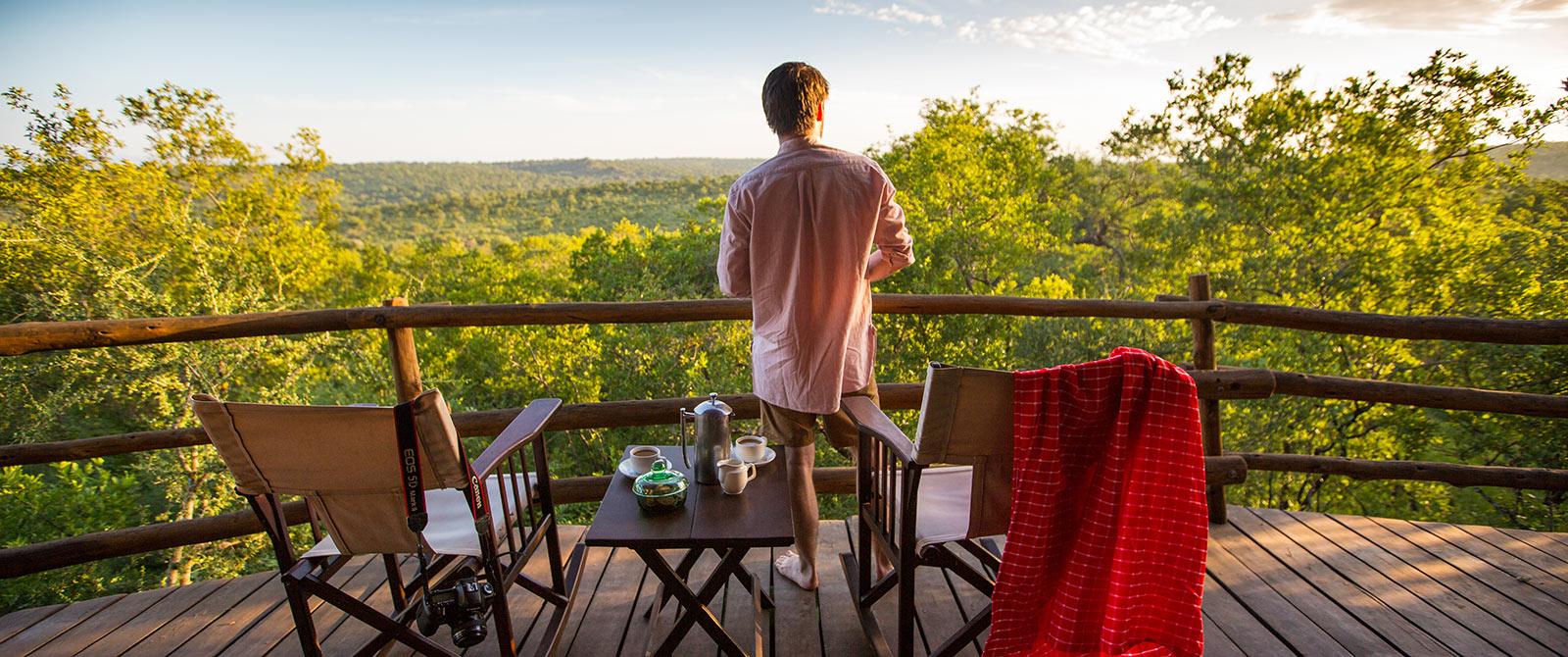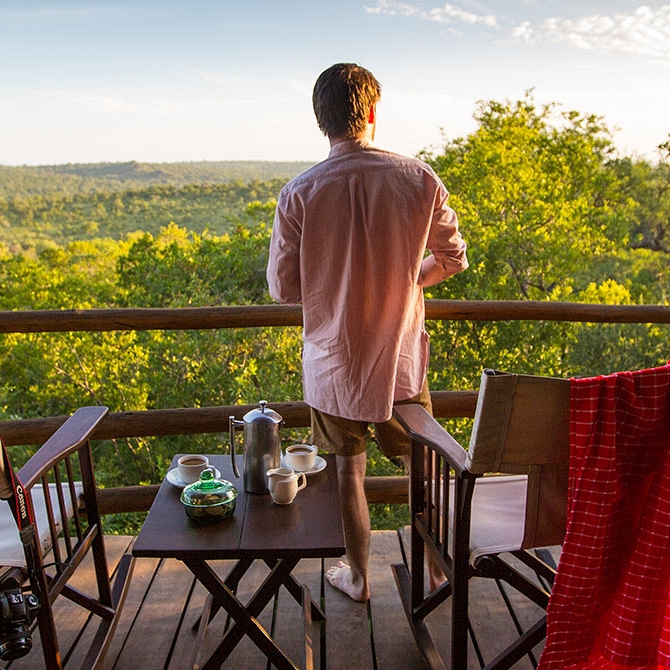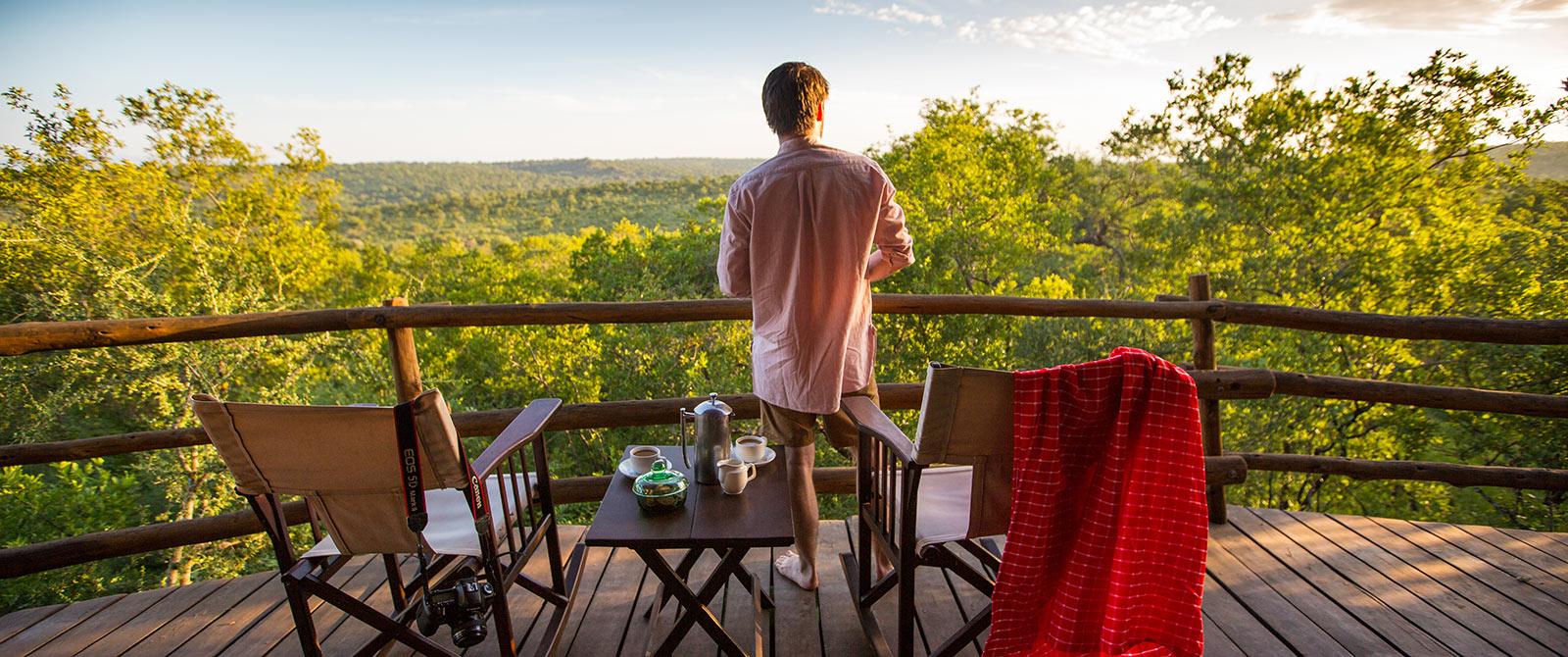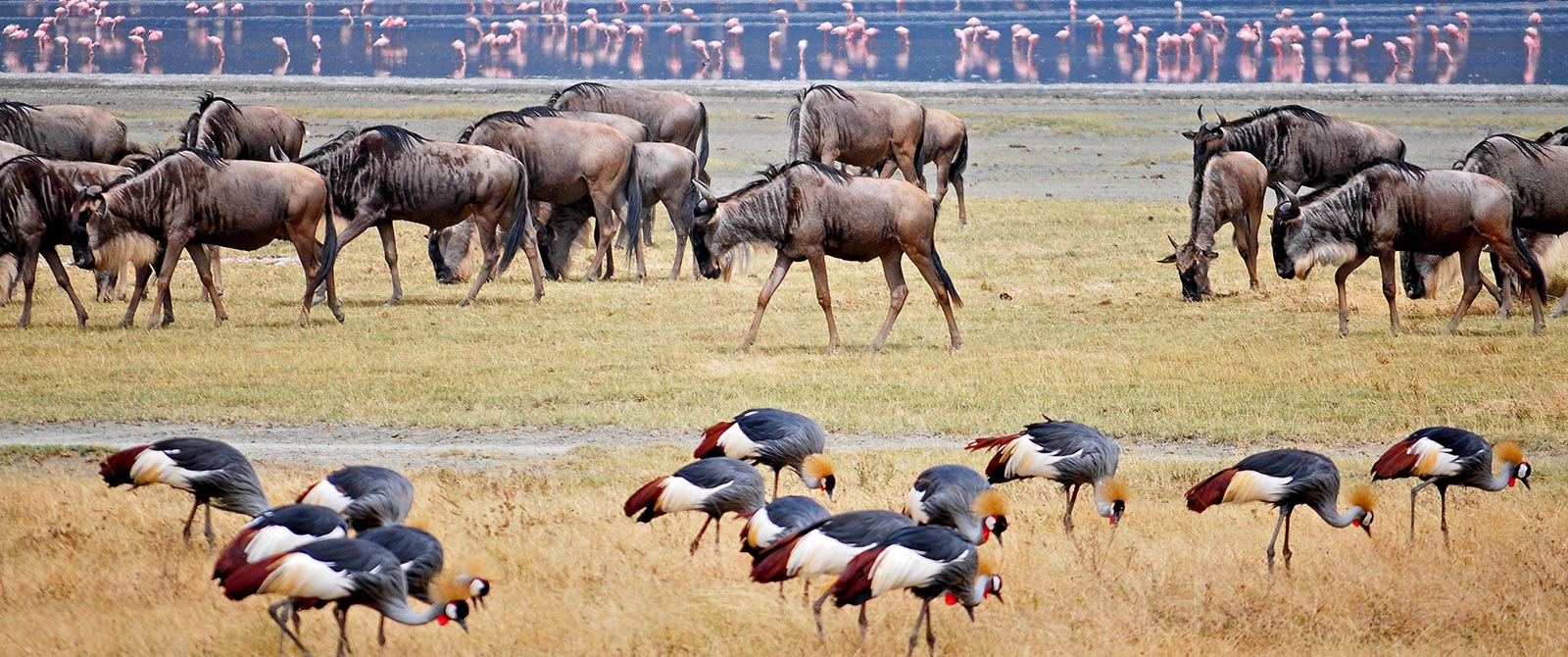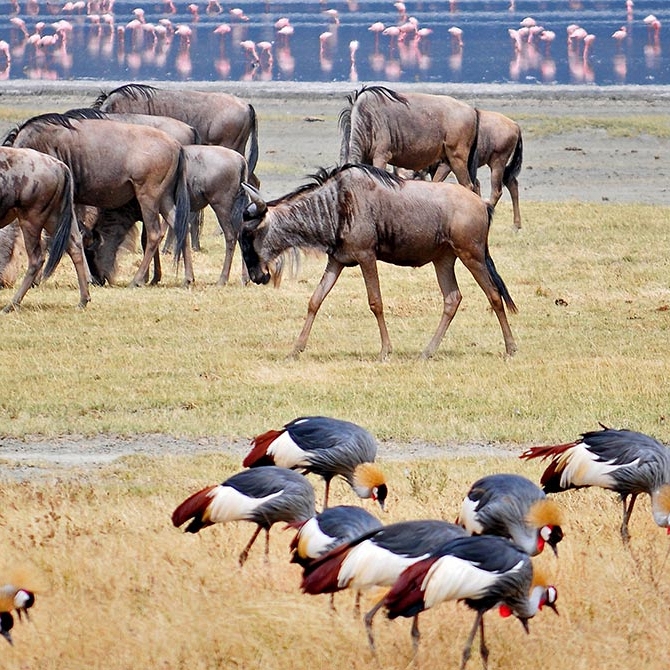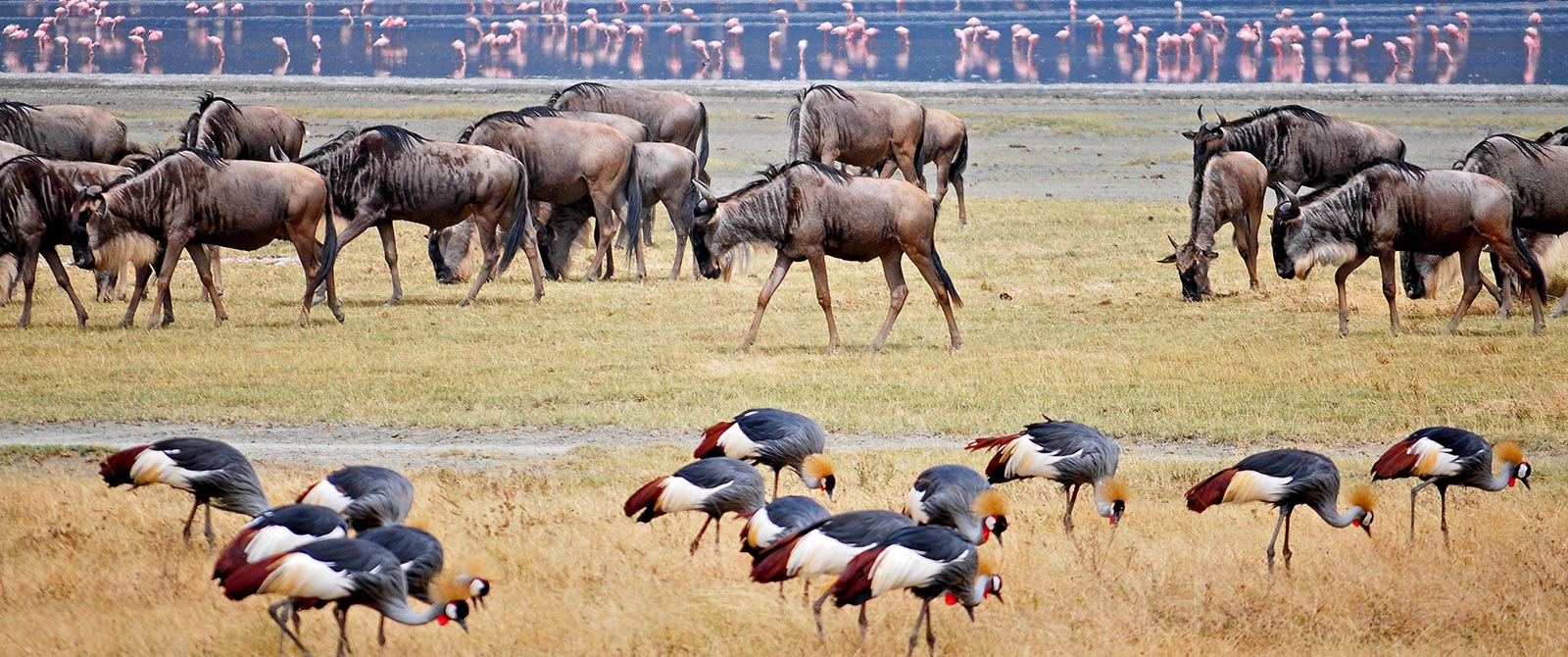 Golden Trails of Africa: Victoria Falls River Cruise and Tanzania Safari
The ultimate African safari tour! Enjoy a luxurious river cruise and safari aboard the Zambezi Queen, and witness the famous elephant herds of Chobe National Park. Then, explore the highlights of Tanzania on an epic wildlife safari, from the Ngorongoro Crater to Serengeti National Park.
The incredible Golden Trails of Africa safari allows you to see Africa's best safari highlights in just over 2 weeks. Start in Johannesburg, then fly to Botswana for a river cruise on the highly sought-after Zambezi Queen. Spend 4 nights exploring the Chobe River, where you'll be able to see enormous herds of elephants. Following your luxurious river cruise, enjoy 2 nights at Victoria Falls, one of the Seven Natural Wonders of the World. Another short stay in Johannesburg allows you to unwind at an elegant hotel and explore the township of Soweto, following in the footsteps of Nelson Mandela.
The adventure doesn't end there! Continue your African safari in Tanzania, where you'll have the chance to see all the highlights. Spend time at a beautiful coffee lodge in Arusha, followed by 2 nights at the stunning Treetops Lodge in Tarangire National Park, nestled amidst the towering baobab trees. Witness the beauty of Ngorongoro Crater and for your last stop, fly to the world-famous Serengeti. Here, you'll have a chance to see the Big 5, the Great Migration (depending on your travel dates), and other abundant wildlife in one of Africa's richest wilderness areas.
Suggested Itinerary
Day 1
Welcome to Johannesburg! After being greeted at the airport by an AmaWaterways Representative, transfer to the Fairlawns Boutique Hotel & Spa in the desirable Sandton neighborhood. The hotel's extensive gardens have captured the spirit, grace, and elegance of a bygone era.
Fairlawns Boutique Hotel & Spa
Day 2
Today marks the beginning of your safari river cruise on the Chobe River—one of the best places in the world to see large herds of elephants! Fly to Kasane, Botswana, where you'll be transferred to the Chobe River, and tender boats will take you to the fabulous Zambezi Queen cruise vessel. Settle into your stateroom and in the evening, enjoy a welcome cocktail reception and dinner.
Zambezi Queen
Day 3
This morning, head out on a thrilling water safari! Venture out by tender boat to get up close and personal with huge herds of elephants, buffalo, lions, crocodiles, zebras, and more that are drawn to the water. You'll also see a huge variety of birdlife and plant life as you breathe in African air around you.
After your morning activities, enjoy lunch on board while using your unique vantage point to spot wild animals and drink in the expansive views. In the afternoon, enjoy another water-based safari adventure. After a delicious dinner, settle down for a restful and tranquil night in your luxurious suite.
Zambezi Queen
Day 4
Today, join a full-day safari of the world-famous Chobe National Park in open-top 4×4 vehicles. You'll have the chance to spot wildlife like giraffes, zebras, lions, leopards, and more! For lunch, take a seat under the trees and savor a delicious al fresco picnic. As the sun begins to sink and the animals wake up from their afternoon naps, enjoy another game drive as you make your way back to Chobe River.
Zambezi Queen
Day 5
Visit a typical African village this morning, where you'll spend time with the village children and elders. Back on board and following lunch, you'll have a choice to take a boat safari, go birdwatching, or fish for tiger and bream in the river. In the evening, you're in for a treat. Enjoy a traditional African dinner, served with festive African singing and dancing. You can even join in the festivities if you feel like it!
Zambezi Queen
Day 6
During breakfast, watch for wildlife as you cruise the Chobe River. Later, bid farewell to your friendly boat crew and transfer to Victoria Falls. Enjoy a leisurely afternoon, perhaps indulging in a relaxing spa treatment. In the evening, join a cocktail reception aboard a vintage steam train, followed by dinner.
Victoria Falls Hotel
Day 7
A local guide will take you on a tour of the awe-inspiring Victoria Falls. You'll learn about its history, and the flora and fauna that make this area so unique. In the evening, embark on a private sunset cruise along the Zambezi River. Relax onboard as you observe a variety of game while enjoying a delicious mix of tapas with drinks.
Victoria Falls Hotel
Day 8
After breakfast, you'll be taken to the airport for your flight to Johannesburg and transfer to the Fairlawns Boutique Hotel. Enjoy a leisurely evening and indulge in a gourmet dinner at your hotel, which offers a variety of elegant private dining rooms.
Fairlawns Boutique Hotel & Spa
Day 9
Explore the famed Soweto township today. Get an in-depth look at Soweto's unique neighborhoods, the center of the uprising against the Apartheid state. Walk the footsteps of Nelson Mandela, followed by a township lunch. Before dinner, gather with a local expert for an informative discussion and afterwards enjoy a multi-course dinner.
Fairlawns Boutique Hotel & Spa
Day 10
Your safari adventure continues in East Africa, home to a spectacular array of wildlife and unique landscapes. Fly into Arusha via Nairobi; on arrival, you'll be met by an AmaWaterways representative at Kilimanjaro Airport and transferred to the beautiful Arusha Coffee Lodge. Enjoy a relaxing evening among the lush grounds of this working coffee estate. Cool off in the luxurious pool and perhaps indulge in a relaxing massage treatment at the spa.
Arusha Coffee Lodge
Day 11
Journey to Tarangire National Park, where you'll go on an adventurous safari before checking into your safari lodge. The park is famous for its huge number of elephants, towering baobab trees, and tree-climbing lions. Your home for the next 2 nights is the beautiful Treetops Lodge, where each spacious room boasts magnificent, uninterrupted views down below. The main lodge is built around a 1,000-year-old baobab tree, completing the feeling of being nestled amongst the treetops.
Treetops Lodge
Day 12
Experience the wonders of Tarangire with a full day of activities, including a morning bushwalk, an afternoon safari, and a sunset game drive. This is home to the highest number of breeding bird species in the world along with thousands of elephants, huge herds of buffalo, stately fringe-eared oryx, and the towering kudu.
Treetops Lodge
Day 13
Today, visit a Maasai village before enjoying a game drive through Manyara National Park, home to tree-climbing lions, giraffes, cheetahs, monkeys, impalas, and baboons. Be treated to a delicious picnic en route to The Manor at Ngorongoro.
The Manor at Ngorongoro
Day 14
Enjoy a full-day exploration of the awe-inspiring Ngorongoro Crater today. Once a gigantic volcano, it's the world's largest intact caldera offering a unique environment that has remained virtually unchanged since the dawn of time. The nearly 3 million-year-old caldera shelters one of the most beautiful wildlife havens on earth. Deep within the crater, some 25,000 large mammals wander the plains, lakes, and forests. A picnic will be served on the crater floor, followed by further exploration before heading back to The Manor.
The Manor at Ngorongoro
Day 15
The next stage of your journey takes you to an absolute must-see in East Africa: Serengeti National Park. This iconic park is home to the Big 5 of Africa, as well as the annual Great Migration of wildebeest. Fly to the Serengeti, where you have the choice of staying in Pioneer Camp or Migration Camp. Enjoy an incredible game drive in the afternoon, and this evening, indulge in a scrumptious campfire dinner under the stars.
Serengeti Pioneer Camp or Serengeti Migration Camp
Day 16
Explore the vast Serengeti via an open safari cruiser during the morning and after lunch. Depending on your travel dates, you may have the opportunity to witness the Great Migration and watch thousands upon thousands of wildebeest crossing one of the rivers in the Serengeti—where hungry crocodiles lurk in the water and lions await for their chance to indulge in this moving feast. No matter the time of year, you will be treated to spectacular game viewing in one of East Africa's richest wilderness areas.
Serengeti Pioneer Camp or Serengeti Migration Camp
Day 17
Rise early this morning for your final safari game drive. Afterward, you will be transferred to the Serengeti airstrip for your flight back to Arusha. Enjoy lunch in the gardens of the lodge before taking your final transfer to Kilimanjaro International Airport and beginning your journey back home.
About this vacation
Cost
Does not include the cost of airfare
---
Based on
Plan Your Dream Trip
Need help getting started?
You might also be interested in